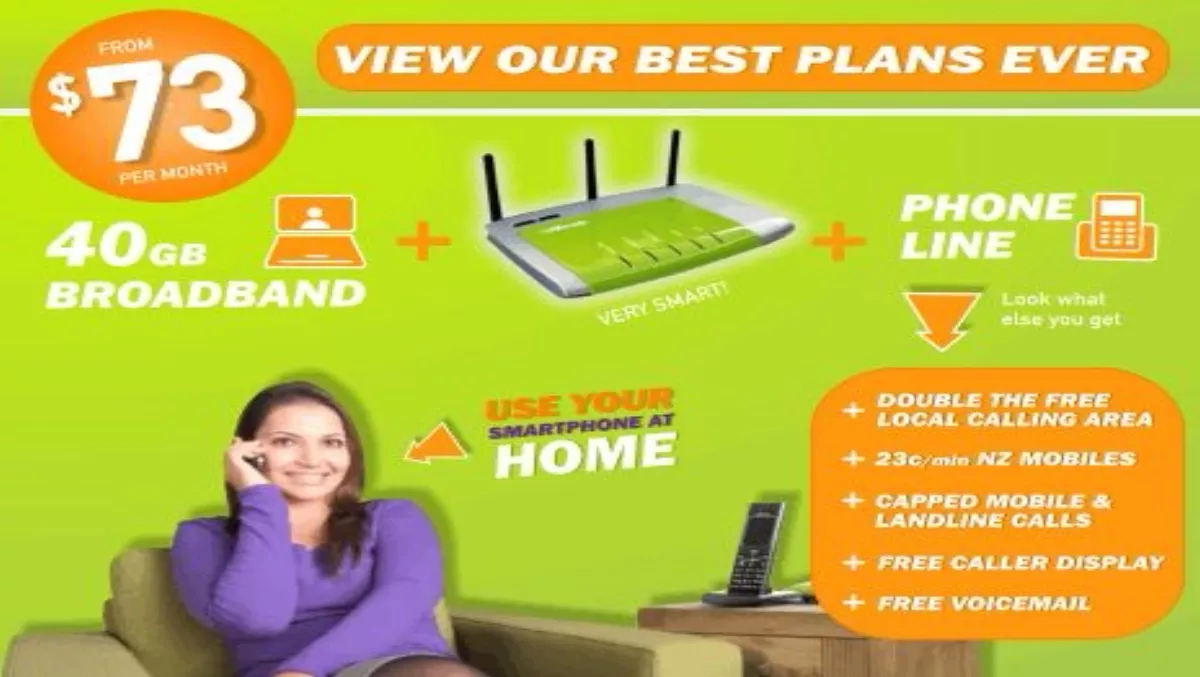 Cheap home calling rates for smartphone users with Woosh
01 Aug 2012
FYI, this story is more than a year old
The integration of several smart technologies by Woosh is giving New Zealanders access to cheaper calling rates and could dial the death of the landline phone.
Woosh's Unzipped service combines a fast naked ADSL2+ broadband connection with a smart WiFi modem router to give customers access to some fantastic features. And even better the plans are among the most competitive in the market with customers able to get a huge 40 gigs from just $73 per month.
Richard Fry, GM of Operations explains: Increasing numbers of New Zealander's are using smartphones and enjoy the convenience of the applications and address books on the devices. The high calling rates these phones incur, compared to landline prices - mean that many people switch to their landline when they are in the house."
With Woosh's new Unzipped plans customers using their smartphones at home don't have to worry about these high mobile rates anymore.
Customers simply download a free app and they can use their iPhone or android smart phones as their home phone; this allows customers to get free local calls and extremely cheap national and international calls while at home.
"Customers can automatically connect their iPhone or Android phone to the home network when they enter their house. This innovative solution allows customers to use their smartphone to call anywhere in New Zealand for only 13c/minute or 23c/minute to a mobile. This is a big price drop for customer's use to paying around 40c per minute or more for these national and mobile calls."
In addition to the low calling rates, all Unzipped plans include capped landline and mobile calls, so customers will be able to call any landline or mobile in 40 countries including New Zealand, anytime, for up to 40 minutes per call, and pay no more than $2.40 for landline calls and $3.40 for mobile calls.
Fry adds, "We've made a decision upfront not to compromise on the customer experience or the quality of the hardware we supply to customers. We selected a top range modem, designed and manufactured in Europe, to ensure we provide a reliable, fast and intuitive service. We also made it easy to get started with an easy one-touch installation. Simply plug the modem into the wall, turn it on, and you are connected. Combined with our Unzipped plans it gives New Zealanders access to the latest technology and applications - all at an unbelievably low price."
The Unzipped plan comes with a range of features that offer fantastic value. As well as free voicemail and caller display, customers can also add the My Friends service which lets them make free calls to a friend's New Zealand mobile and landline numbers for just $5.98 a month. With the 40GB plan customers can add an Extra Local Calling Area for no charge and then make free calls to friends and family that live in a town that's outside their free local calling area. And on the 80GB Unzipped plan national calls are free for up to 40 minutes per call.
The price for the new Woosh Unzipped plans, which utilise the power of naked broadband and VOIP technology, starts from just $68 a month.