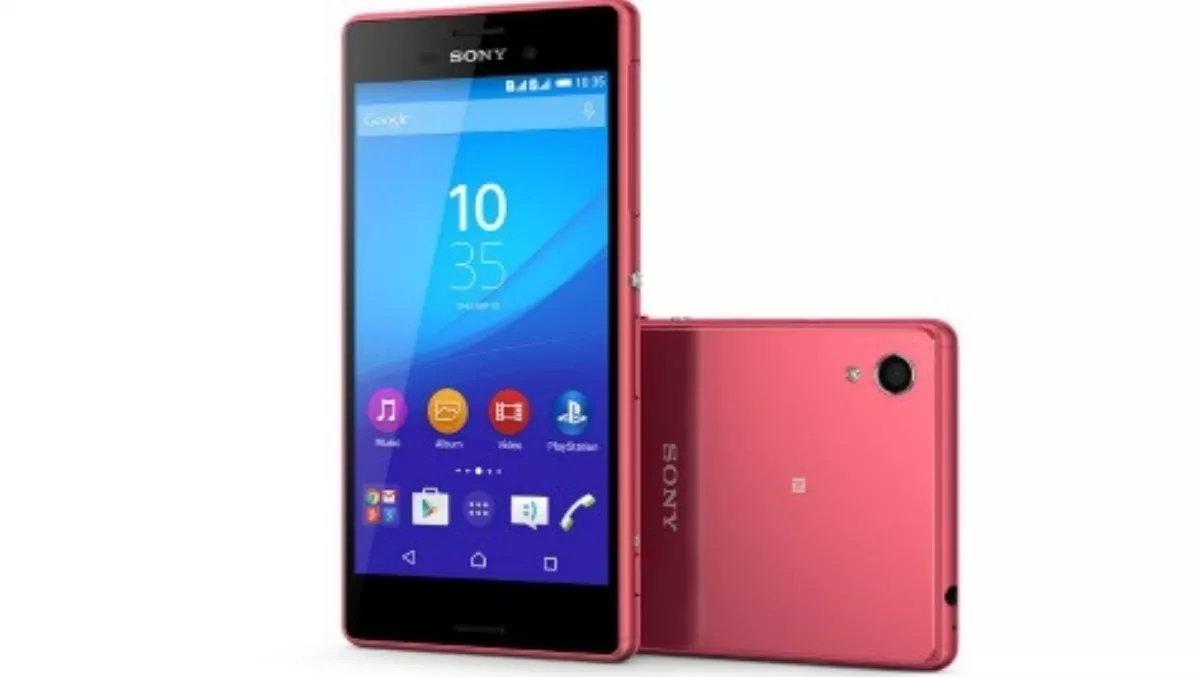 Hands-on review: Sony M4 Aqua
FYI, this story is more than a year old
Phone fans may be salivating over the Sony's soon to launch Z5 smartphone, but Sony haven't been resting on their laurels either, having just launched the Xperia M4 Aqua - a mid-range smartphone that sports flagship quality design.
Aimed at smartphone fans who like the look of Sony's Xperia Z series hardware, but want to avoid selling a kidney to buy an Xperia flagship device, the $499 M4 Aqua is a good looking device.
Look and Feel
If you're a fan of Sony Xperia handsets, the odds are good that you'll immediately like the look of the M4 Aqua. Its design draws a lot on the same design language as used with Sony's Xperia Z series flagship devices.
The M4 is comfy in the hand, with its chamfered edges helping things along nicely. Design-wise, the M4 is so similar to an Xperia Z series device, that only the most dedicated Xperia fan boys are likely to be able to distinguish the M4 from one.
About the only visible difference is that the M4's metal chassis is actually a silver metallic plastic material, and even then you'll need to look pretty closely to actually spot the difference.
In the hand the M4's curved edges and carefully balanced design (which Sony call Omni balance) make the M4 very comfy to hold. This is in large due to its hand-sized physical dimensions (145.5 x 72.6 x 7.3mm) and polycarbonate chassis (which at 136g isn't as hefty as a metal and glass combo).
In Use
Taking a leaf from Samsung's edge devices, Sony have also made deciphering notifications much easier. This is done thanks to a small LED light on the M4's top bezel that flashes different colours depending on the notification. In the grand scheme of things, it's not a big deal, but it proved surprisingly and frequently saved me from powering up the M4 from standby.
As with other Sony Xperia devices, the M4 also sports a dedicated camera button. This an under-rated feature that consistently proved handy in the all too brief time had with the M4. I wish other handset makers would incorporate this.
Like its previous Xperia flagship counterparts, the M4 has an IP65/IP68 rating. This means that it can take a dunking in up to 1.5 metres of water for 30 minutes. It also means that the microSD and SIM ports along the M4's sides are covered with waterproof flaps that'll need to be closed for waterproofness. whilst these are vital to keeping water out, they can be fiddly to open and close. Sony have however managed to add a water proof Micro USB socket which is one less set of flaps to muck about with.
Under the Hood
Battery life is another crucial usability factor for any smartphone. Sony claims an impressive two day battery life with typical use (or at least 7 hours of movie playback and 64 hours of music).
This claim isn't too shabby at all when you consider that the M4 only packs a 2,400mAh battery. The M4's stellar battery life is probably due to the fact that it doesn't have an ultra-hires screen, and uses Snapdragon 615 silicon (which runs on the smell of an oily rag). Add to this an extended standby function (which kills energy guzzling apps when the M4 is placed into standby) as well as Sony's STAMINA mode and the M4 can outlast a lot of other smartphones.
In practice battery life didn't disappoint. Over the all too brief week I spent with it, I used the M4 for phone calls, texts and emails on a daily basis. Assuming it'd been charged overnight, it'd still have around 60% of its battery left at the end of the day. Compared to the 24 hours with change I typically get with most other smartphones, this is pretty impressive stuff for a mid-range handset.
Another win for the M4 is its 5" LCD screen. While its 720p resolution isn't exactly the bleeding edge 1080p HD goodness you'd expect from a high end phone, it isn't too shabby for a $499 handset either.
IN use M4's screen looks vivid and crisp, and then there's the side benefit battery life to consider as well. Perhaps the only real give away specs-wise of the M4's screen being mid-range is its 294ppi pixel density. This compares poorly to the M4's more upmarket Xperia Z4 sibling which has a pixel density of 424ppi. Specs aside, the M4's screen seems to still bat above its weight. Its colours were well saturated and viewing angles are wide. There also isn't any tell-tale light leakage, which is usually the first give-away that a lower spec LCD panel has been used.
If that's the good, the not so good is that while the Snapdragon 615 silicon is frugal with energy consumption, it also lacks the oomph of its upmarket siblings. The A53 CPU may still be an 8-core 64-bit processor, but it only clocks in at 1.46Ghz, which when combined with the 2GB of RAM (1.76GB usable), resulted in some pauses and lag.
While the PlayStation 4 app is present, the remote play button isn't. Being able to stream games to your handset was the killer reason for the PlayStation 4 app. This said, the apps other features are all present and the app can still act as a remote keyboard for a PS4.
Grizzles aside, the M4 also proved to be surprisingly media savvy. While it doesn't support high res audio playback, the Walkman app meant its music playback capabilities were solid, and was helped by the integration of Spotify. The Movies app also did a great job of finding video clips stored on DLNA devices on my network.
As good as media playback was, internal storage is a mere 8GB, which with Android 5.0 drops down to only 2.7GB. Thankfully the M4 Aqua supports Micro SD cards up to 128GB, so buyers will need to factor the cost of a Micro SD card into their budgets.
Sony smartphones have a solid rep when it comes to their cameras and the M4 really stands out from other similarly priced smartphones on the camera front. The M4 uses a 13MP Sony Exmor RS sensor on its rear and a 5MP front sensor.
About the only thing missing from the M4's camera app is a kitchen sink. The Superior Auto mode did a great job selecting appropriate settings across a range of shooting conditions. Shutterbugs will also appreciate the manual mode which offers a surprising amount of control as well as other modes including Panorama shooting. This said, the augmented reality mode feels a bit gimmicky.
Shooting both indoors and out showcased Sony's image processing chops, resulting in accurate colour saturation, solid contrast and no over-sharpening. Detail was surprisingly good considering my abysmal photography skills.
Having a dedicated shutter button will appeal to anyone who's missed that Kodak moment whilst fiddling about trying to get the camera app running in time for that ideal shot of fast moving kids and/or pets.
The M4's 5MP front camera also batted well above its bantamweight specs, managing to take some surprisingly decent shots, it also barely broke a sweat with Skype calls. On the video front, the M4's rear camera also delivered crisp 1080p footage at 30 frames per second.
Verdict
As you'd expect from Sony, The M4 is a decent midrange smartphone that balances useful features with a design that belies its mid-range price tag. These plus its solid battery life, decent screen and great camera make it a great deal provided you're aware of its limitations.
If gaming is important for you, the M4's lower specc'd silicon and the lack of the PS4 remote play option may be a show stopper. Media hogs will also need to factor in the cost of a Micro SD card given the paltry 8Gb of internal storage included.
All told, the M4 offers solid bang per buck value, ticking a lot of boxes for buyers on a budget wanting more than the standard mid-range Tupperware smartphone fare.
Tech Specs
RRP: $499
NETWORK: GSM/HSPA/LTE
Dimensions: 145.5 x 72.6 x 7.3 mm
Weight: 136g
Water resistance: IP68 certified (dust and water proof up to 1.5 meters for 30 minutes)
DISPLAY: IPS LCD, 5", 720 x 1280 (294 ppi)
Protection: Scratch-resistant glass
OS: Android OS, v5.0 (Lollipop)
Chipset: Qualcomm MSM8939 Snapdragon 615
CPU: Quad-core 1.5 GHz Cortex-A53 & quad-core 1.0 GHz Cortex-A53
GPU: Adreno 405
MEMORY: microSD, up to 128 GB, Internal 8GB storage, 2GB RAM
CAMERA: (Rear) 13 MP, 4128 x 3096 pixels, autofocus, LED flash, 1080p@30fps, (Front) 5 MP, 720p
WLAN: 802.11 a/b/g/n, dual-band, Bluetooth v4.1, A2DP
GPS: includes A-GPS and GLONASS
NFC: Yes
USB: microUSB
BATTERY: Non-removable Li-Ion 2400 mAh battery
Stand-by: Up to 681h (2G)/685h (3G)
Talk time: Up to 12 h 40 min (2G)/Up to 13 h 20 min (3G)
Music playback: Up to 64 h 40 min
Related stories
Top stories