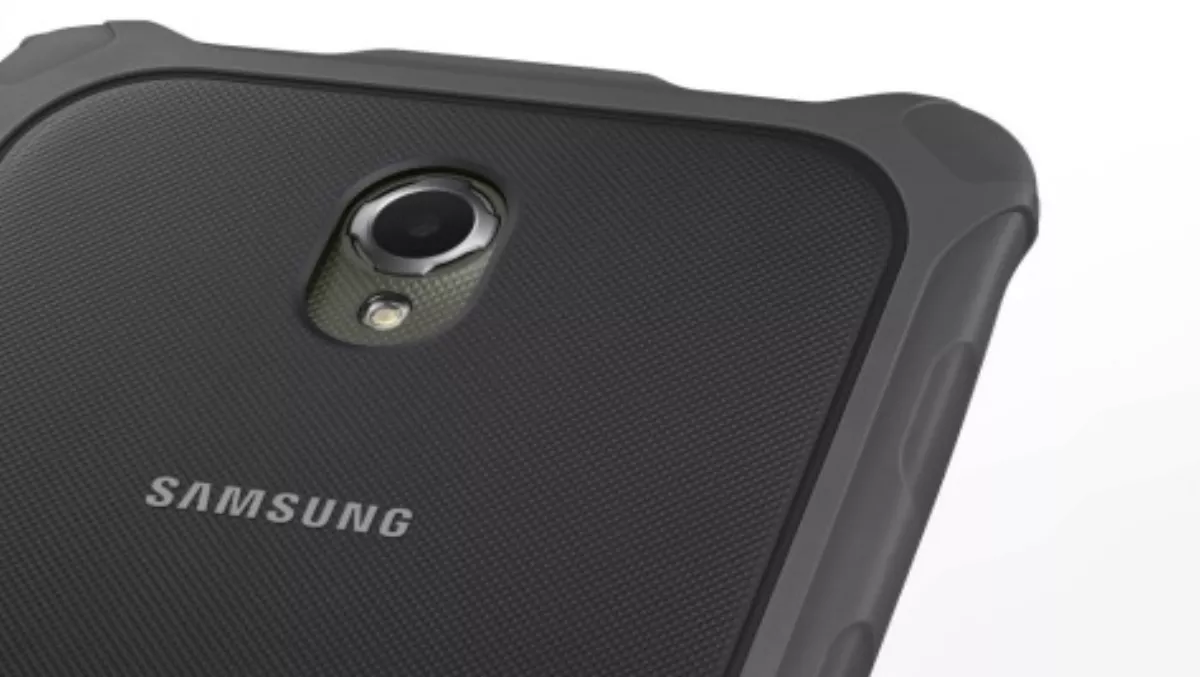 Samsung gets tough with new tablet
By Shannon Williams,
25 Mar 2015
FYI, this story is more than a year old
Samsung has today announced it has entered the tough-tablet Kiwi market with the New Zealand launch of the Galaxy Tab Active, a device "designed to enhance productivity, connectivity and which will give New Zealand enterprise up-to-the-minute information enabling more effective decision-making in the toughest environments."
Samsung says "rain, hail or shine, there's now no excuse for not being connected to the rest of the world." Gartner reports that, globally, tablets continue rapid growth with an increasing number purchased for enterprise use. However, up until now the prevailing view in New Zealand has been that consumer-grade tablets just aren't robust enough for industry – whether that's for construction, utilities, manufacturing or agri-business. "In answer to this, Samsung introduces the Galaxy Tab Active which is more suited to Kiwi enterprise and which is capable of working in tough outdoor environments." "Our ruggedised Tab Active has been very well-received in the UK and USA, across a wide variety of industries," says Verdon Kelliher, enterprise director at Samsung New Zealand.
"With a challenging climate, a construction and infrastructure boom underway, and a focus across the board on increasing productivity and driving cost out of business, we felt that the time was absolutely right to make the Tab Active available here." Galaxy Tab Active features: · Partnerships with GeoOp and SAP mean that it's ready for the SME or large enterprise business out of the box · Protected with Samsung Knox security platform – the Tab Active enables complete separation between business and personal communications · Raised and textured control buttons, toughened glass and rubberised casing protect the Tab Active in the harshest of climates and situations with a C-Pen for easy accessibility · 4G capable for enhanced connectivity · IP67 rated to ensure protection from water and dust ingress · NFC enabled · 8" daylight-readable LCD screen and long battery life with a user-replaceable battery
Samsung and SAP join forces for New Zealand Enterprise Samsung and SAP are working together on a new ecosystem designed to bring out the best in Samsung's mobile devices and the SAP Mobile Platform.
"As a market leader in smart devices and solutions, we know how to bridge consumer expectations for what a premium mobile experience should feel like for enterprise," says Kelliher.
"New Zealand business can benefit from a world-class enterprise mobility ecosystem that combines the strengths of Samsung's mobile innovations and the SAP Mobile Platform. From our lessons in other markets we have seen gains in improved real-time decision support to executives and the workforce."
"Increasingly, our customers aren't in an office and require fundamentally new ways to work," says Andre Russell, account executive of SAP New Zealand.
"Our aim is to create a seamless experience that enables our clients to unleash the potential of mobile devices, wearables, Internet of Things and other forms of mobile computing," Russell says.
"Our partnership with Samsung means we can deliver a premium solution – and with the Galaxy Tab Active we can do this in the dustiest, dampest, toughest Kiwi locations."
Samsung joins with GeoOp enabling Kiwi SMEs to embrace the Internet of Things GeoOp says it is aiming to be the international leader in mobile workforce job management for small to medium enterprise.
Samsung New Zealand has joined forces to help them reach their goal by "combining the easy-to-use and take-anywhere Samsung Galaxy Tab Active with GeoOp's intuitive and affordable job management system to enable trade and service businesses to manage their mobile workforce's job sheets and the wider business," Samsung says in a statement.
"With GeoOp and the Samsung Galaxy Tab Active mobile staff can substitute pen and paper for instant info on their tablet; easily managing their jobs, from creating, assigning, scheduling and doing the job to invoicing and payments in any weather and in the toughest of environments," says Tim McFarlane of GeoOp.
"It's a partnership that really works for our customers, saving them time, increasing their productivity, speeding up their cash flow, and in turn raising their customers' satisfaction levels. The pay-off is more revenue," he says.
The Galaxy Tab Active is available now through Samsung.co.nz and in partnership with Vodafone, Spark and 2degrees Enterprise teams.