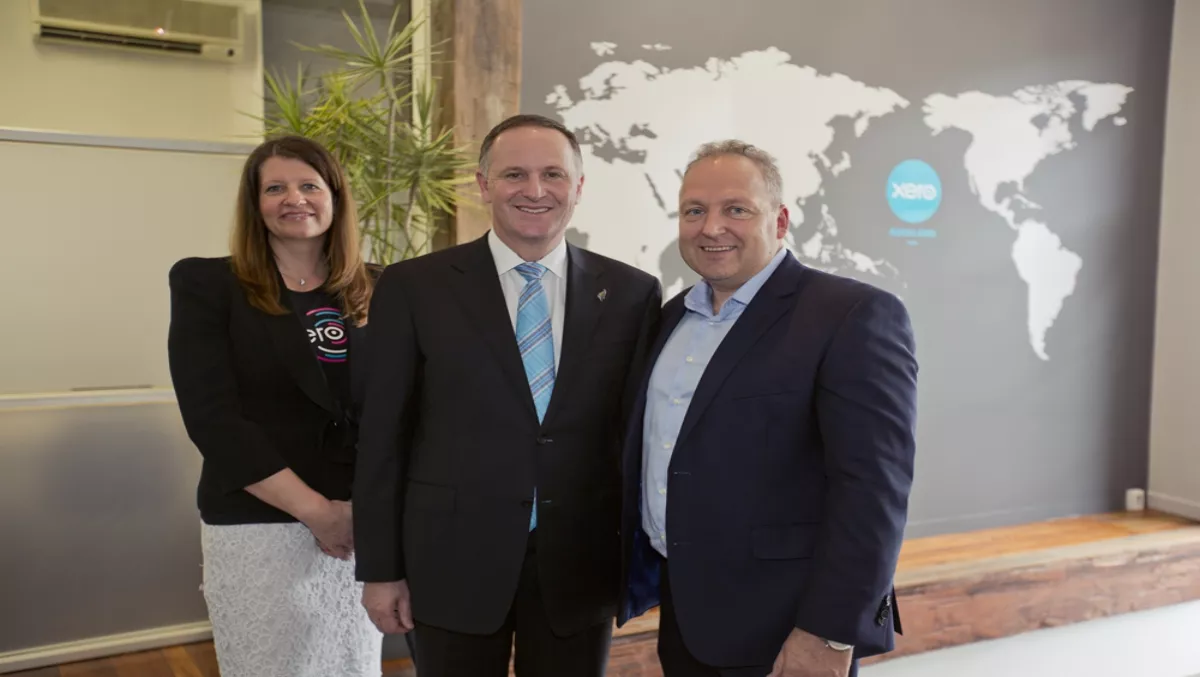 Xero's Auckland presence grows as PM unveils new office...
Wed 10 Sep 2014
FYI, this story is more than a year old
Xero continues its strong focus on growth and driving innovation with plans to grow its Auckland base by 60 new jobs this financial year, bringing the total in Auckland to 220 jobs.
The company, which currently employs more than 520 staff in New Zealand and 900 globally, today opened the doors of its newest Auckland premises in Watt Street, Parnell - officially opened by the Prime Minister of New Zealand, the Right Honourable John Key.
Xero's Auckland team is the home of Xero New Zealand operations and has doubled in size in the past 12 months, focusing on sales and marketing, product development, platform services and customer experience - while Wellington remains Xero's global HQ.
Xero CEO Rod Drury says a highly collaborative and flexible work environment made possible by cloud computing is at the very heart of the new office and of Xero as a business.
"At Xero we're proud of both our reputation as a frontrunner in digital collaboration in the cloud, and as a great place to work," he says.
"We prioritise our staff and culture, offering 'sit to stand' desks, which provide great variation and flexibility while working, and we foster a workplace that accommodates the lifestyle needs of our staff.
"Not to mention a fast-paced work environment for those that love delivering with excellence.
"This space speaks volumes about our culture and work environment. Xero is a truly global company.
"Cloud technologies are mainstays of the way we keep in touch with our teams across the globe and we have really embraced a flexible, borderless working environment."
Xero NZ Managing Director Victoria Crone says the new Auckland office is a response to the rapid expansion Xero is experiencing, following significant growth in the last financial year, with more to come.
"The Auckland technical team is continually developing new products and adding new features to Xero's existing platform; we're also building a world-class monitoring and response centre capable of supporting all Xero live services around the globe," Crone adds.
"We are expecting to recruit at least 60 staff members in Auckland by March 2015, adding to our existing Auckland staff base of more than 150. This is great news for the local Auckland economy and building on New Zealand's reputation as a global IT hub."
According to Crone, Xero has been "vocal" about its search for great IT talent, both in New Zealand and overseas.
"We're focused on making New Zealand the test lab for the world, and we have some excellent opportunities for Kiwis wanting to advance their career in IT," Crone adds.
"The scale at which we're working and the amount of data we process pushes our staff to the next level.
"Opportunities to work locally on a product of this magnitude are rare, so we're always keen to hear from potential new talent, particularly those that have experience in developing scalable SaaS products."
Crone says Xero is creating a global financial platform for small businesses, whereby they are able to operate optimally and manage their financial information within an ecosystem that offers a wealth of tailored market solutions.
"We have a vision to connect big business to small business," she adds. "We have more than 350 add-on partners within our network and we recently announced that Warehouse Stationery will soon have direct feeds into Xero. And, there are more big business announcements to come.
"Our nearly half a million small businesses are the lifeblood of the New Zealand economy and we want to do everything we can to make it easier for them to thrive and work smarter."