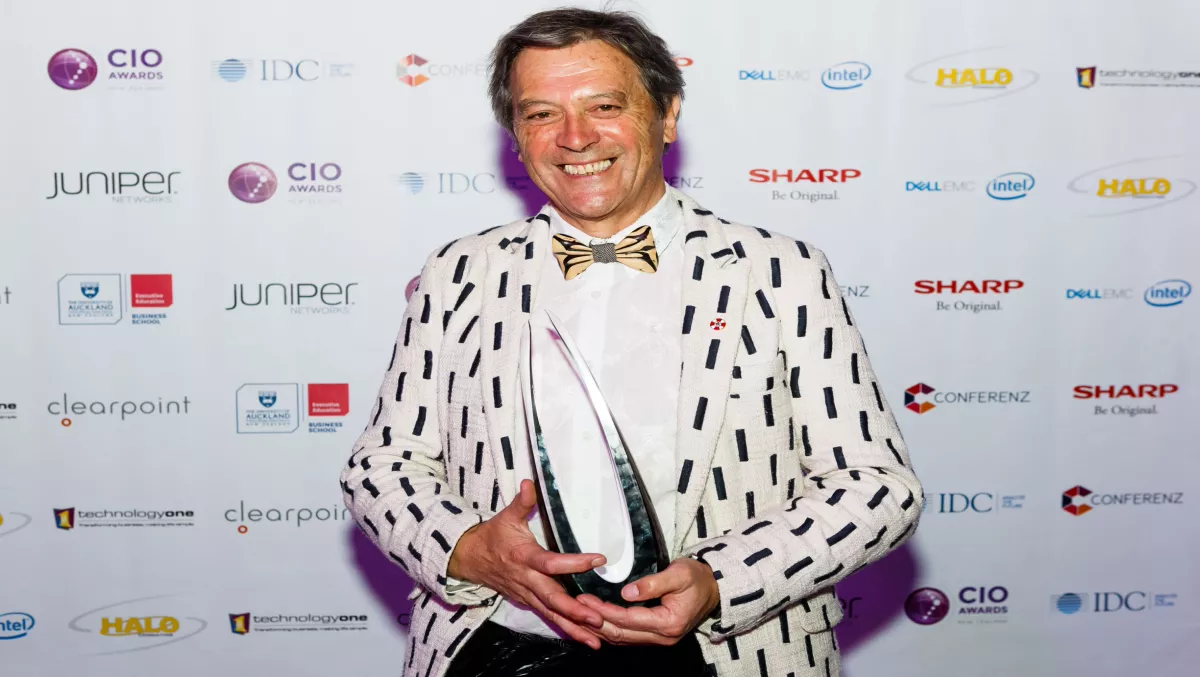 2018 New Zealand CIO Awards - all the winners from the night + gallery
FYI, this story is more than a year old
950 IT professionals at the forefront of New Zealand's tech industry gathered together at a Gala Dinner in Auckland's ANZ Viaduct Events Centre last night to celebrate the New Zealand CIO Awards 2018. They recognise New Zealand's brightest individuals and teams who have shown leadership, innovation, and foresight through their contributions to ICT and business.
The Awards were held in conjunction with the CIO Summit and MCed by media personality and comedian Ben Hurley.
Air New Zealand's chief digital officer Avi Golan took home CIO of the Year and Ian Taylor was recognised for his outstanding contribution to business and technology in New Zealand.
IDC New Zealand country manager Peter Wise congratulated all finalists and winners for their work.
"The high standard of entries reflects the growing importance of ICT in the delivery of business and digital strategies. The examples that the winners set in driving business transformation initiatives in their organisations demonstrate to all in the industry what is possible when leadership is combined with a culture of innovation and change.
The full list of winners follows:
CIO of the Year 2018 – Sponsored by Technology One
WINNER: Avi Golan, Chief Digital Officer, Air New Zealand
FINALISTS:
Chris Buxton, CDO, Stats NZ Tatauranga Aotearoa David Scullin, CIO, Ballance Agri-Nutrients Roger Jones, Chief Technology Officer, Auckland Transport
Outstanding Contribution to Technology and Business in New Zealand - Sponsored by Sharp
Recipient – Ian Taylor
NZ Emerging ICT Leader of the Year 2018 – Sponsored by University of Auckland Business School
WINNER: Rohan Aggrawal, Head of Digital and Technology Solutions, AMP Financial Services NZ
FINALISTS: Josh Warman, Chief Customer Officer, Spectrum Consulting Staci Scott, Digital Product Manager, The Warehouse Group
Engaging Youth in ICT – Sponsored by Juniper Networks
WINNER: TechWomen
FINALISTS: MindKits, MYOB
Best ICT Team Culture – Sponsored by Halo Consulting
WINNER: Fraedom
FINALISTS: Air New Zealand, eStar, The Instillery
Business Transformation through Digital and ICT – Sponsored by ClearPoint
WINNER: Auckland Transport
FINALISTS: Abano Healthcare Group, Fulton Hogan, New Zealand Inland Revenue
The CIO Awards were supported by Dell EMC, ClearPoint, Halo Consulting, Sharp, TechnologyOne, The University of Auckland Business School and Juniper Networks.
The CIO Summit launched on June 13 and continues through June 14 at Skycity in Auckland.
It features presentations from IDC, Auckland Council, ServiceNow ANZ, Airways NZ, SafeStack, Vodafone, Inland Revenue, the University of Tasmania, and others.