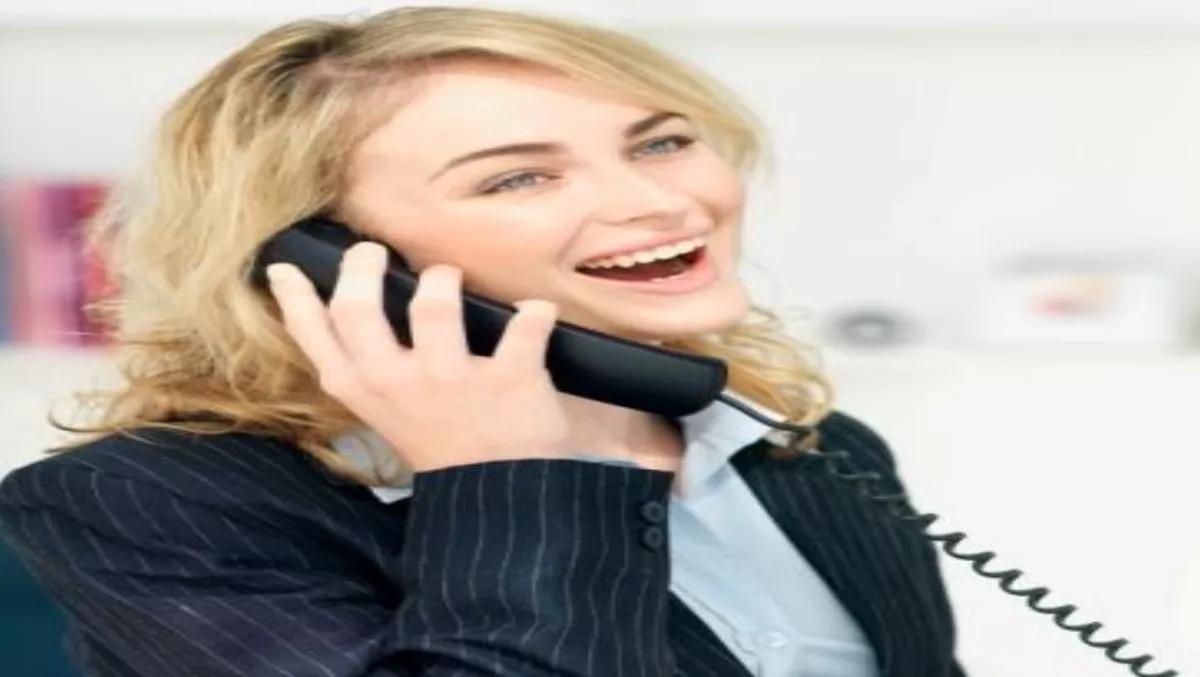 Answering the call
FYI, this story is more than a year old
The government's planned nationwide fibre-optic Ultrafast Broadband (UFB) network is still little more than a glint in the trench-digger's eye, but it's already having an impact on telecommunications pricing.A wholesale broadband price war has broken out as the major telcos jostle to lock in customers before the UFB – and its promise of cheap, ubiquitous connectivity – becomes a reality.
Tumbling business broadband prices are in turn helping to change how technology is used in the office. Vendors are now having much more success convincing those managers in charge of the corporate cheque books that digital communications solutions – VoIP telephony, video conferencing and unified communications – make financial sense."Many people have a misconception that affordable fibre connections are yet to arrive," says Blair Stewart, general manager of Digital Island, an Auckland-based telecommunications service provider focused on the medium-sized business market (typically businesses with between ten and 200 staff).
But in fact, Stewart says, the business sector, particularly in the main centres, is already well served with fibre connectivity even before the UFB arrives. Most buildings in the Auckland, Wellington and Christchurch central business districts are already connected to fibre and the recent wholesale price cuts make using it a much more attractive proposition.
"Fibre pricing has probably halved in the past three months, and I would expect it to halve again in the next six months. It's amazing," he says."All this fibre is already there and the pricing is suddenly coming right. That's opening the door for a huge number of businesses, who couldn't justify $1000 a month to replace their [DSL] broadband, but they can justify $300 or $500 a month, and they're now open to signing up for those services."
Stewart says in the medium-sized business market, the concept of SIP (Session Initiation Protocol) trunking – having a direct fibre connection from a business's PBX (Private Branch exchange) to the service provider's telephone network – is proving popular because it can be provided considerably cheaper than a traditional ISDN landline connection.Businesses wanting to take advantage of unified communications (UC) – the integration of real-time and non-real-time telephony, video, messaging and data transfer services – are also attracted by SIP trunking, he says. This is because the IP PBX units at the heart of UC deployments connect to SIP trunks rather than ISDN lines.Others in the industry echo Stewart's prediction that over the next few years VoIP will act as a springboard for enabling greater uptake of UC products and services by local businesses.
In its first New Zealand Communications Market Report, published in August, research and consulting firm Frost & Sullivan predicts the local UC market will grow to be worth $212 million by 2017.Frost & Sullivan says spending growth on UC will be driven by larger organisations, predominantly government departments, banks and financial services businesses, who are striving to reduce transport costs and enhance worker productivity by enabling UC features such as email delivery to staff members' personal devices.
"Almost unanimously [IT managers] were looking to UC for improved business processes and an ability to reduce costs," says Audrey William, Frost & Sullivan's ICT research director for Australia and New Zealand."Until recently the biggest challenge was the overall cost of purchasing and running such solutions," William says."
However, as more and more organisations realise the benefits of their UC deployments this concern is dissipating and we anticipate steady market growth for the next six years."Claudio Castelli, a senior analyst at research firm Ovum, says whilst uptake of IP telephony by larger organisations is growing in the New Zealand and Australian markets, the pace of growth is slower than in other parts of the world.
According to Ovum's research, 42 percent of large enterprises in ANZ have yet to deploy IP telephony, compared to 35 percent of equivalent organisations in Europe and 30 percent in the US.Castelli attributes the lower uptake rate in this part of the world to local businesses taking a "phased" approach to communication technology upgrades – they are waiting until existing telephony equipment reaches its end-of-life before replacing it."The original reason companies went for VoIP, and IP telephony in general, was normally so they could have a single infrastructure – there are direct cost savings with that," Castelli says.
He says corporate motivation to move to an IP-based communications infrastructure has gradually shifted from being purely based on a desire to save money as organisations have realised the productivity gains that are possible through UC."When you go into the next generation of communications systems you are able to get better integration with other applications, like integration of business processes, integration of other ways to communicate and collaborate, such as video, instant messaging and so on.
Even integration with social networking."One key trend identified by analysts, as business VoIP and UC uptake grows, is a shift towards organisations favouring hosted or managed service options, rather than running their communications services purely on-premise. This trend is driven by businesses' drive to reduce capital expenses.
According to Ovum, the managed and hosted IP voice service business in Asia-Pacific will increase almost three times over the next five years."The preference will continue to be for on-premise IP PBXs, but many companies will consider relying on a service provider for hosting and system management," says Castelli."We expect the preference for the hosted approach to rise as more offerings are released into the marketplace and customers realise the benefits of the new cloud models, such as faster deployment times, high flexibility to upscale (or downscale), outsourced management, and utility pricing."
Frost & Sullivan's William says the Christchurch earthquakes have been one factor that has encouraged businesses to review their disaster recovery strategies, which intern has heightened interested in hosted telephony and UC solutions."
Currently organisations show a strong desire to own and self-manage their UC infrastructure. However, heightened awareness of the need for redundancy and resilience are expected to drive higher adoption of hosted solutions," William says."Similarly, business continuity and disaster recovery solutions, which were not seriously considered by businesses prior to the natural disasters, are now regarded as critical in allowing businesses to stay operational despite major disruptions."
The growth of UC brings with it an increasing ability for business to better integrate the use of mobile phones into their networks.Alan Register, a UC product specialist at Cisco, says applications that enable simultaneous ringing of an employee's desk phone and mobile – so they can choose which to answer – has been one of the most popular mobile UC features.
Solutions which switch mobiles onto a company's Wi-Fi network when a user is in the office are becoming increasingly popular because of the ability of this application to save costs by avoiding cellular network charges.
This type of solution is particularly popular with multinationals because it can greatly reduce their international roaming bills for staff travelling to overseas offices.
However, vendors, analysts and service providers see increasing use of video communications as the biggest trend in UC."Video and VoIP go hand-in-hand," says Cisco's Register."They're not really separate technologies, which is the way they've been treated in the past, and the way they're being treated by some vendors out there," he says."I should be able to make a phone call, and if it's required, high definition video will pop up so I can have that performance review with my employee, or that customer meeting, just as easily as I can make a phone call. That's the next wave and there's a whole lot of business value in being able to retain that face-to-face aspect [without the travel costs]."
Digital Island's Stewart agrees. "To me the big one is desk-top video meetings. I believe that's going to be a game-changer in terms of how businesses work. Whether it's customer service – where you can sit there talking to a customer – through to holding meetings across different sites," he says."Desktop video is going to be bigger than email in terms of changing the way people work."
Related stories
Top stories