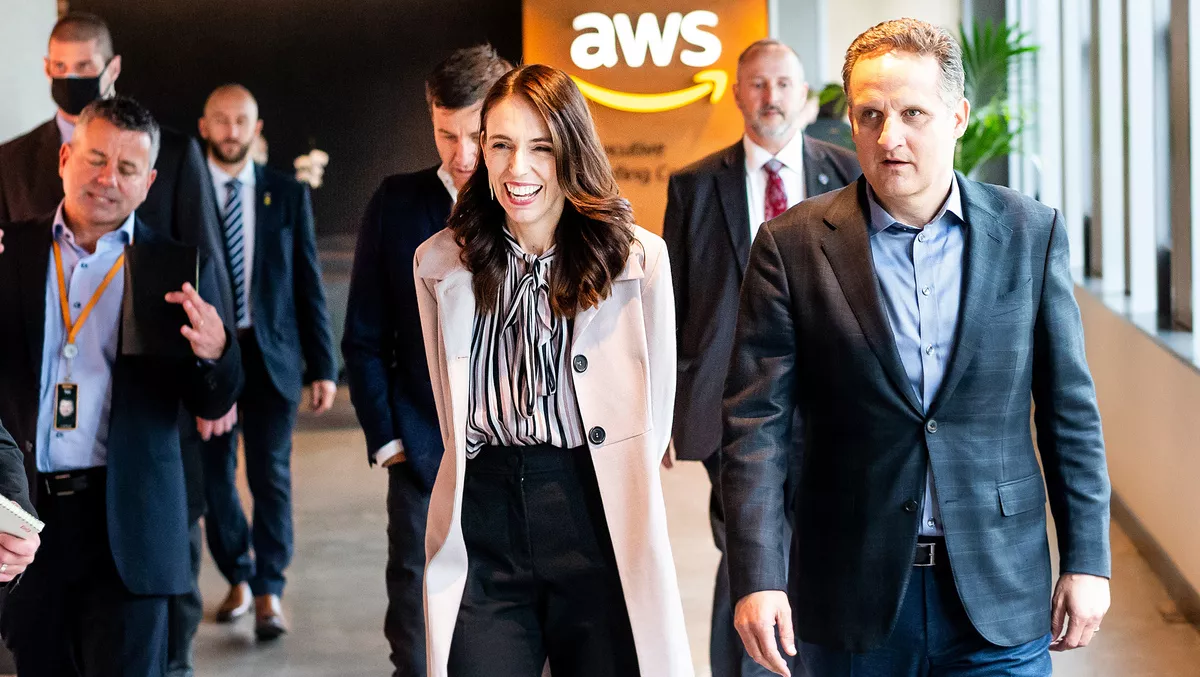 Ardern meets with Amazon Web Services CEO on US trade trip
FYI, this story is more than a year old
Amazon Web Services (AWS) CEO Adam Selipsky has met with the New Zealand Prime Minister Jacinda Ardern to discuss AWS' work in the country.
Ms Ardern visited Amazon's Seattle campus as a part of her US trade visit.
Selipsky says it was a pleasure welcoming the Prime Minister.
"We had a great discussion about digital transformation, skills development, sustainability, and how we are helping organisations across Aotearoa, New Zealand scale and grow internationally," he says.
"We are investing NZD $7.5 billion to build an AWS Region in the country, which were aiming to be 100% powered by renewable energy at launch. We will be adding over 200 staff to our AWS Kiwi team over the next few years to help our customers and partners in Aotearoa achieve amazing things.
In her US trip outline, Ms Ardern said she would meet with top technology executives from the likes of Amazon to discuss investment, skills development for New Zealanders in tech industries, digital cooperation, and to further Christchurch Call objectives (make online spaces safer after the live streaming of the Christchurch terror attacks).
Last September, AWS announced its plans to invest NZD $7.5 billion to build an AWS Asia Pacific Region in New Zealand. The company estimates this will contribute $10.8 billion to Aotearoa's GDP over the next 15 years.
This investment includes building data centres, buying regional goods and services, operating facilities, and supporting wages and salaries that contribute to the local economy.
AWS says the Overseas Investment Office (OIO), the regulator of overseas investment in New Zealand, granted consent in April 2022 for AWS to advance its plans to build the new region.
The company says an AWS Region is a cluster of data centres that enable developers, startups, enterprises, government, education, and non-profit organisations to run their applications and serve customers with low latency using infrastructure located directly in New Zealand. AWS says this means local customers with data residency preferences will be able to store data on AWS in New Zealand securely.
The company says it's been working to upskill New Zealanders in digital literacy as well. It says it offers programmes like AWS re/Start, a free, 12-week development and training program that prepares unemployed and underemployed individuals for careers in
the cloud.
AWS re/Start collaborates with Te Pūkenga in NZ, a tertiary education provider, to build local talent, including those from Māori and Pasifika communities.
AWS says it also offers more than 500 free digital training courses through initiatives like AWS Skill Builder, which is available to anyone with a desire to learn and an Internet connection, and programmes such as AWS Skills Guild, a comprehensive skills enablement program that builds cloud expertise within organisations.
The company has also just launched a free, flexible, four-week online program for women called AWS Hāpori Wāhine Cloud Up.