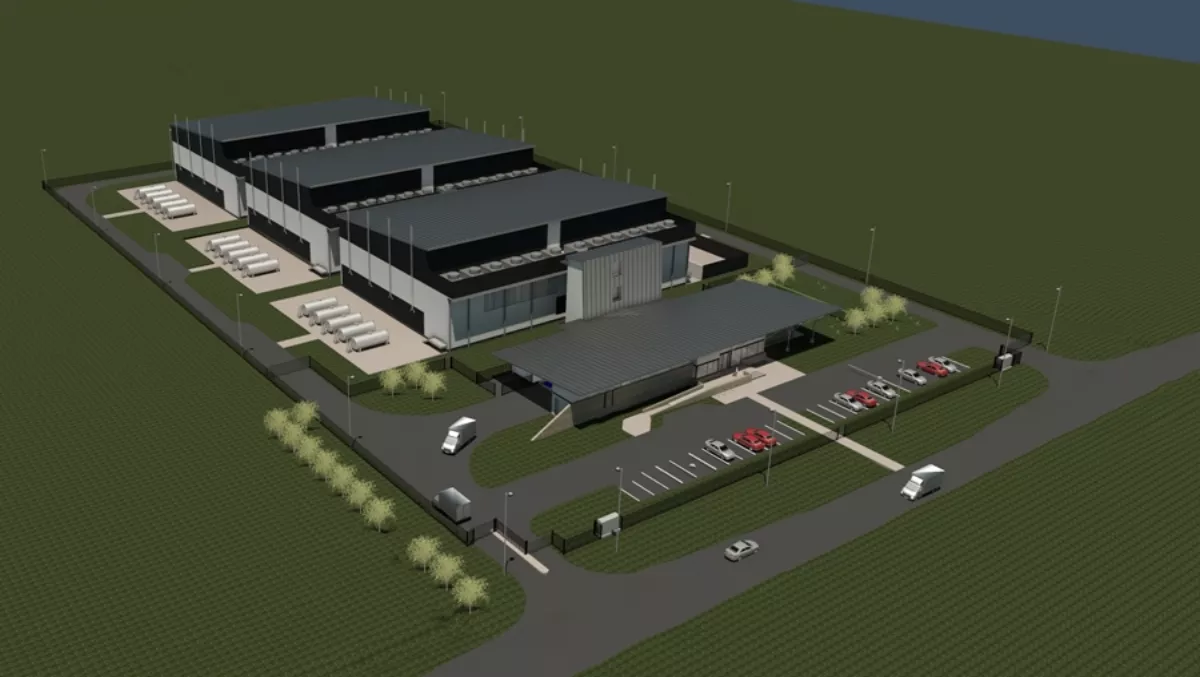 Artist's impression of $60m Gen-i data centre
FYI, this story is more than a year old
Following news that site preparation is well underway for the construction of Gen-i's $60 million enterprise class data center, an artist's impression of the facility has been released.
Located in Popes Road, Takanini the new Tier 3 greenfield data center will be one of New Zealand's largest, housing up to 1200 racks.
The facility will be of modular POD construction with 4 x 100 rack data halls in each POD and a strong focus on sustainability and energy efficiency.
Check out the quick fact check below:
Resiliency:
The facility is located on a Tier 3 site and will be built to TIA 942-A (2012) standard. All aspects of the facility will meet and in many cases exceed TIA942-A levels of redundancy and resilience.
A minimum of N+1 for all critical systems is required to meet TIA942-A requirements.
Tier 3 provides a very high level of resiliency, which is important for enterprise and Government clients, whose services are critical in keeping New Zealand up and running.
TIA standards are a global benchmark and to use the term 'Tier 3' the data center must be independently certified.
The site:
Located upstream from the Otahuhu substation pinch point, the site is zoned industrial with no immediate neighbours, has good multiple road access and low tsunami risk.
The site is well located for power and very close to Telecom's backbone network and other telecommunication providers (the data center will be carrier agnostic), while providing sufficient geographical separation from the existing Telecom site and other service providers.
The land and layout provide good access and building setbacks to meet high levels of security design.
Design:
The Takanini data center design is modular, which speeds up deployment time, saves energy, and allows for ongoing deployment of new technology.
This modular construction approach means smaller sized 'PODs' of capacity are fitted out and activated within the larger facility. Each POD contains four 100-rack data halls, and Takanini has room for three PODs (1200 racks.)
This means energy is expended only for space in active use, and design can be reviewed as PODs are developed, which keeps clients connected to the latest advances in technology. Additional PODs can be lit up quickly to meet demand.
The design also has a strong focus on sustainability, PUE and future flexibility.
A modular cooling design will be employed to match the highly modular electrical systems, and free cooling technology will be utilised to improve efficiency as well as aisle containment.
This modularity also provides higher levels of resilience to the entire system. The cooling system is closely coupled to the IT load to increase efficiency of cooling delivery.
Each Data Hall will have its own independent mechanical and electrical infrastructure, allowing halls to be configured to suit different environments and densities.
This simplifies operational management and reduces risk. The electrical solution is also highly modular and does not employ big heavy-duty electrical distribution, which can create points of failure.
This modular approach eliminates the need for static transfer switching, which substantially improves availability while significantly reducing the cost of electrical distribution systems.
The Takanini data center also utilises the latest fibre cabling standards and will be a part of Telecom's new Optical Transport Network (OTN), delivering the fastest, lowest latency, high capacity fibre backbone. Copper services will also be provided for backward compatibility.
Future flexibility was a key design requirement. A scalable design allows for the exact capacity of the data center to be implemented down to an individual rack level, virtually eliminating stranded capacity issues.
Takanini utilises high density contained aisle design which starts out at today's average (~5kW) and can then scale up to meet future IT needs - up to and beyond 10kW per rack. Peak rack loads of up to 40kW can be provided.
Related stories
Top stories