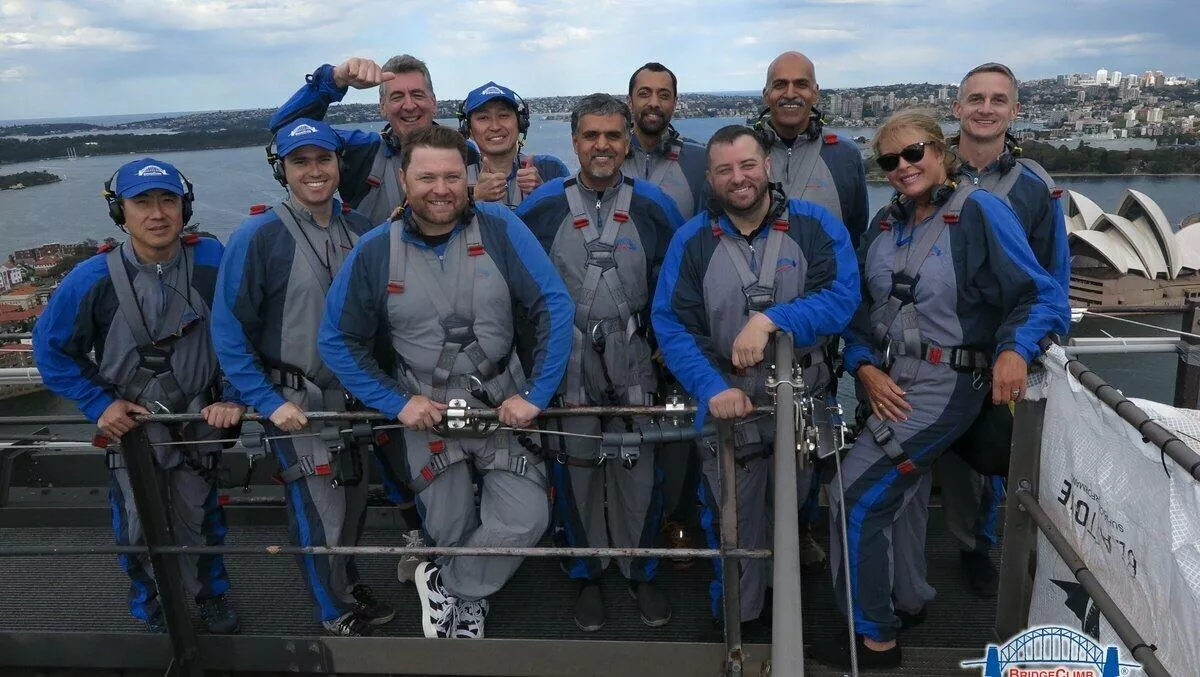 Aruba delivers cloud-based networking and strengthens relationship with AWS
FYI, this story is more than a year old
Today, Aruba, a Hewlett Packard Enterprise company, brought the Asia Pacific (APAC) leg of its event to Sydney, Australia for the first time.
The event showcases Aruba's newest series of networking solutions as well as partnerships designed for businesses to proactively optimise network management.
A major theme was the importance of analytics enhanced by artificial intelligence (AI).
At the opening keynote Aruba president and founder Keerti Melkote shared the company's vision for 2020 and beyond, addressing the emergence of the edge as the new centre of the digital universe.
With research from McKinsey Global Institute suggesting that over the next decade, the Internet of Things (IoT) and related data growth has an economic potential of up to US$11 trillion per year, Melkote urged organisations to implement an intelligent edge architecture that is fully connected, secured, distributed and autonomous.
Aruba South Pacific director Patrick Devlin says, "Our customers are connecting people, places and things in new ways at an unprecedented speed. Across all industry sectors this is creating new opportunities for innovation, but also new challenges and risks along the way.
"The constantly evolving technology landscape has meant that the expectations of customers and actions of competitors are instantaneous and therefore the need for quick decision-making about mission-critical operations has become paramount," Devlin says.
"Cloud adoption in the region has matured to a point where many organisations are now moving towards a 100% cloud strategy, recognising the agility that cloud-based technology provides.
"At Aruba, our focus is on helping our customers navigate the rapidly changing digital landscape and contend with the growing issue of connecting and securing IoT devices coming onto their networks. In fact, Aruba was recently recognised as the only company in the Leaders category by Forrester Research as part of The Forrester New Wave: Wireless Solutions, Q3 2019 report.
Devlin adds, "We are helping customers get ready for an age in which connected things outnumber people by an order of magnitude by offering automated network management, security and analytics.
"Australia and New Zealand's business environment is largely dependent on technology partners which means the adoption of cloud must be supported by skilled professionals.
"This is a real challenge for our industry locally and one that requires greater attention to ensure we can continue to deliver not only the product, but also the skills needed to support businesses wishing to maximise this technology.
As part of Aruba's focus on helping customers contend with the growing issue of connecting and securing the myriad IoT devices coming onto their networks to create a more sophisticated and intelligent edge, it has optimised its cloud-based platform to simplify cloud and branch management.
Siloed network management solutions are creating complexity and increasing time to remediation. Aruba made enhancements to Aruba Central to accelerate IT operations and allow IT professionals time to focus on innovation.
The software-defined branch (SD-Branch) and SD-WAN, optimised with AI-based insights and assurance, have resulted in:
Time-savings in resolving infrastructure problems before they impact the organisation. With the integration of Aruba's Analytics and Assurance capabilities into the Aruba Central unified cloud-based platform, IT professionals can remediate intermittent network issues while also proactively identifying how to optimise customers' infrastructures to ensure great experiences.
Reduce operational cost and address hybrid cloud connectivity for distributed enterprises. Enhanced with improved branch management and orchestration capabilities, and managed via Aruba Central, SD-Branch and SD-WAN can now centrally monitor and control business-intent policies to reduce the need for skilled support and maintenance professionals on site, which improves operational agility.
Easy-to-deploy, flexible and secure overlay topologies in a large-scale edge infrastructure.
SD-WAN Orchestrator Now available in Aruba Central to enable troublefree gateway provisioning at scale, this cloud-native, multi-tenant control plane aids in administrative cost savings and simplifies management of wide area networks.
Software as a service (SaaS) Express prioritisation feature enhances the performance of SaaS applications and provides visibility about the end-user experience for business-critical applications, such as Microsoft Office 365, Skype, Salesforce and many more.
Aruba Virtual Gateways, now available for both Microsoft Azure and Amazon Web Services (AWS), cost-effectively extends network and security policies to workloads running in the cloud.
Automate unique policy enforcement. Aruba ClearPass Device Insight provides IoT visibility and security by employing automated device discovery and machine learning-based fingerprinting and identification. When used in conjunction with Aruba ClearPass Policy Manager and Aruba's dynamic segmentation security capabilities, networking and security teams reduce risk by eliminating device blind spots on the network.
Leveraging Aruba's cloud-based solutions, leading aged care provider Catholic Healthcare recently rolled out Aruba Central, hosted on AWS, across its 46 locations in Australia.
BridgeClimb, the company equipping international and local visitors alike with the ability to scale the summit of the Sydney Harbour Bridge, is set to experience the benefits of Aruba Central, hosted on AWS, as part of its digital transformation project.
"We needed a robust yet secure network that could provide our IT team with better visibility of our network to deliver our guests with an even more memorable experience," says BridgeClimb IT head Parth Gandhi.
"Aruba Central appealed to us as it provided a single pane of glass for us to manage, monitor and troubleshoot our network infrastructure. The centralised monitoring, as well as the advanced analytics and assurance, gives us confidence that our network will support our business now and well into the future.
Aruba deepens strategic relationship with AWS
As workloads become more complex and the workforce gets more distributed, businesses must adopt a modern and sophisticated cloud strategy that drives innovative business solutions and competitive differentiation.
Aruba's partnerships are driven by the goal of empowering its customers and partners to adapt, evolve, and navigate today's dynamic economic environment as they digitally transform their businesses.
Through Aruba Central, a single pane of glass interface lessen siloed network operations by presenting all device information, AI-based insights, user-centric statistics, and IoT device profiles in one place, allowing organisations to quickly obtain the information needed on-demand, making the connected branch office a reality for enterprises.
Aruba and AWS have deepened their strategic relationship to provide customers with a more cloud-based SD-branch service.
From providing a virtual gateway for SD-Branch customers that allows their branch users to more securely and efficiently access corporate services hosted in their Amazon Virtual Private Cloud (Amazon VPC) and now extending that support to AWS Transit Gateway.
This collaboration aims at simplifying connectivity for SD-Branch users who have services running across multiple Amazon VPCs.
By leveraging AWS Transit Gateway, Aruba SD-Branch users need only create one virtual gateway connection, and from there, through connectivity to their AWS Transit Gateway, they can connect to up to 5000 of their Amazon VPCs in that region.
"As enterprises accelerate their cloud adoption, they continue to look for simplified branch networking services and orchestration," says Amazon Web Services partner ecosystem director Joshua Hofmann.
"Our collaboration with Aruba will allow organisations to increase efficiency, speed, and strengthen security while devoting more of their resources to delivering value to their end-customers.