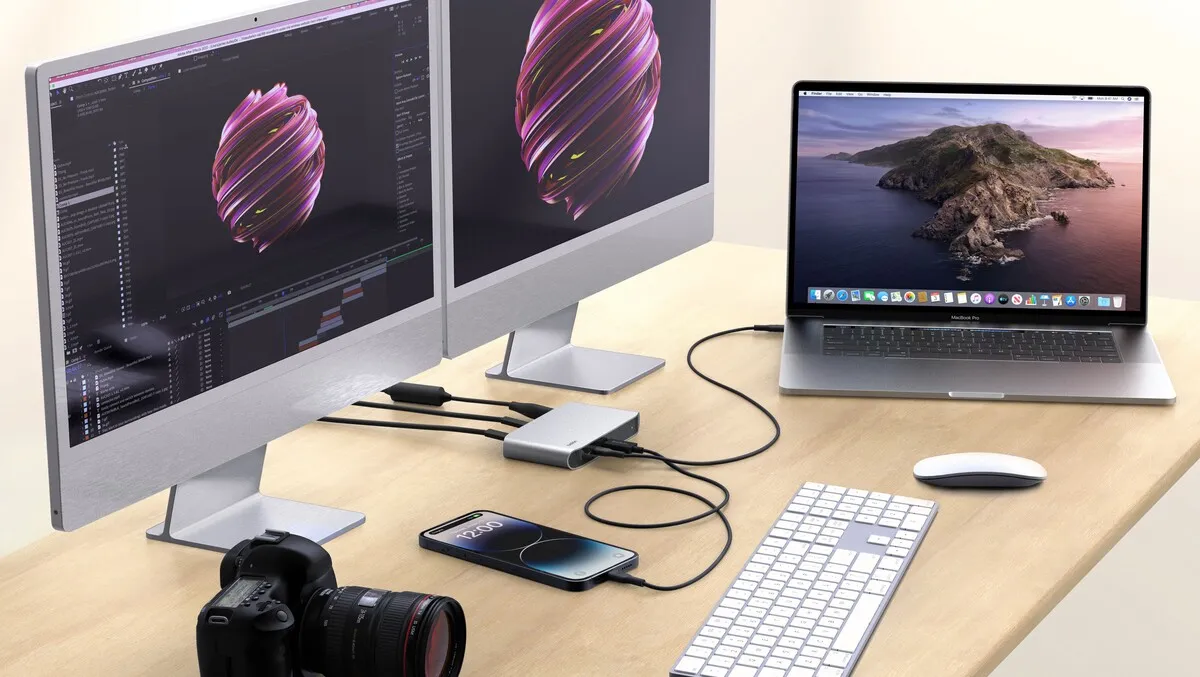 Belkin launches Thunderbolt 4 connectivity solutions
Belkin, a renowned consumer electronics leader, has officially announced its latest range of connectivity solutions. These innovative products, the Connect Pro Thunderbolt 4 Dock and the Connect Thunderbolt 4 5-in-1 Core Hub, are equipped with Intel's cutting-edge Thunderbolt 4 controller, offering a multitude of features designed to enhance the user experience in both professional and personal settings.
Thunderbolt 4 is a game-changer for anyone seeking high performance, reliability, and versatility in their connectivity solutions. It facilitates seamless connections between high-performance devices, ensuring top-tier quality and efficiency, all through a single, user-friendly port.
The Belkin Connect Pro Thunderbolt 4 Dock stands out as the ultimate workstation solution, tailored for high-performance tasks and remote work scenarios. With an impressive array of 12 ports, this docking station simplifies the process of connecting your MacBook or Windows laptop to various devices, including video equipment, Ethernet, and power, all via a single Thunderbolt 4 cable. Its groundbreaking 40Gbps data transfer speeds are eight times faster than conventional USB 3.0 connections, promising lightning-fast file transfers and data processing.
Moreover, the Connect Pro Thunderbolt 4 Dock incorporates the latest Power Delivery technology, offering up to 90W of power to charge multiple connected devices simultaneously. The docking station also delivers exceptional visual clarity, supporting video resolutions of up to 8K @ 30Hz for a single display and up to 4K @ 60Hz for dual displays. It can even handle triple displays with select laptop models, providing users with an unparalleled viewing experience.
The Belkin Connect Thunderbolt 4 5-in-1 Core Hub is another standout addition to Belkin's new lineup. This compact and lightweight hub optimizes workstations for users on the move. With support for five devices, including four Thunderbolt-enabled connections, users can effortlessly connect their Windows and Mac computers to various devices, all through a single Thunderbolt cable. The hub offers power delivery of up to 96W, ensuring rapid and consistent data transfer rates of up to 40Gbps.
Additionally, the Thunderbolt 4 Hub allows for dual monitor support at resolutions of up to 4K @ 60Hz or a single 8K at 30Hz. It also offers downstream charging of up to 15W and the ability to daisy chain up to six Thunderbolt-equipped devices, enhancing the overall flexibility and functionality of users' setups.
To complete the Thunderbolt 4 experience, Belkin offers a high-quality Thunderbolt 4 Cable. This cable boasts 40Gbps of total bandwidth, facilitating high-speed data transfers, high-definition video streaming, and Power Delivery of up to 100W. Remarkably, it is backwards compatible with Thunderbolt 3, USB4, USB 3.2, and USB 2.0, making it a versatile addition to any setup.
Belkin's Thunderbolt 4 products are now available at major retailers across New Zealand and through Belkin's official website. The Connect Pro Thunderbolt 4 Dock is priced at NZD $549.95, while the Connect Thunderbolt 4 5-in-1 Core Hub is available for NZD $329.95. The Thunderbolt 4 Cable is offered at an affordable price of NZD $89.95.
With these cutting-edge connectivity solutions, Belkin continues to drive innovation in the consumer electronics industry, providing users with the tools they need to enhance their productivity and connectivity in today's digital world.