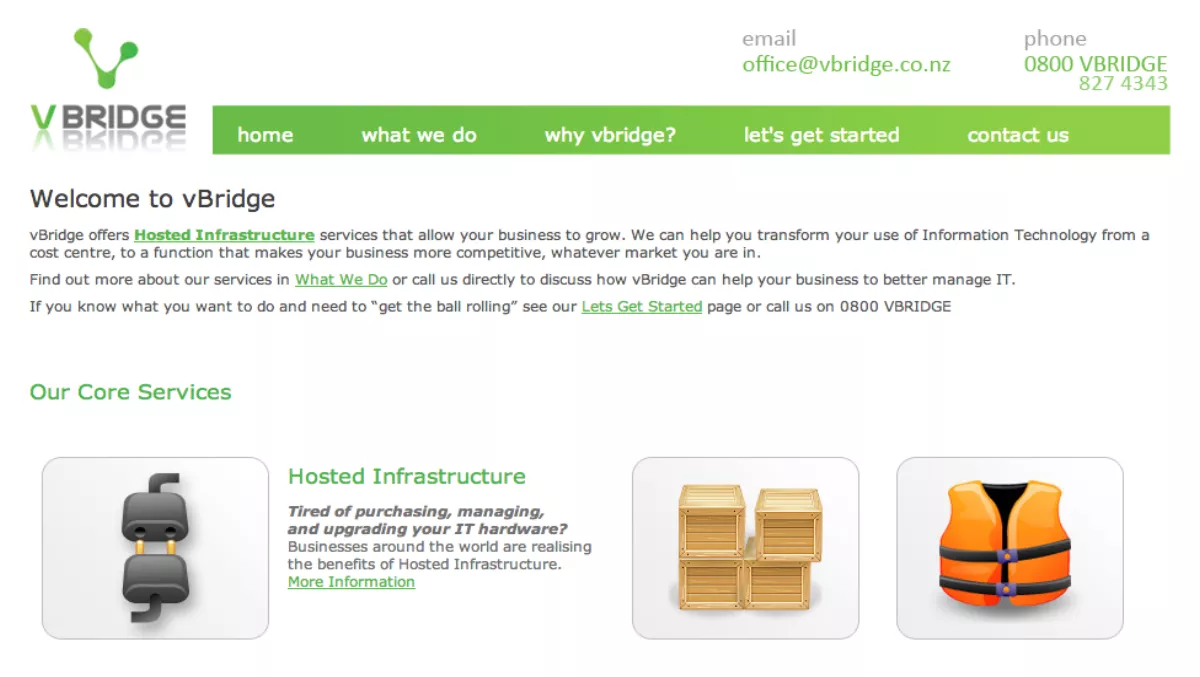 Better business resilience with infrastructure-on-demand
FYI, this story is more than a year old
Hosted infrastructure never looked so good after the Christchurch earthquakes.
Company directors who had, until the shakeup, relied on on-site infrastructure have very quickly discovered its limitations, especially if their premise is located in the red zone.
As a result, a relatively new business has experienced a surge in demand for its hosted infrastructure services.
That business is vBridge; it provides hardware platform management, temporary on-demand storage and computing capacity, and disaster recovery services.
In operation for a little over two years, vBridge is led by directors Hamish Roy and John Ward.
Prior to the earthquake, Roy says vBridge enjoyed reasonable demand for its services ("That was the reason we started," he quips). However, he says the shakes changed the playing field substantially, with an 1100% increase in demand over the last year.
"A key problem after the earthquake was access to buildings and systems; those who could get into buildings found that there was no electricity," says Roy.
There is, agrees Ward, more to it than that; while the quakes provided a catalyst to consider ways of sourcing more resilient technology, broader forces were at play. "Cloud computing is a maturing market. The understanding of cloud services is getting up there and so is the trust."
A perhaps obvious question relates to how vBridge itself managed to withstand the earthquakes. "A business like ours is expected to plan for such events, so we have two geographically separate data centers with data mirrored across them.
Through both quakes, we had 100% uptime; additionally the fibre connections across the city held up very well, with not a single break," Ward explains.
After the seismic events, many IT managers have had to work to get infrastructure up and running from tapes and other on-premise backup systems. "That's proven a real challenge, especially when compared to the ease with which those on our platform were able to restore their business systems," says Ward.
Indeed, cloud computing meant all that was required for the users of cloud services was new premises and a network connection.
The surge in demand required a pretty sharp supply chain behind vBridge, agrees Roy. "We'd made a technology decision to choose a vendor which would allow us to scale on demand," he relates.
"For that we looked to HP; its solutions allow for zero-downtime expansion of servers and storage. That's a critical factor in operating a cloud business; if there is demand for capacity, we have to be able to meet it without delay or interruption."
Related stories
Top stories