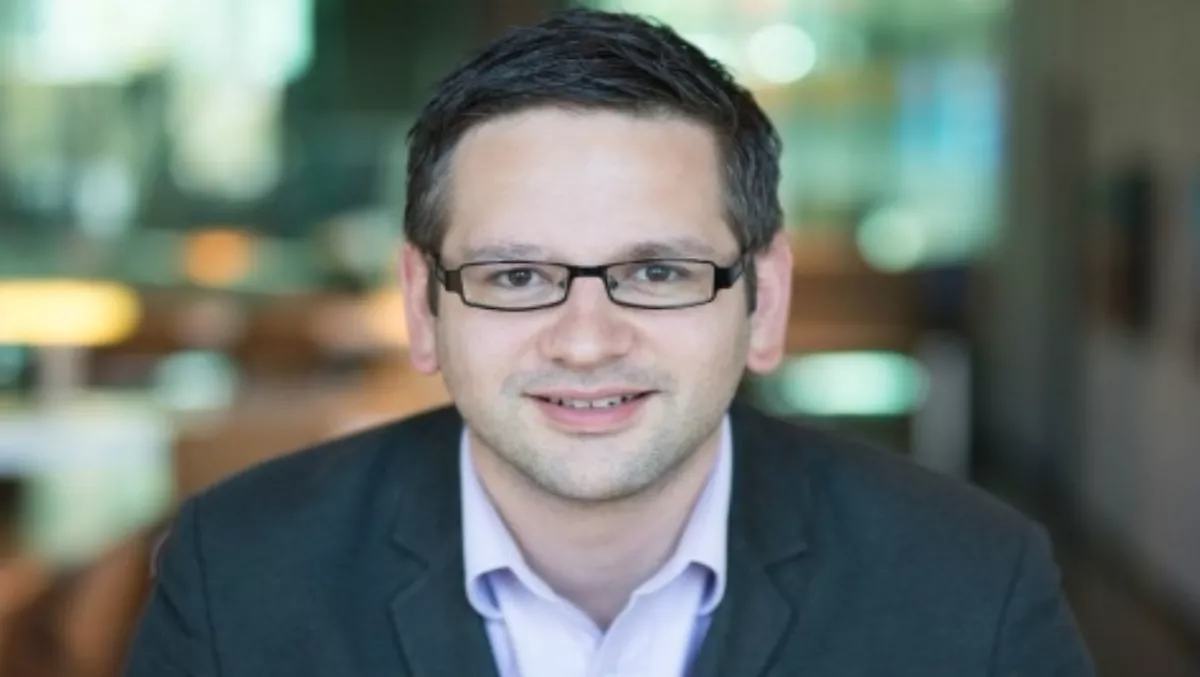 Bigpipe takes aim at Spark
By Heather Wright,
Thu 5 Feb 2015
FYI, this story is more than a year old
Oliver Smith has big plans for Spark-owned ISP Bigpipe.
Ask the head of Bigpipe what his aspirations are for the company – celebrating its first birthday on Saturday February 07 –and his reply is quick: "To be number one," he says, laughing as he notes that would mean ousting parent Spark – with its 600,000 customers – from top spot.
Laughter aside, Smith (pictured) does have big aspirations for the company which is quickly carving out a solid niche providing 'fast, naked, uncapped broadband with no fixed-term contacts'.
"Within five years I can see us becoming number three, quite plausibly," he says.
"We are very focused on the market we are going for. We are a niche player, but our niche is pretty big. We don't want to diverge and become everybody's telco.
"But certainly we think this market for naked, unlimited, simple broadband without any other frills is growing."
Smith estimates the company is currently between fifth and tenth ranked ISP in the market, for connections .
He's coy about customer figures, declining to give any specifics.
"We've had explosive growth since Christmas, in orders of magnitude more than we saw before Christmas," Smith says.
That growth, he acknowledges, is seasonal, as students settle in to new digs for the year ahead and people move into new homes.
The company will launch its UFB offering in Wellington in about four weeks. It will be the first UFB offerings for the company outside of Auckland, and Smith is expecting good demand from the capital.
He's also hoping the service will have rolled out in Christchurch and Dunedin by early next year – in time for the influx of scarfies.
Smith says the company has set itself apart by modelling itself of successful software-as-a-service providers, such as Xero and Vend, on the business side, and with a simple sign-up process, akin to Spotify – and a simple leaving process with no fixed contract.
The company has no call centre, with all customer interactions initiated via email, though Bigpipe will call customers if a problem requires a phone call. Most, however, don't, Smith says, and the company has a 20 minute resolution average for connection issues.
Says Smith: "We're seeing a lot of customers who are moving to us from other ISPs which is not necessarily the norm. Quite often you see customers moving from one flat to another and ditching an ISP, but we're seeing people switching, even though they're not moving house."
He says the ISP market, like power and banking, is one of customer apathy, where most people are 'just comfortable' with whoever they're with.
"So to actually get people to switch to you, you must be doing something right or the other guys are doing something wrong."
Key among those whose customers Bigpipe are claiming: "We're definitely seeing quite a few from the red guys, which is good and not terribly surprising given the current state of things."
New services
Smith says he's keen to keep Bigpipe simple.
"There are certain things its very unlikely we will ever do: selling home phone lines for example.
"But we might start doing some over the top stuff, but we'd try to keep that as simple as possible as well."
On the OTT side, he says services such as streaming video, streaming music and gaming would play well to Bigpipe's target market – the tech savvy, primarily under 35 year olds, who just want fast uncapped internet, without 'extra stuff'
"It's stuff that we look at," he says of potential extra services. "We'd probably try a few promotional things first and see how they go.
"I really don't want to complicate the business though, I think that's a dangerous road to take. So there's got to be a really good reason to actually do it, not just everyone else is doing it."
He says there has been some demand for Bigpipe
"Everything is BYO modem with us at the moment. That was more it was the easiest and quickest way to launch. But we're definitely seeing feedback from customers that they would see us being more proactive with modems. Not necessarily giving them away for free or bundling them in, but just having more clarity around what is the right modem and click to buy or something like that.
"We might do that in the next couple of months. It might make things simpler for us too, in terms of support."
He says the company is also interested in talking to the Lightbox team in Spark Ventures about offering the TV on demand service.
"There's going to be a big fight coming up in the next few months for that market, so it will be interesting to see how it plays out."
He says there's a big opportunity ahead for the company as fibre uptake increases.