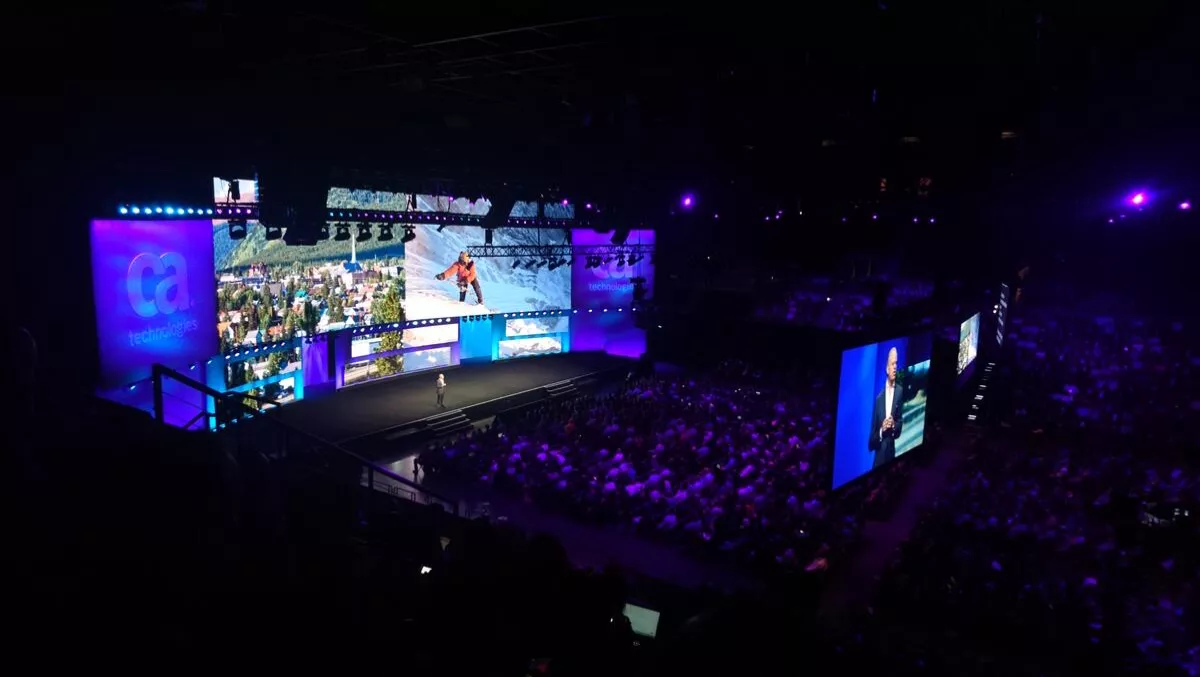 CA Technologies CEO: "This is the tip of the sphere of transformation"
FYI, this story is more than a year old
"This is the tip of the sphere of transformation" CA Technologies CEO Mike Gregoire announced at this morning's CA World keynote in Las Vegas today.
"We've long passed the point where enterprise software is used merely to drive efficiencies. The focus today is on innovating the next big shift for your company. That is the number one priority we are focused on – providing you with solutions that will remove the barriers between your ideas and outcomes.
"I believe change in your company will be driven by you – the technologists. Software is the creative medium of our age. We've seen it change the world.
He talked about the idea of better managing risk, rather than avoiding it. Part of that process is digital intuition: using customer data to find patterns, trends, inform decisions and manage risk.
Gregoire took risk and decision-making to the ultimate test as he scaled a rock face with adventure mountaineer, skier and filmmaker Jimmy Chin for a fascinating discussion on balancing creativity and execution.
He spoke about how every industry is facing challenges – while online retailers like Amazon are disrupting brick-and-mortar stores, those stores that are smart are using software to facilitate a better customer experience.
He also spoke about the company's long-time digital transformation strategy, which is ultimately build on the idea of the modern software factory.
This allowed the company to leverage agile, automation, insights and security with the ultimate goal of driving maximum business value for customers.
"The ability to manage change, respond to new inputs or insights and pivot has never been more important. Our entire portfolio is designed around the pillars of the Modern Software Factory to increase the velocity, security and performance of the solutions and the apps that are critical to our customers' businesses," Gregoire said.
The Singapore Municipal Services Office (MSO) introduced its OneService app to bring together disparate government agencies and make it easier for consumers to report municipal issues. This is one way CA Technologies is helping government agencies around the world to improve the citizen experience through software.
Gregoire said that building one's own modern software factory is the key to remaining competitive. Long term sustainable growth and vision are also part of that equation.
"Our purpose is to be the engine and the model," Gregoire said.
CA World is being held in Las Vegas over the next two days.