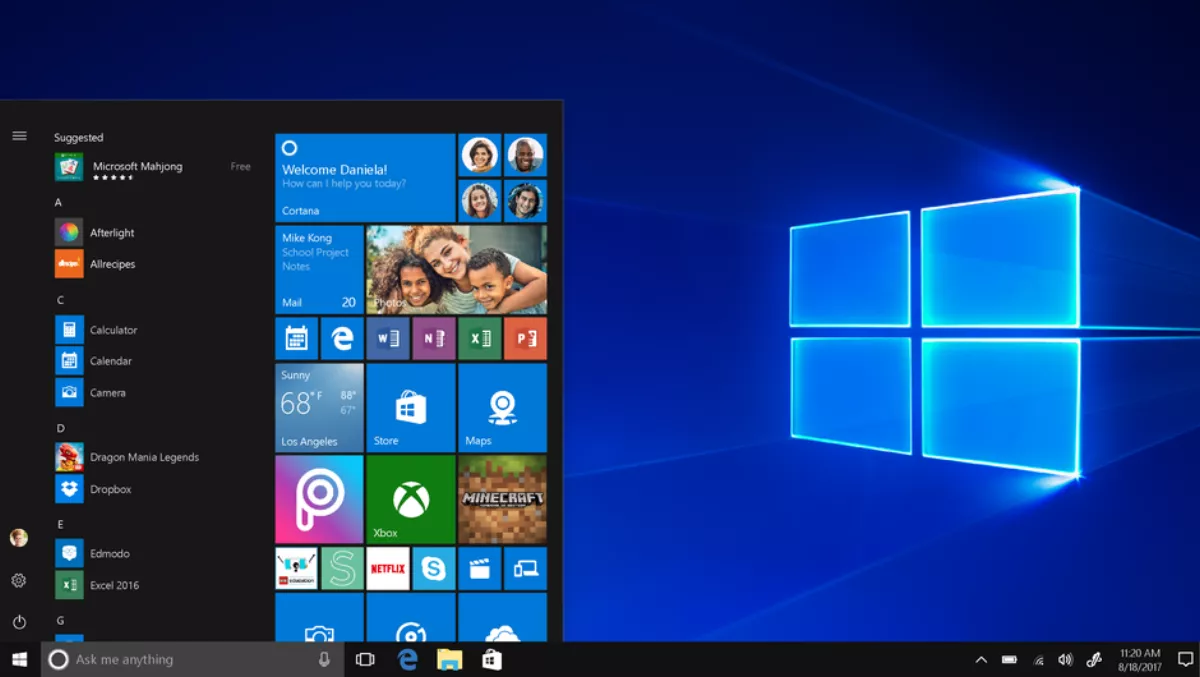 Celebrating 30 years of Windows
By Sean Mitchell,
Tue 12 Nov 2013
FYI, this story is more than a year old
Nelson Mandela walked free from prison, President Reagan and Soviet leader Mikhail Gorbachev 'tore down this wall' and Sir Timothy Berners-Lee gifted the planet the World Wide Web.
Just a small reflection on the key events of the last 30 years wouldn't you say?
Both iconic and significant in the evolution of personal computing, on November 10, 1983, Bill Gates introduced Windows.
Going forward into the fourth Windows decade, Microsoft dominates over 80% of the desktop market, and in celebration, here's a brief historical rundown of the world's most popular OS...
1982–1985: Introducing Windows 1.0
Microsoft works on the first version of a new operating system. Interface Manager is the code name and is considered as the final name, but Windows prevails because it best describes the boxes or computing "windows" that are fundamental to the new system.
Windows is announced in 1983, but it takes a while to develop. Skeptics call it "vaporware."
On November 20, 1985, two years after the initial announcement, Microsoft ships Windows 1.0.
Now, rather than typing MS‑DOS commands, you just move a mouse to point and click your way through screens, or "windows."
Bill Gates says, "It is unique software designed for the serious PC user…"
There are drop-down menus, scroll bars, icons, and dialog boxes that make programs easier to learn and use.
You're able to switch among several programs without having to quit and restart each one.
Windows 1.0 ships with several programs, including MS‑DOS file management, Paint, Windows Writer, Notepad, Calculator, and a calendar, card file, and clock to help you manage day-to-day activities. There's even a game—Reversi.
1987–1992: Windows 2.0–2.11—More windows, more speed
On December 9, 1987 Microsoft releases Windows 2.0 with desktop icons and expanded memory. With improved graphics support, you can now overlap windows, control the screen layout, and use keyboard shortcuts to speed up your work.
Some software developers write their first Windows–based programs for this release.
Windows 2.0 is designed for the Intel 286 processor. When the Intel 386 processor is released, Windows/386 soon follows to take advantage of its extended memory capabilities. Subsequent Windows releases continue to improve the speed, reliability, and usability of the PC.
In 1988, Microsoft becomes the world's largest PC software company based on sales. Computers are starting to become a part of daily life for some office workers.
1990–1994: Windows 3.0–Windows NT—Getting the graphics
On May 22, 1990, Microsoft announces Windows 3.0, followed shortly by Windows 3.1 in 1992. Taken together, they sell 10 million copies in their first 2 years, making this the most widely used Windows operating system yet.
The scale of this success causes Microsoft to revise earlier plans. Virtual Memory improves visual graphics. In 1990 Windows starts to look like the versions to come.
Windows now has significantly better performance, advanced graphics with 16 colors, and improved icons. A new wave of 386 PCs helps drive the popularity of Windows 3.0. With full support for the Intel 386 processor, programs run noticeably faster. Program Manager, File Manager, and Print Manager arrive in Windows 3.0.
Windows software is installed with floppy discs bought in large boxes with heavy instruction manuals.
The popularity of Windows 3.0 grows with the release of a new Windows software development kit (SDK), which helps software developers focus more on writing programs and less on writing device drivers.
Windows is increasingly used at work and home and now includes games like Solitaire, Hearts, and Minesweeper. An advertisement: "Now you can use the incredible power of Windows 3.0 to goof off."
Windows for Workgroups 3.11 adds peer-to-peer workgroup and domain networking support and, for the first time, PCs become an integral part of the emerging client/server computing evolution.
Windows NT
When Windows NT releases on July 27, 1993, Microsoft meets an important milestone: the completion of a project begun in the late 1980s to build an advanced new operating system from scratch.
"Windows NT represents nothing less than a fundamental change in the way that companies can address their business computing requirements," Bill Gates says at its release.
Unlike Windows 3.1, however, Windows NT 3.1 is a 32-bit operating system, which makes it a strategic business platform that supports high-end engineering and scientific programs.
1995–2001: Windows 95—the PC comes of age
On August 24, 1995, Microsoft releases Windows 95, selling a record-setting 7 million copies in the first five weeks. It's the most publicized launch Microsoft has ever taken on.
Television commercials feature the Rolling Stones singing "Start Me Up" over images of the new Start button. The press release simply begins: "It's here."
This is the era of fax/modems, e‑mail, the new online world, and dazzling multimedia games and educational software.
Windows 95 has built-in Internet support, dial-up networking, and new Plug and Play capabilities that make it easy to install hardware and software. The 32-bit operating system also offers enhanced multimedia capabilities, more powerful features for mobile computing, and integrated networking.
At the time of the Windows 95 release, the previous Windows and MS‑DOS operating systems are running on about 80 percent of the world's PCs. Windows 95 is the upgrade to these operating systems.
To run Windows 95, you need a PC with a 386DX or higher processor (486 recommended) and at least 4 MB of RAM (8 MB of RAM recommended). Upgrade versions are available for both floppy disk and CD-ROM formats. It's available in 12 languages.
Windows 95 features the first appearance of the Start menu, taskbar, and minimize, maximize, and close buttons on each window.
In the early 1990s, tech insiders are talking about the Internet—a network of networks that has the power to connect computers all over the world. In 1995, Bill Gates delivers a memo titled "The Internet Tidal Wave," and declares the Internet as "the most important development since the advent of the PC."
In the summer of 1995, the first version of Internet Explorer is released. The browser joins those already vying for space on the World Wide Web.
1998–2000: Windows 98, Windows 2000, Windows Me
Windows 98
Released on June 25, 1998, Windows 98 is the first version of Windows designed specifically for consumers. PCs are common at work and home, and Internet cafes where you can get online are popping up. Windows 98 is described as an operating system that "Works Better, Plays Better."
With Windows 98, you can find information more easily on your PC as well as the Internet. Other improvements include the ability to open and close programs more quickly, and support for reading DVD discs and universal serial bus (USB) devices. Another first appearance is the Quick Launch bar, which lets you run programs without having to browse the Start menu or look for them on the desktop.
The Windows Me
Designed for home computer use, Windows Me offers numerous music, video, and home networking enhancements and reliability improvements compared to previous versions.
First appearances: System Restore, a feature that can roll back your PC software configuration to a date or time before a problem occurred. Movie Maker provides users with the tools to digitally edit, save, and share home videos. And with Microsoft Windows Media Player 7 technologies, you can find, organize, and play digital media.
Windows 2000 Professional
More than just the upgrade to Windows NT Workstation 4.0, Windows 2000 Professional is designed to replace Windows 95, Windows 98, and Windows NT Workstation 4.0 on all business desktops and laptops. Built on top of the proven Windows NT Workstation 4.0 code base, Windows 2000 adds major improvements in reliability, ease of use, Internet compatibility, and support for mobile computing.
Among other improvements, Windows 2000 Professional simplifies hardware installation by adding support for a wide variety of new Plug and Play hardware, including advanced networking and wireless products, USB devices, IEEE 1394 devices, and infrared devices.
Geek trivia: The nightly stress test performed on Windows 2000 during development is the equivalent of three months of run time on up to 1,500 computers.
Both iconic and significant in the evolution of personal computing, on November 10, 1983, Bill Gates introduced Windows.
Going forward into the fourth Windows decade, Microsoft dominates over 80% of the desktop market, and in celebration, here's a brief historical rundown of the world's most popular OS...
2001–2005: Windows XP—Stable, usable, and fast
On October 25, 2001, Windows XP is released with a redesigned look and feel that's centered on usability and a unified Help and Support services center. It's available in 25 languages. From the mid-1970s until the release of Windows XP, about 1 billion PCs have been shipped worldwide.
For Microsoft, Windows XP will become one of its best-selling products in the coming years. It's both fast and stable. Navigating the Start menu, taskbar, and Control Panel are more intuitive.
Awareness of computer viruses and hackers increases, but fears are to a certain extent calmed by the online delivery of security updates. Consumers begin to understand warnings about suspicious attachments and viruses. There's more emphasis on Help and Support.
Windows XP Home Edition offers a clean, simplified visual design that makes frequently used features more accessible.
Designed for home use, Windows XP offers such enhancements as the Network Setup Wizard, Windows Media Player, Windows Movie Maker, and enhanced digital photo capabilities.
Windows XP Professional brings the solid foundation of Windows 2000 to the PC desktop, enhancing reliability, security, and performance. With a fresh visual design, Windows XP Professional includes features for business and advanced home computing, including remote desktop support, an encrypting file system, and system restore and advanced networking features.
Key enhancements for mobile users include wireless 802.1x networking support, Windows Messenger, and Remote Assistance.
2006–2008: Windows Vista—Smart on security
Windows Vista is released in 2006 with the strongest security system yet. User Account Control helps prevent potentially harmful software from making changes to your computer.
In Windows Vista Ultimate, BitLocker Drive Encryption provides better data protection for your computer, as laptop sales and security needs increase.
Windows Vista also features enhancements to Windows Media Player as more and more people come to see their PCs as central locations for digital media. Here you can watch television, view and send photographs, and edit videos.
Design plays a big role in Windows Vista, and features such as the taskbar and the borders around windows get a brand new look. Search gets new emphasis and helps people find files on their PCs faster.
Windows Vista introduces new editions that each have a different mix of features. It's available in 35 languages. The redesigned Start button makes its first appearance in Windows Vista.
2009: Windows 7
Windows 7 was built for the wireless world that arose in the late 2000s. By the time it was released, laptops were outselling desktops, and it had become common to connect to public wireless hotspots in coffee shops and private networks in the home.
Windows 7 included new ways to work with windows—like Snap, Peek, and Shake—which both improved functionality and made the interface more fun to use. It also marked the debut of Windows Touch, which let touchscreen users browse the web, flip through photos, and open files and folders.
2012: Windows 8
Windows 8 is Windows reimagined from the chipset to the user experience. It functions as both a tablet for entertainment and a full-featured PC for getting things done.
It introduces a totally new interface that works smoothly for both touch and mouse and keyboard. Windows 8 also includes enhancements of the familiar Windows desktop, with a new taskbar and streamlined file management.
Windows 8 features a Start screen with tiles that connect to people, files, apps, and websites. Apps are front and center, with access to a new place to get apps—the Windows Store—built right in to the Start screen.
Along with Windows 8, Microsoft also launched Windows RT, which runs on some tablets and PCs. Windows RT is designed for sleek devices and long battery life, and exclusively runs apps from the Windows Store. It also comes with a built-in version of Office that's optimized for touchscreens.