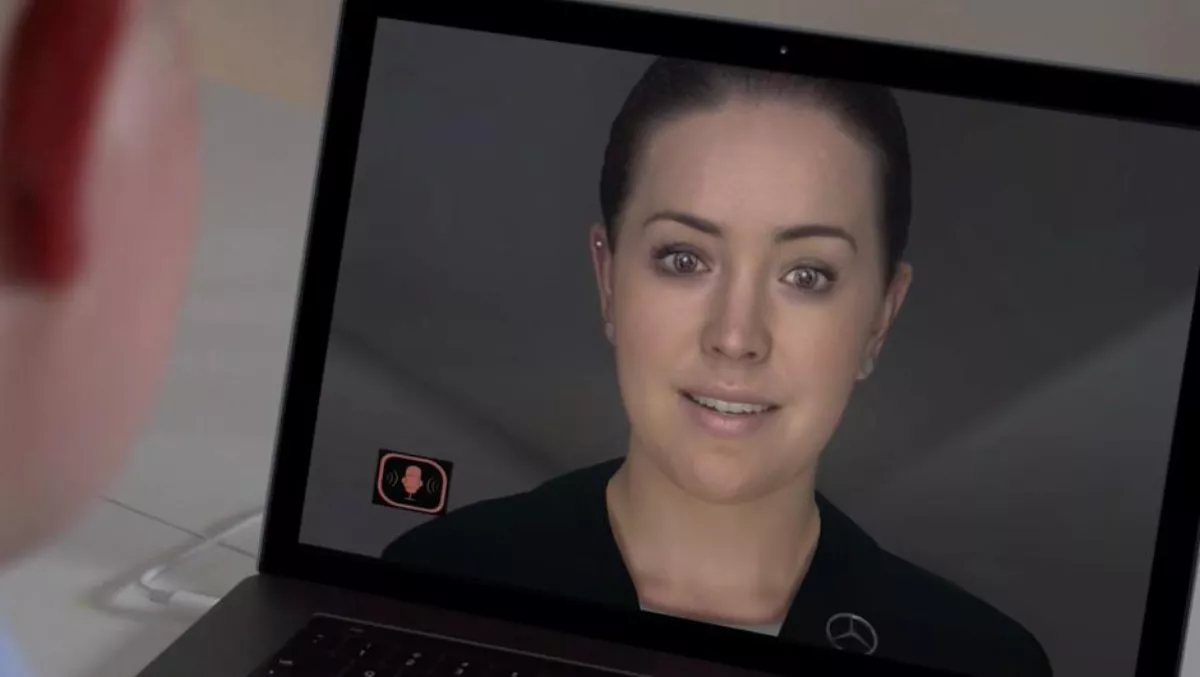 Daimler hires Soul Machines' digital human for customer service
FYI, this story is more than a year old
New Zealand-based artificial intelligence company Soul Machines has today announced that it has entered into a new partnership with Daimler Financial Services.
This week, at Mobile World Congress in Barcelona, the two companies will demo Sarah, a digital human designed to help Daimler Financial Services customers with personalised assistance for the company's services, including car financing, leasing and insurance.
Soul Machines is the developer of the world's first Virtual Nervous System which brings intelligent, emotionally responsive digital humans "to life".
Sarah combines artificial and emotional intelligence for a new experience which redefines the link between man and machine.
She will be able to assist customers similar to a personal concierge, with the goal of offering the right information at the right time with a convenient and emotionally intelligent, digital touchpoint.
As the finance and mobility portfolio of car manufacturers becomes increasingly complex, the challenge to meet the individual wishes of customers is growing.
Different from regular voice assistants, Sarah will be able in the future to recognise non-verbal behavior in real time using face recognition based on Soul Machines' technology.
"We have a fundamental belief that in the age of artificial intelligence we are entering, machines can be more useful if they are more like us," says Soul Machines chief business officer Greg Cross.
"Businesses today risk losing customers through impersonal online experiences. We're thrilled to partner with companies like Daimler Financial Services based on a mutual belief that the future of highly-personalised, successful customer experiences is rooted in human-like interactions powered by technologies like artificial intelligence.
"We meet this challenge with a unique combination of artificial and emotional intelligence," adds Daimler Financial Services chief information officer Udo Neumann.
"A digital human like Sarah serves as the interface in our financial services and mobility ecosystem, enabling us to deliver an unprecedented customer experience in the near future.
This latest partnership builds on a growing number of agreements that Soul Machines has recently announced.
In November 2017, the company announced a partnership with Autodesk, the software maker for people who make things, for AVA.
AVA is Autodesk's digital human that provides customers access to a service agent 24/7—answering questions, directing them to content and completing transactions.
Earlier this month, Royal Bank of Scotland's, NatWest Bank, a large retail and commercial bank in the United Kingdom, also announced that it has been working with Soul Machines on a pilot for Cora, its customer service digital human.
Already in advanced testing, Cora is having more than 100,000 conversations per month.
Each of these customer solutions are built on top of IBM Watson to provide a customer experience that goes way beyond the traditional AI user interface of chatbots and voice assistants.