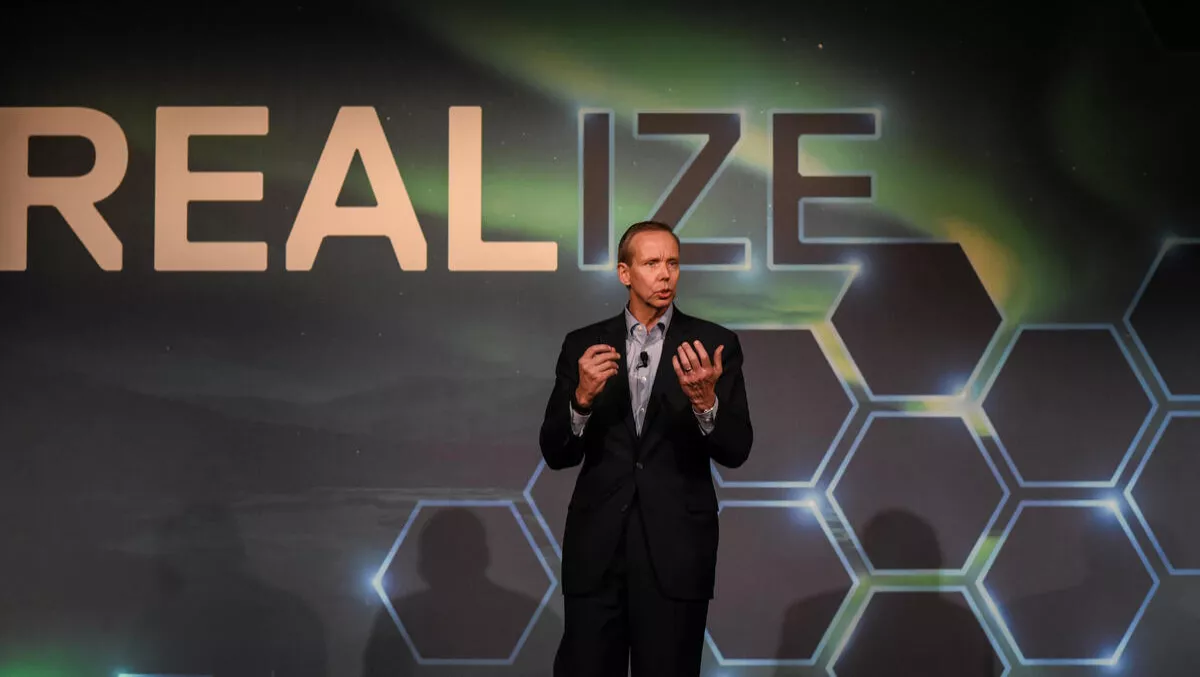 Dell CFO Tom Sweet on the merger, the ANZ market & start-ups
FYI, this story is more than a year old
Tom Sweet, executive vice president and CFO of Dell Technologies sat down at a media roundtable during the 2017 Dell EMC World conference to discuss the company's recent merge with EMC, new investments in start-ups and the ANZ market.
The Dell EMC merger: Expectations and reality
It's been just over 8 months since Dell Technologies announced the completion of the EMC Corporation acquisition.
With the announcement of the close of the merger in September 2016, CEO Michael Dell states, "we are at the dawn of the next industrial revolution.
Now, Tom Sweet discusses the reality of the acquisition 8 months in.
Sweet says that process hasn't been perfect by any standard.
"It was a complex integration, but I think we are about where I thought we would be.
Sweet says that some relationships were disrupted in order to align the organisation the way they needed to.
"Overall, we're in decent shape," he adds, "but of course there is lots left to do.
Comparing his expectation leading up to the merger, to the reality of it now, Sweet says that so far everything has played out generally how he expected it to.
He had certain finance models of how he thought it was going to work but there are always some things that you wish you would've done differently, he says.
Sweet notes that they saw a bit of softness which EMC reported over the last half of last year. That is, softness in the storage space, continues Sweet.
"But I think that's starting to come back for us now. We worked our way through some of the integrations and uncertainty around what was going to happen with the transaction so we think that was relatively temporary.
The Dell EMC merger: The debt
Sweet moves on to discuss the impact of USD $67 billion merger on Dell's financials and the company's debt following the merger.
"It had a big impact on my financials.
Sweet says $46 billion of debt was put on the incremental balance sheet to fund the transaction and at the close of the transaction $57 billion of debt remained.
Since then, they have reduced about $7.5 bill of core debt.
So, in terms of deleveraging the balance sheet, which Sweet says this is their focus for the intermediate period, the company is on track.
Start-up investments
Following on from his comments on the company's core debt, Sweet discusses how to maintain a balance between reducing debt and the need to reinvest.
Sweet says that regarding capital allocation, their model shows roughly 65-75% of capital allocation is going to deleveraging, and the rest is going toward investment.
He notes that Dell are trying to invest at a high rate in business right now even as they continue to deleverage the balance sheet.
You pick your spots, continues Sweet, and you pick those growth factors that you want drive and explore.
And right now, this area is start-ups.
Sweet states that the company is going invest roughly $100 million a year in different types of technology start-ups.
This will help the company try to understand and get access to innovative technology as well as give these entrepreneurs access to some of Dell's thought and business leaders.
The balance is between reducing cost in certain areas to reinvest in other areas, Sweet adds, even as the company works to reduce overall footprint cost.
Sweet says that in a market where solutions are evolving at a rapid rate, "you can't shut off innovation. You can't shut off R-D spend.
"If you take yourself out of the market or shut it down for 2 years, you're going to destroy the business.
The Australia and New Zealand market
Sweet discusses the ANZ market for Dell EMC.
"I am increasingly bullish on Australia and New Zealand. It went through a couple years of softness given some of the commodity.
"But it has started come back for us. We've increased investment down there in terms of sales capacity and coverage. We've increased capabilities down there. We are expanding our Dell Financial Services to have a direct presence there by the mid-summer.
"I would think that that would tell you that our commitment is there and that we're very happy with the progression of that business, it's a good market for us," continues Sweet.
"It's a market that in many respects leads the world in on-demand type models and how they want to consume compute so it's a pretty interesting market for us.