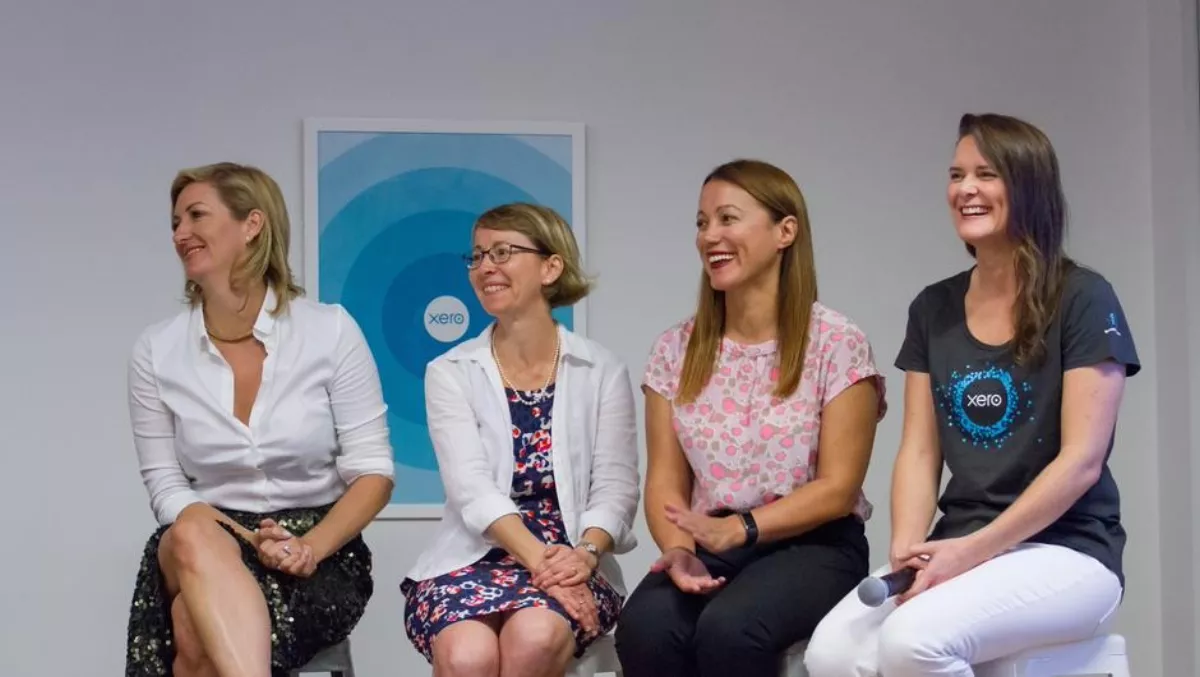 Discrimination, advocacy, and standing together – Women in tech speak out
Fri, 9th Mar 2018
FYI, this story is more than a year old
Cloud accounting software Xero held a panel featuring Kiwi women in technology at their Auckland office in celebration of International Women's Day this year.
The event saw approximately 80 women who were Xero partners, customers, and employees coming together to listen to the panel on their experiences and advice on the progress women have made and the challenges ahead.
The panellists consisted of Xero chief partner officer Anna Curzon, Flossie founder Jenene Crossan, 1Centre founder and CEO Miriana Lowrie, and Engine Room's Philippa O' Mara.
Panel moderator Sandy Burgham, from the Play Contemporary Leadership Colab, kicked off by asking the panellists what the international theme for this Women's Day meant to them personally.
What does #PressforProgress mean to you?
For Lowrie, it's about addressing the lack of female role models.
She put the question to the audience, "How many of you are women in tech, and are Maori?
She was met with the raised hands of three women.
"That's what I want to see change. There is a massive gap of Maori women in the industry. A lot of talk is happening, but there isn't a lot of change in this space.
O'Mara says for her; it's about addressing the elephant in the room.
"We need to change the mindset beyond just business and the women in the room here, but also the mindset of the younger generation and of men, because sometimes they don't even realise there's an issue."
Crossan says that all the talk around the celebration of International Women's Day is mere tokenism unless there's action behind it.
For her, #PressforPorgress means holding not men or boardrooms accountable, but women holding themselves accountable.
"Sexism doesn't just happen from guys. I get it from women every single day of the week in lots and lots of different ways.
"We're the harshest critics of each other - and I think it starts with us as parents, as stepparents as aunties, bosses, and whatever else we are, to actually start to break down that kind of stuff because that's where we're going to get progress from.
Are the experiences of women in the tech sector different from the experiences of women in any other sector?
Curzon says she believes that there are differences, commenting on the inclusiveness she saw at previous Xero events where the audience and panels had a 50/50 split, brought their young children, and mentioned how different it was to her previous experience at finance and banking events.
"If you think about all the things that used to limit us in the past, hierarchy, access to tools, information, and advice; technology is a wonderful way of melting all those away.
"I talk to a lot of accountants and bookkeepers that have started their business on the kitchen table, and they're able to do that because all they need is their laptop," Curzon adds.
Lowrie spoke of questions she's been asked as a woman in the tech industry - how male founders are never questioned about their relationship status, family life, and domestic obligations, but women founders don't get the same consideration.
"People don't generally mean to do it, but we need to use our voice and let people know it's inappropriate," she says.
What are some of the experiences you've faced while raising capital?
"I can't invest in your business because my wife will be upset," is something Crossan has been told before by a prospective investor.
She mentioned the statistic that only four percent of venture capital funding goes into startups with women founders.
"It's so stacked against me that the only thing I can do really do is try harder to find the people who do get it and want to support it and embrace them, work with them, find more of them and also remember to pay it forward.
"I have to bring other people up with me as I'm doing this because that's what we do to press for progress and hold culture accountable," Crossan says.
How has technology helped to democratise business for women?
Curzon says the technology has made information that was once only available to large enterprise accessible to small businesses.
"What we see in New Zealand is a real dichotomy here where 50% of businesses in NZ are owned by women," she says, referring a Grant Thornton study released recently.
"So I think that's the way technology is starting to give people this parity in terms of being able to live out their dreams from a business perspective.
Lowrie says technology has empowered her team to take control of situations with the number of resources available
"New software comes out probably every day, no one knows it all – so we are fortunate to be able to learn it together.
"With the amazing UX and UI these days, you don't need a degree to be able to plug in the applications you need," she adds.
What's your best actionable advice for the audience today?
Crossan says some valuable advice she's received is to fall out of love with your own business so that you can see the opportunities within it.
"Find a way to be objective, think about what's the worst that could happen and how you can go around those hurdles.
"And stop being critical of other women."
O' Mara says it's important to encourage others and help them learn.
"Educate others, ask questions, have conversations – you don't always have to stand up and give a presentation.
She told the audience to either read or listen to Chimamanda Ngozi Adichie's book or TED talk We should all befeminists and then share it with someone else.
Lowrie says the best advice she received was from her aunt and uncle, who told her that life isn't a roleplay.
"You don't get to live this life over again. When you find something that's your thing - and I've been trying to find my thing for 20 years – grab on and go for it 100%.
But Lowrie says she didn't get there without helping others along the way and challenged the audience to think about what they were doing within their own environment to bring people up.
Curzon had two pieces of actionable advice to dispense.
"First, go back and Google 'becoming a male advocate for gender diversity', and really start to understand it because it's part of our journey.
"I talk to a lot of guys and they get very worried that they'll stuff up if they've tried something and it was hard.
"So the intent is there, but what's the how-to? There's lots of material online for that," Curzon says.
The second thing, she says, is something she picked up from Xero chief people officer Rachael Powell.
She told them to commit to asking others the question, "What's the gender mix in your company?
"It helps spark the thought that it's not right to have a lack of diversity, and that something needs to be done about it."