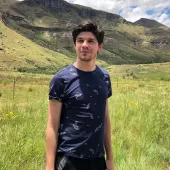 By Jacques-Pierre (JP) Dumas, Reviewer
Recently IT Brief had the opportunity to talk to Hnry CEO James Fuller about his company's recent partnership with ASB and what the future of work looks like for Kiwis.
1. To start off with can you tell me a bit more about yourself and Hnry?
A few years ago our team of founders left permanent employment and began working as freelancers and contractors. Almost straight away we were bowled over by how complex the tax and compliance requirements were.
The sheer number of spreadsheets, calculator apps, accounting software and other tools was overwhelming. Even with an accountant, it felt like we were spending too much of our precious time on low-value tasks like analysing bank statements and reconciling transactions.
This is how Hnry was created - the trusted financial sidekick for contractors and freelancers, taking care of all of the financial admin so you can get back to doing what you love.
2. Diving a bit deeper into Hnry can you explain a bit more about the technology behind your company?
From the start, we've stuck to one key principal - customers don't want faceless software that expects them to do it all themselves like some sort of 'Lone Ranger'. Tax can be complex, and expecting an individual to work it all out for themselves can result in mistakes, and when it comes to IRD, those penalties can be quite severe.
While we knew we needed to build a smart, automated platform which is easy to use, we knew we'd also need actual customer support. It's a concept we call 'Service as a Software' - moving away from the outdated model of not having a team you can contact; not having customer support, to realising that while you can have amazing tech and automation it isn't everything. When it comes to money and finances, some people like to speak to a human being once in a while.
3. New Zealand has a big start-up culture, what was it like launching your business and building it up to where it is now?
Before launching Hnry, I worked with tech start-ups as a coach at CreativeHQ. The number of talented, motivated people entering the tech space is staggering. Working amongst this dedicated community each day gave us the push to create Hnry.
At first, we started off really small by running trials with potential customers and working with IRD and ACC to build our service. It was only through taking the time to go through this process that we truly understood what our customers wanted - and from there we could confidently launch the product in the market and scale to where we are today
4. Can you tell me a bit more about the ASB partnership and how it came about?
ASB shares our vision on what the future of work looks like, and are providing us and our customers with some amazing opportunities. As a fintech company, being able to work in partnership with an innovative bank like ASB is really helping our platform go from strength to strength.
Through our partnership, one of the things we can provide is a unique Hnry Bank Account for all of our users, to have all their freelancing and contracting income paid in to, keeping our service simple and efficient.
Rather than solely providing us with banking infrastructure, ASB also really took the time to understand our business - what we do today as well as what our plans for the future.
5. What sort of future do you envision for the company?
While our core service started with tax and compliance, we've already expanded and are looking to solve other problems experienced by freelancers and contractors.
Over the coming years, we believe more people will embrace flexible working, and we see Hnry evolving to providing 'financial wiring' that supports them. What we do solves a global problem, and with the rising adoption of the gig economy, we're already looking ahead to where we might take this.
6. To finish off with what would you say to fellow entrepreneurs to encourage them to keep going with their projects?
I've always subscribed to the idea that you should let your customers be your motivator. If you're working on a project, you should be regularly testing and validating it with your target market.
Seeing customers get excited about your project, from initial concepts through to prototypes and early builds, is a great way of maintaining your focus and motivation.
Back in the early days of Hnry, the main thing that kept us going was just how engaged and excited our Beta customers were that there was a service that actually solved the problem for them - rather than expecting them to do all the work themselves.
Those early adopters were really the driving inspiration for where we are today, and we still regularly engage with our customers to get their feedback and evolve our service to help them succeed.