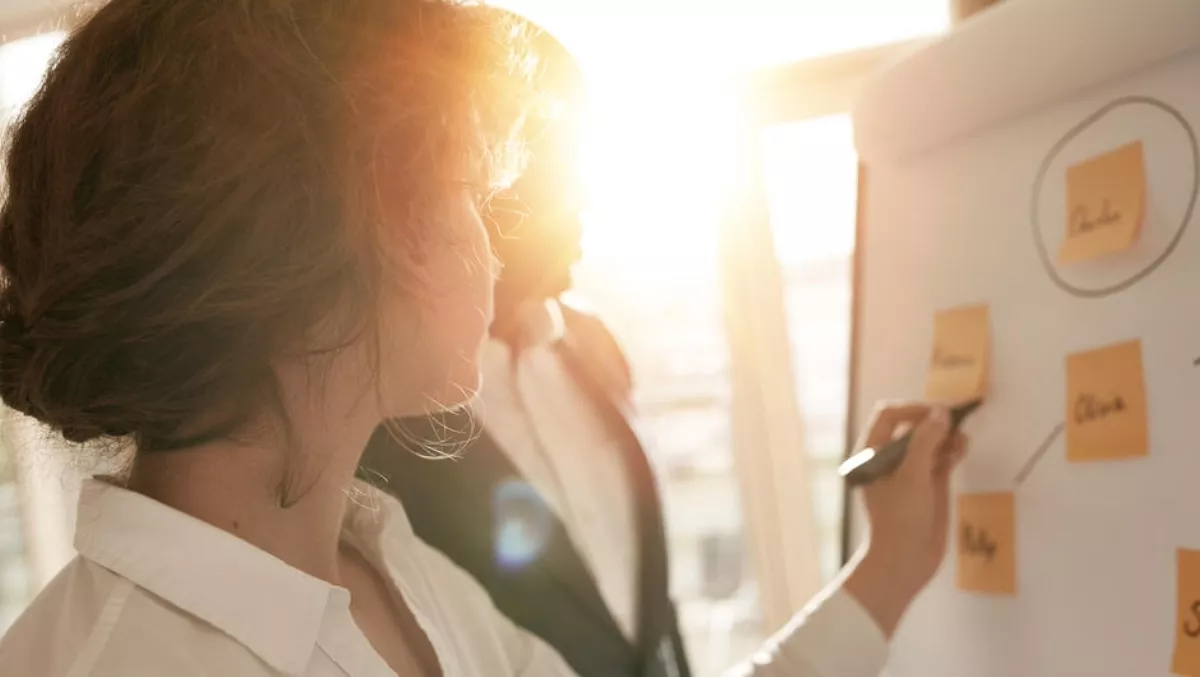 Exclusive: Here's what NZ's top CEOs are doing to improve gender diversity
FYI, this story is more than a year old
It's International Women's Day today, and as we all know, New Zealand's technology sector has a gender diversity issue.
Only 23% of people employed in New Zealand's technology industry are female, while only 20% of senior management positions across the nation are occupied by women.
In light of International Women's Day and the current gender imbalance across the nation's tech sector, we asked CEOs and top executives one question -
What is your company doing to improve gender diversity in New Zealand's technology sector?
Christopher Luxon, CEO of Air New Zealand
Air New Zealand is fully committed to the advancement of our female workforce and has a number of initiatives in place, including our very successful Women in Leadership programme and a range of other talent and development programmes.
One of the recent initiatives undertaken by Air New Zealand to increase the number of female employees in digital was the establishment this year of our new Women in Digital group, which operates in conjunction with the Air New Zealand Women's Network and was set up by our new Digital GM Angela Henderson.
We have also supported Shadowtech for a number of years where we offer a number of school aged females to take part in workplace tours, attend meetings and listen to talks from some female members of our Digital Leadership Team.
In addition, we support SHE# and in the latest event females from various high schools and universities were shown what tech and digital means for women at Air New Zealand. The next event later in March is a Design Thinking workshop.
Click here to read more from Christopher on Air New Zealand's gender diversity goals.
Russell Stanners, CEO of Vodafone New Zealand
In the context of world-wide shortages of skilled technologists, this is a vital issue all technology companies need to grapple with.
Vodafone, both globally, and in New Zealand, is playing an active role in improving the gender balance in these roles. It starts with fostering an interest in technology from a young age.
Vodafone has two key programmes to do this: #CodeLikeAGirl and our Discover graduate programme. Both are designed to give young women real hands-on experience with technology so they can make more informed choices about their career direction.
We then support parents to return and remain in the workforce. Our new parents work 30 hours per week and are paid for 40 for the first six months. All our people are equipped with the tools to work anywhere, anytime to support their work / life balance and we encourage people, often women, to return to the workforce after years away through allowing them to work four days and be paid for five for the first six months.
Thirdly, an area we are really concentrating our efforts on is increasing the number of women in technology leadership positions. We use technology like Textio to help us avoid any unconscious bias when recruiting for roles. We also blind CV's and ensure gender-balanced shortlists for all roles. Finally, we know the single most impactful activity is showing women it is possible to be leaders in technology and we do this by having quarterly sessions with successful role models.
The best thing we can do is keep listening and learning because the solutions for today might not be right for tomorrow. Continuing to evolve our strategies to create meaningful opportunities for women is the key.
Jolie Hodson, CEO of Spark Digital
We have gone on public record to acknowledge the issue of gender diversity within the company and it's a goal to ensure equal opportunity, attainment and pay. Addressing these issues is not a box ticking exercise but a constant obligation to investment, commitment and progress.
One way we are working to improve gender diversity is through our Scholarship programmes. We award up to five scholarships to women each year to help foster a more diverse digital talent pool and equip highly talented women with the skills they need to succeed in a digital future. We also have a graduate programme in which we recruit amazing female graduates to work at Spark.
It's also important to empower the women already working in technology so they not only reach their full potential but help other women around them to succeed. Internally at Spark, we have a network of females in leadership who share their experiences and expertise and collectively aim to empower women who aspire to senior leadership positions.
We also have an initiative called EmpowerED which deliver provoking panel discussions, mentorship, inspirational talks and a platform for all female staff to connect with each other.
On a more indirect level, Spark is also passionate about inspiring the future generation. Technology is the way of the future and at Spark we want to help kids to be more than just consumers of technology.
For example, Code Club, is a volunteer-led programme held at Spark City by a group of volunteers. It aims to teach kids how to programme games, animations and websites. Another way we support Kiwi kids, is through the First Foundation, an organisation that helps financially disadvantaged but academically talented kids pursue their dreams through tertiary education.
Spark support scholarships through the First Foundation and students have had the opportunity to undertake paid work experience and be mentored by our staff.
Scott Bartlett, CEO of Kordia
Where we are putting a lot of focus on at the moment is education, particularly of decision-makers that are in the role of hiring someone. We've got a great team here at Kordia, and I don't detect as a culture we have a prejudice issue, however there's always the risk that you have an unconscious bias.
So, we are really trying to bring that out to the forefront and working really hard on ensuring the unconscious bias is not the elephant in the room that goes untalked about, that we talk about it and not just talk about it with hiring management, but with the whole company.
It's so important that when people are sitting in front of someone, particularly a very capable female technologist, that an unconscious bias doesn't kick in and cause her not to be given the opportunity that a man would.
Another thing, people take this for granted and they forget that it's not necessarily the case that a woman and a man doing the same job are paid the same amount of money.
We know that's not true in the aggregate, and modern companies talking about diversity need to hit that issue up front. They need to understand what's going on in their own business, and then do something to fix it, because if you don't, then the rest of all this talk – it's just PR bollocks.
Angie Mentis, CEO of BNZ
To celebrate International Women's Day, Bank of New Zealand (BNZ) today announced it will offer two new scholarships to support trailblazing, ambitious women starting out their financial services careers, or who are working at BNZ.
Today, International Women's Day gives us the chance to not only talk about driving gender equity, but to act on it. Supporting women as they enter the workforce, or when they show great potential ensures we are positioning them in the best possible way to succeed. I'm committed to a current and future workforce that is truly reflects who our customers are. For me, that means an organisation that is both diverse and inclusive to its core.
The scholarships are in memory of Ivy Waters, the bank's first female staff member. Ivy Waters was a true trailblazer. She was 24 when she started working for us in 1915 and while most female BNZers returned to domestic duties after the war, Ivy stayed at BNZ for 32 years.
Sam Minnee, CEO of SilverStripe
The first place we work to improve gender diversity is with our own hiring. A couple of years ago we reviewed our record in this space: we started tracking the gender ratio of new hires, both for all staff, and specifically in development roles.
We've made changes such as including at least 1 female candidate in any short-list, wherever possible. Since that time, we've seen a substantial increase in female candidates, and we removed the disparity between % of women hired into development roles vs overall.
However, it's not enough to hire more women — the work environment also needs to be inclusive for everyone. This work is ongoing, and it is more challenging as it necessitates evolving our company's culture. We established an inclusion committee from a cross-section of our team, and they help shape the work we do to build a more inclusive environment. Some examples of things we have done are:
We established an external mentoring and coaching group for our female developers
We've reviewed our practises for gauging technical seniority to ensure that they are objective and free of unconscious bias
We're revising our Code of Conduct to provide everyone with clear guidance on how to work together in an inclusive - constructive way
Beyond our own team, we work with groups such as the Summer of Tech internship programme, which has a focus on women in tech, we have started a "SilverGirls" community meet-up to support women interested in software development, and we've supported conferences such as "Women Who Get Shit Done".
At a personal level, it's hugely important that we build a diverse - inclusive workplace at SilverStripe. I see it as a necessary part of being a socially responsible company. Further than that, it's also a key part of our strategy to remain sustainably competitive.
Vanessa Sorenson, director of Enterprise at Microsoft New Zealand
Coming up in IT and telecommunications, I missed having a woman mentor who would understand my experience and reassure me that I didn't have to emulate macho leaders who shouted and postured to be heard – I just had to be myself.
I think it's our responsibility to shine a torch for up and coming female leaders. At Microsoft we're focused on sparking their curiosity early, and breaking down misconceptions of what an IT career means so more girls and young women understand the huge range of possibilities the industry offers. We work with an organisation globally called DigiGirlz that helps girls understand the opportunities in the technology industry.
Also, this International Women's Day we're hosting the #MakeWhatsNext event, which aims to get schoolgirls interested in technology and other STEM careers.
We're bringing them to visit the office, demonstrating some cutting-edge technology and introducing them to a range of experts from all different parts of our business to show that there's no such thing as a typical "techie" or IT career.
Wendy Komadina, head of product and channel program strategy, Lenovo Data Center Group
In my view diversity goes beyond gender – it should capture culture, experience, age and disability.
At Lenovo this is a very important topic and part of my role as the Lead for the Women in Lenovo's Leadership program is to build programs with the WILL committee under three key pillars to promote Diversity, Mentoring and Skills development.
The Australia and New Zealand teams are united in our approach and as such we join together to celebrate International Women's Day.
Orla Keane, director of Enterprise Sales, Veritas
At Veritas, we understand that engaging a diverse talent pool enables us to propel our innovation capabilities and gives us the best chance of remaining forward-thinking industry leaders.
We remain committed to attracting, developing, retaining and fully engaging our talented workforce by giving each individual a voice with the goal of building a work environment where all employees are valued and respected for their individual differences and unique perspectives.
One of the key initiatives to promote diversity is our Employee Resource Group which provides a forum called Women at Veritas Empowered (WAVE). This initiative provides an opportunity for women to reach their full potential, providing them with the support and empowering them with access to resources they need to be even more successful in their careers.