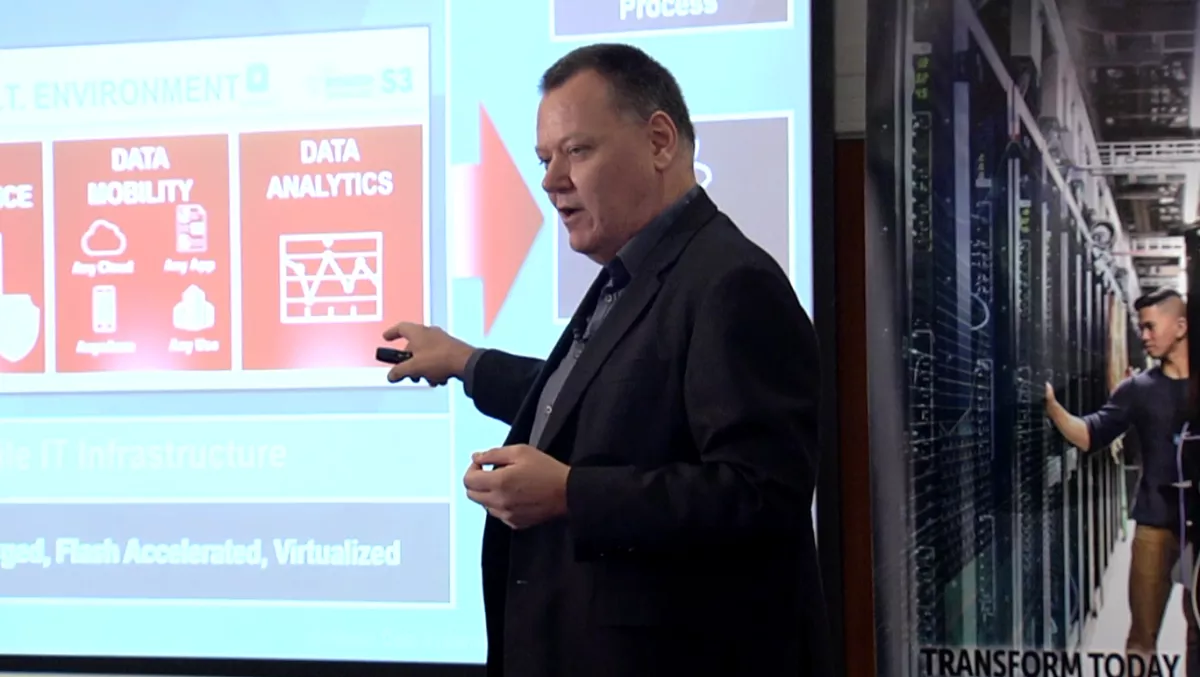 Exclusive interview: Hitachi Data Systems' CTO talks digital transformation in APAC
FYI, this story is more than a year old
Russell Skingsley is the Chief Technology Officer for Hitachi Data Systems (HDS), Asia Pacific and is based in Singapore.
He was in Auckland briefly at the start of this week to meet with customers and Partners of HDS - the first stop of an ANZ tour for Breakfast briefings in a topic that has taken the world by storm: Digital transformation.
"It's fair to say that HDS themselves are going through a significant transformation, going away from basic storage and more towards being able to provide our customers with an overall data strategy to help them with their digital transformation," he explains.
"It's really a story that is very well received with most of our customers across APAC, customers who I consider to be traditional HDS customers are all looking at the need to significantly transform," adds Skingsley.
"I think everybody realises that they don't have a choice now.
He explains that HDS's traditional customers have been particularly surprised by innovative internet-based businesses that come along with an idea, a platform and an app and have totally disrupted.
"A good example of that is Uber, where regulations allow, it is doing quite well. It's pretty much universal, the message of transformation," he says.
For HDS customers in Australia and New Zealand, Skinglsey says they recently discovered something quite interesting.
"We did some survey work with Forbes on Digital Transformation. And it's interesting, all across APAC we interviewed something like 500 C-level executives and it was almost universal that they recognised the transformation was necessary," he explains.
"Some of our traditional customers have been around for a very very long time and I think one of the things that has been a surprise factor for them is that these new players come along and somehow strike a better relationship with their customers than they have managed to have," says Skingsley.
"It's really got them to look at themselves and say why don't we know our customers better than we do. I think they had realised that they were potentially wasting the data that they had.
One of the things that HDS is currently helping its customers do is to be able to get a tighter grasp on all of their data.
"There's a lot of places that corporate data can exist now and that process of collating the data in a mobile world is very important part of the data strategy," he explains.
And, as far as a grasp on digital transformation goes, Skingsley explains that New Zealand is right up there.
"New Zealand is always on the cutting edge of technology compared to the rest of APAC," he says.
"You've got countries in that geographic area that includes two countries with a billion people each and massive infrastructure challenges that are quite different to New Zealand.
Generally, you would grade NZ ahead of the transformation curve, but in some respects may not have the same scale of challenges," adds Skingsley.
"New Zealand is a little bit further ahead than Australia in terms of a willingness to adopt new technologies, but on a par certainly."