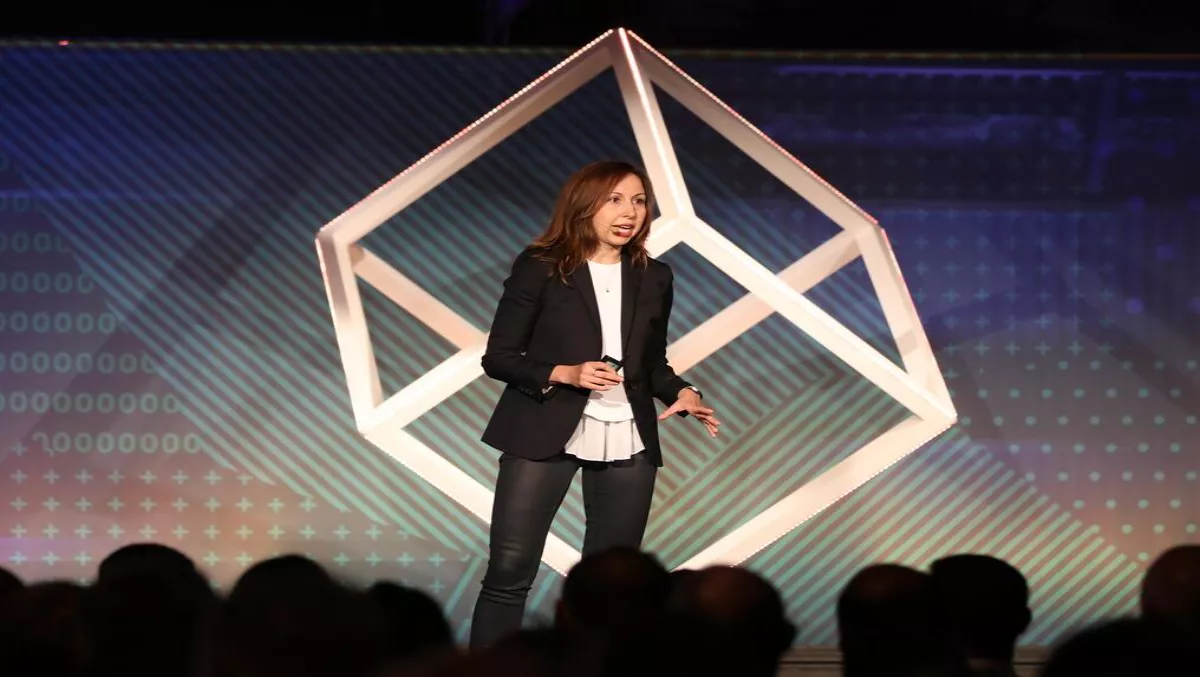 Exclusive interview: Simona Turin on Air New Zealand's digital transformation
Fri, 9th Jun 2017
FYI, this story is more than a year old
By Julia Gabel, News Editor
Simona Turin is the general manager, digital strategy and capabilities, for Air New Zealand.
Turin spoke at the opening keynote of the 2017 AWS Summit in Auckland. She discussed the creation of Oscar, an AI-powered chatbot, and the Airband, a monitoring bracelet for unaccompanied children travelling.
With a technology and business background, Turin's role sees her rotating between the four pillars of strategy, business, technology and transformation as the company continues their digital transformation journey.
In this interview, she discusses the company's digital transformation strategy, the role AWS plays in this journey, the future of travel agencies and women in technology.
What's your role in the company's digital transformation?
I have a team that's responsible for digital transformation across Air New Zealand. We're driving product organisation, agility and design thinking. We also have our digital strategy which includes thinking about emerging technology and the business outcomes we want.
We have enterprise architecture; looking at our digital platforms and what direction we want to take.
We also have all of Air New Zealand's infrastructure – looking at the legacy, and the data centers that we're seeing, the cloud, data bases and networks. Also, large digital programmes, for example Wi-Fi on the plane.
Oh, and business performance as well. That's the core of it.
How have customer needs changed over the past years to demand this digital transformation at Air New Zealand?
Google has done an analysis showing people leave the site if they don't get they need in seconds.
For us, it's about streamlining. We want it to be streamlined and beautiful, so we look at the customer journey and think how can we streamline, how can we connect every dot of that customer journey. We still have quite separate flight experiences.
We used to invest much more into the booking experience, and the flight experience, and not so much in the dreaming or planning. For you as a customer, it will be one connected experience.
If you're looking at our website you can get inspired about where you're going, you can plan your trip better and share it with friends. Right now, you have a thousand tabs open. You start shopping on different websites; flights on one tab, hotels on another and creating an itinerary on another.
As a traveller, you're connecting the dots. And that's the opportunity for us to create that one platform.
Will there still be a need for travel agents in the future? Will there always be customers that prefer going into the store to book a flight?
In Saint Heliers there are still two travel agents, and coming from the U.S it surprised me. In the U.S, most travel agents don't exist anymore. But, in New Zealand, if you're travelling and you have a complex itinerary, there are still people who prefer to do that in store.
How crucial is AWS to Air New Zealand's digital transformation journey?
It's at the core of our digital transformation. We have a lot of legacy platforms. And If you're a creator or a developer and you have to wait 8 weeks to get your environment and your idea is almost dying at this point.
So, right now, to be able to quickly code with AWS tools to scale up as needed is crucial. The other thing is in the past we had to really predict what will be the scale, how many servers will we need, what will be the memory needs and then plan for the peak.
What surprised me about our digital transformation is that by giving developers tools, and letting them just create, they will surprise you with amazing solutions. It changed how we think.
Developers can become autonomous and don't have to co-ordinate and think like we've always done this. If you can do your releases on your own, to take the tools and quickly create, there is a passion and we can get products into customers hands quicker.
To change direction, let's discuss women in technology today. Do you notice a lack of women in your technology sector?
It's an interesting conversation. I'm very passionate about girls in technology. Today (at the AWS Summit), I'm not sure if your noticed the school girls. That's ShadowTech.
Every year at Air New Zealand we do ShadowTech where we take girls and talk to them about opportunities, and introduce them to technology and make technology accessible. Technology is creative, it's interesting. I'm passionate about teaching kids about code. It's about making it accessible.
We're working with The Mind Lab and Tech Futures Lab with the different opportunities and partnerships there.
I'm still trying to figure out what is stopping girls from reaching that technology because I love technology, it's a creative process.