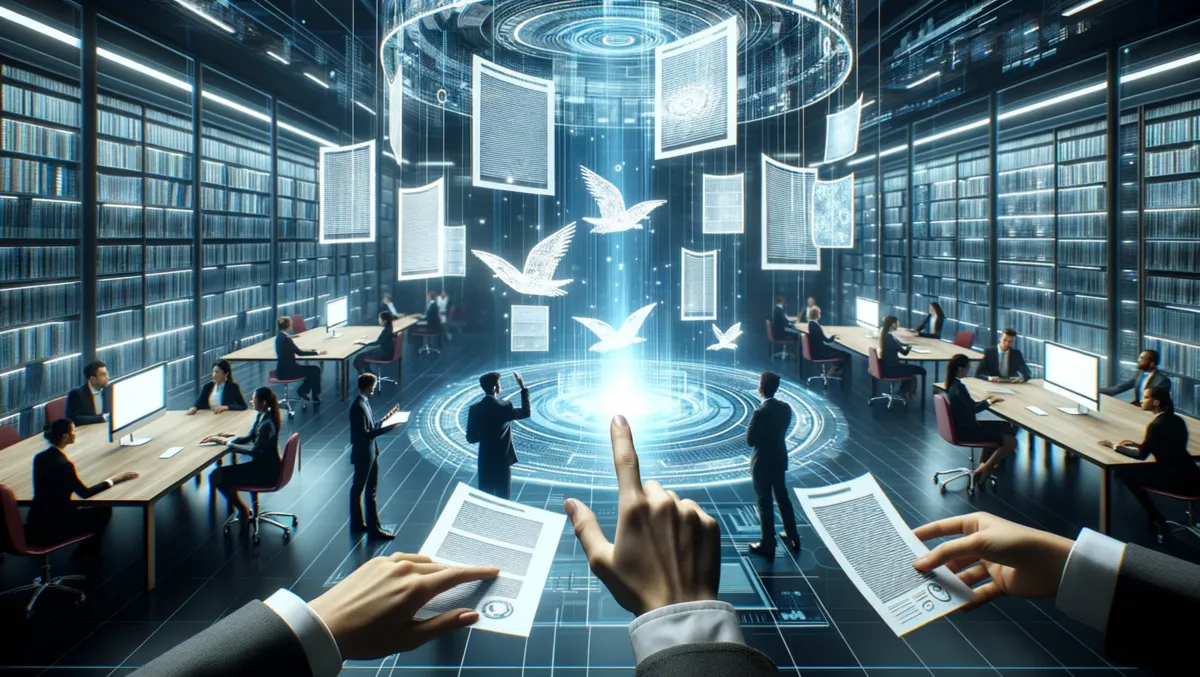 Exclusive: The driving force behind Canon's continued success in NZ
Thu, 9th Nov 2023
By Tom Raynel, Managing Editor
Founded in 1937, Canon has become a global leader in imaging technology and a household name for its camera and printing solutions.
While it only established a presence in New Zealand in 1989 (some 50 years after its inception), Canon now boasts more than 400 employees throughout the country.
Canon's business solutions are most recognised for its range of multi-function print devices and its powerful cloud, print and scan management software, uniFLOW Online. This secure, public-cloud-based solution has been recognised by industry researchers and recently winning one of Keypoint Intelligence's coveted BLI Awards for a fifth time.
"For the fifth time in as many years, Canon's uniFLOW Online is taking home a BLI Award for Outstanding Cloud Output Management Solution," said Lee Davis, Associate Director of Software/Scanners at Keypoint Intelligence, upon presenting the award.
"The solution's continued success shouldn't come as a surprise, as Canon has been continually upgrading and improving the solution, ensuring that customers have access to the latest and greatest output management capabilities available."
Davis adds, "In recent updates, Canon has added enhanced access control and scan/workflow functionality to protect sensitive data and optimise workflows where paper documents intersect with digital business process."
When it comes to helping its customers, a big focus for Canon is helping them migrate to cloud.
Further, with ESG a growing concern for enterprises, ensuring sustainability is factored in when it comes to managing printing is another area Canon is focused on.
Additional areas include hybrid working and digitalisation, increasing productivity and efficiencies, cost control and security, specifically in the face of Zero Trust.
Hybrid working has forced businesses to consider new ways of working. Whilst print volumes saw a decline, it has accelerated the adoption of cloud and digitisation.
With the increase of remote working, the ability to be able to print from anywhere, on any mobile device has become increasingly important. So has the need for being able to securely collaborate on documents, no matter where teams are based. With this, it does mean that businesses also need to be conscious of the security of their platforms and the types of hardware they choose.
Canon is helping businesses address these challenges through a secure, cloud-based print and scan management solution, uniFLOW Online. It complies with the world's best-known international security standard ISO 27001. This ensures confidential data is handled responsibly and securely. uniFLOW Online is by hosted Microsoft Azure, meaning it provides high-security and follows a zero trust model.
Businesses have also had it tough in recent years, so they are looking at ways they can reduce unnecessary costs. uniFLOW Online is based on a SaaS model, therefore, there are no long-term commitments. Businesses can scale up or down, as needed, based on their ever-evolving needs. The solution also helps control costs by removing the need for print servers and offers detailed reporting by user and department.
Moreover, it offers reduced IT team support as teams can manage their entire fleet with a single print driver, and security patches are scheduled automatically.
UniFLOW Online can also support important workflows to increase productivity by automating simple processes. UniFLOW has direct integration with popular cloud platforms such as OneDrive, Dropbox, MS Teams, and SharePoint, making it easy to digitise and collaborate on documents in the cloud.
"Canon has always been known for its innovative technology and class-leading products, but we are also invested in the success of the communities we operate in, whether that's through local activities or global partnerships," says Rebecca Barrow, Country Manager, Canon New Zealand.
"At Canon, we believe we can make a difference in people's lives, both at home and at work. We achieve this by delivering amazing experiences for our customers and their customers through brilliance in imaging and business solutions that help our customers work smarter."
"Our unique heritage in imaging technology, along with our wide range of business solutions from print, to software and managed services allows us to push boundaries, offer pioneering solutions and challenge preconceptions."