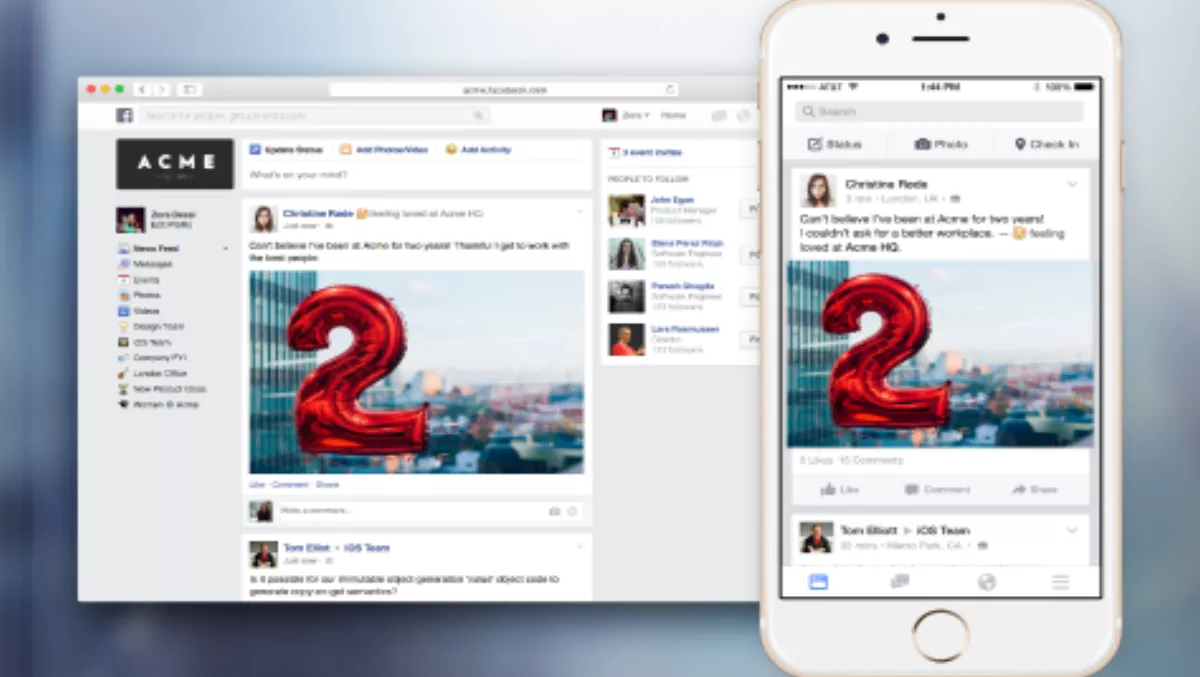 Facebook at Work a potentially disruptive force in the enterprise social network market
FYI, this story is more than a year old
Facebook has today announced it is beginning to test Facebook at Work with a few partners.
Facebook at Work gives employees the ability to connect and collaborate with each other at work using Facebook tools, many that they're likely already using such as News Feed, Groups, messages and events.
Facebook at Work was created completely for use within a company, meaning an employee's Facebook at Work info is safe, secure, confidential and completely separate from their personal Facebook profile. The info shared among employees is only accessible to people in the company.
Co–workers can stay in touch with each other in the same way they stay in touch with friends and family via Facebook: Facebook at Work offers the familiar look and feel as Facebook and has the same tools.
"We look forward to getting feedback from our pilot partners to build the best possible product for them and their employees," the company says. Facebook has not yet released the names of which partners, or their locations, that are currently testing the new platform.
Patrick Rusby, research analyst at Analysys Mason, a global adviser on telecoms, media and technology, says Facebook at Work has the potential to be a disruptive force in the enterprise social network market.
"Increasingly enterprises are adopting technologies that are first used by their employees outside of work, as was the case with smartphones," he says. "Facebook itself has features which would appeal as part of an enterprise social network, such as instant messaging, link and document sharing, presence and integration with a wide range of devices."
He says the platform will need to provide an email service (or integration with existing email clients), integration with existing scheduling/calendar platforms and a sensible file management system in order to be taken seriously in this space. "Monetisation is an interesting point here," says Rusby. "Due to privacy/confidentiality issues relating to internal company communications, this will need to be a paid for service, as enterprises will not accept adverts being pushed at them based on the content of internal, private discussions." Rusby says Facebook at Work is unlikely to be a huge new revenue stream on its own, given that it would be competing with Yammer, which is well established in this space. "However, this would be a new, recurring revenue stream, and it would put Facebook in front of people for more of the day, which may serve to increase engagement with Facebook in general."
Related stories
Top stories