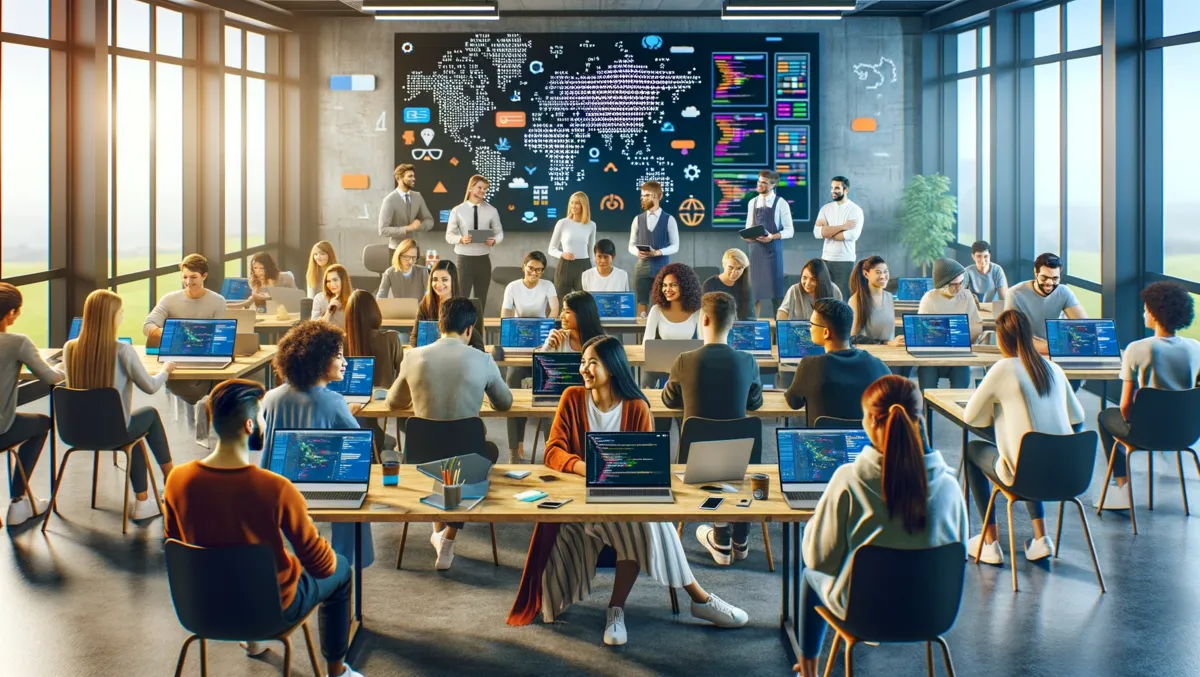 Free coding education coming to Kiwis thanks to Grok Academy
Thu, 16th Nov 2023
By Sean Mitchell, Publisher
Online educational platform, Grok Academy, has entered into a five-year partnership with WiseTech Global, a global software company. This partnership, effective from 1st January 2024, will enable students, teachers, and homeschooling parents in New Zealand to gain free access to all of Grok's school content. Grok's platform, which features a breadth of resources ranging from programming to web design, will now be completely open for use.
Grok Academy's primary objective is to imbue transformative computing skills in all learners, thus equipping them to navigate subsequent challenges and capitalise on prospective opportunities in the digital realm. The platform has taken a proactive step to attract and educate a more diverse group of students, targeting females, ethnic minorities and those from disadvantaged groups, with an aim to increase their representation in technology-based professions.
Beginning 1st January 2024, Grok Academy will be providing its vast selection of coding and web design resources to anyone involved in the educational process in New Zealand without charge. WiseTech Global has committed 1% of its annual pre-tax profit to support technological education initiatives emphasising the development of technological skills and passion for creative problem-solving in school-age children.
Aligned with the curriculum for students in years 4 to 13, the resources are designed to demystify planning and facilitate the delivery of digital technologies classes for educators of varying experience levels. Malcolm Clarke, President of Digital Technologies Teachers Aotearoa and a Digital Technologies specialist teacher at Kōwhai Intermediate School in Auckland, recognises the importance of embedding digital technology skills in students early on.
The importance of integrating and embedding these skills early is paramount, as they are not only essential life skills but also increasingly opening doors to diverse career pathways," says Malcolm Clarke. "Grok Academy stands out by providing a comprehensive and structured platform that offers equitable access for both learners and teachers." Since 2013, more than 300 schools in New Zealand have subscribed to Grok Academy's coding and web design resources. The number is poised to increase significantly when the resources become freely accessible.
CEO and Founder of WiseTech Global, Richard White, highlights the importance of positive engagement in digital technology, and sees it as the key to attracting greater diversity in tech careers. He points out how primary and early high school experiences significantly influence future study and career choices. He also stresses the need to overcome social biases regarding what subjects genders should study.
James Curran, CEO of Grok Academy, expressed his gratitude towards WiseTech Global for its support. He stated, "Thanks to WiseTech Global's support, more schools will be able to access our coding and web design resources as the cost barrier has been removed. Ensuring every teacher and homeschooling parent has access to top-tier computing education resources empowers our next generation to succeed in an increasingly digital world."
Teachers are now encouraged to register their accounts to prepare their Term 1 lesson plans and will have access to Grok Academy's plethora of digital resources, including numerous courses in coding and web design, unplugged activities, and a full suite of teaching resources such as a student portal to track progress.