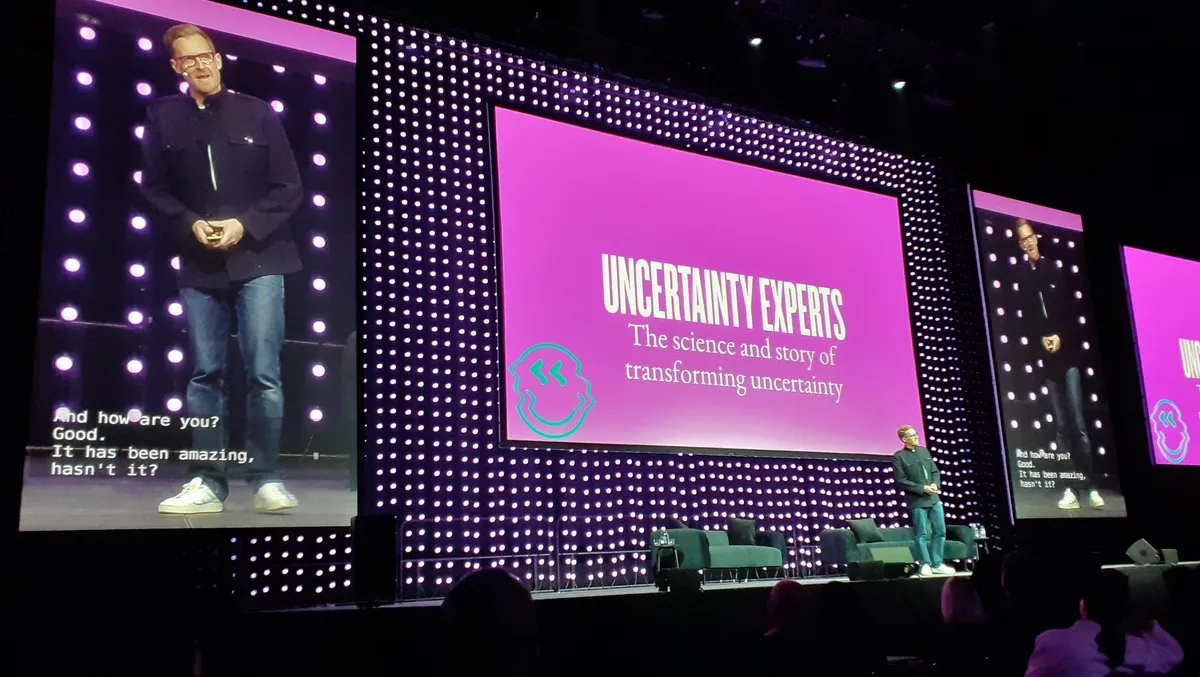 Future State 2023: Boldness and inclusivity to pave the way
Future State 2023 explored two key themes yesterday: the importance of involving indigenous practices in digital and our collective uncertainty about life.
Mikaela Jade gave a keynote about why indigenous people and practices must be included in the digital conversation.
Jade, CEO and Founder of Indigital, is a Cabrogal woman of the Dharug-speaking Nation of Sydney.
She set up Indigital, Australia's first Indigenous edu-tech company, to explore and create innovative ways to digitise and translate knowledge and culture from remote and ancient communities.
Her keynote focused on what it means for First Nations to be involved with the metaverse and the ethical factors that need to be considered for fostering authentic inclusivity.
Specifically, Jade discussed the intersection of cultural knowledge and digital technology and how it will be relevant to the future of business through technologies such as the metaverse and Web3.
One of the important areas she touched on was that, for Indigenous communities, much of their knowledge is sacred, so having data stored in data centres, for example, in the way Western communities have become accustomed to, is a more complex issue.
Jade acknowledged the work she had done within her own community to educate them on a local data centre that Indigital was involved with building.
She explained how vital it was to ensure her community understood the data centre's purpose and what it meant for the city as a whole so that they could have all the necessary information when sharing their perspectives on the matter.
Jade mentioned that being able to acknowledge where you come from is an important way to build trust with Indigenous communities.
As a cultural practice, Indigenous communities are also more connected to their ancestors and always thinking about who is coming after them when making a decision for their people.
As such, there are areas in business and the tech industry where there is a lack of cultural understanding.
For Jade, this can be when she has to pitch to investors, and they ask what her exit strategy is.
"My exit strategy is in 2170, that's for my descendants to manage," Jade said.
Danielle Krettek Cobb is the Founder of the Google Empathy Lab and has become deeply connected with the cultural practices of Hawaii after moving there 15 years ago.
Her keynote explored similar territory to Jade's, examining how drawing on cultural practices and the relationship between indigenous communities in Hawaii and the natural world can inform AI.
She discussed what she described as the "three sisters of AI": Natural intelligence, cultural intelligence and heart and mind intelligence.
Natural intelligence referred to the importance of "redistributing the resources to the right places so the collective can thrive," cultural intelligence referred to indigenous wisdom, and heart/mind intelligence was about trusting our gut and knowing what direction to move in based on how it makes us feel.
Krettek Cole stressed the importance of decolonising AI from the start to create a more inclusive digital environment.
When asked how receptive business leaders were to her message, she said that in terms of moral values, everyone understood its importance, but for developers and engineers, they needed a metric to measure it.
As a result, she implored the use of "check-in protocols for ethical analytics."
Sam Coniff recently created The Uncertainty Experts, which is part online learning, part interactive documentary and psychological intervention, all brought together into a single series.
His keynote, Mastering Uncertainty: Transforming a Negative to a Positive, was the last of the event and echoed Krettek Cole's sentiments, focusing on how we can overcome the feeling of uncertainty to have the confidence to back ourselves and our decision-making.
Coniff believes that the way forward is to build our tolerance for uncertainty, and his research into this matter has been backed by leading companies such as Netflix, Lego, Apple and Google.
"If we want to get naturally better at innovation, we need to get better at dealing with uncertainty," Coniff said.
"Set aside how established your brand is or how you think you need to behave, just get into the spirit of play and experiment."