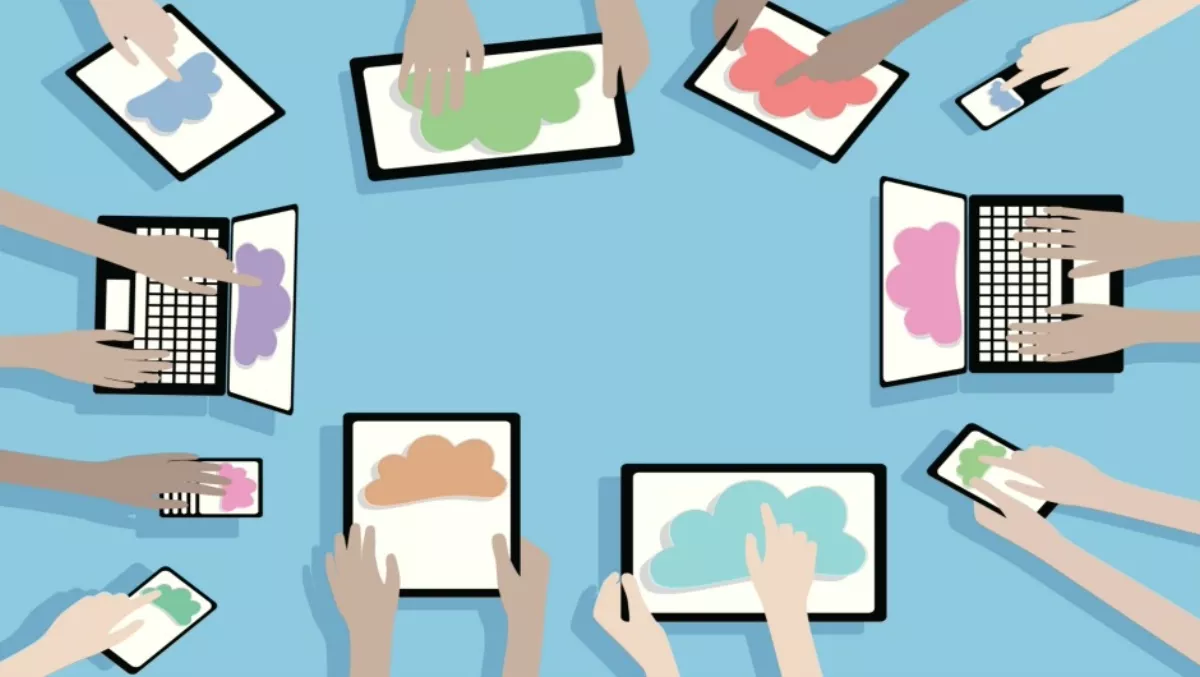 Going mobile: How to have secure file-sharing, backup recovery and access
FYI, this story is more than a year old
To learn about Commvault Endpoint Data Protection and Commvault File Sync and Share, click here.
How do you maintain the security and confidentiality of your organisation's data in a world in which your employees, contractors and partners are now working, file-sharing and collaborating on a growing number of mobile devices? Makes you long for the day when data could be kept behind firewalls and employees were, more or less, working on standardised equipment.
The dramatic shift to this diversified way of working has made secure backup, recovery and sharing of data an exponentially more diffcult problem to solve. One thing we know for certain: extending the traditional strategies used in a data center to the edge of the enterprise is not an economical choice or particularly effective. Traditional strategies require additional software products and hardware that is expensive to purchase and maintain.
TAKING A PERSONAL CLOUD APPROACH
Your employees and partners are using laptops, tablets and smartphones to be more productive. They are accustomed to sending data to the cloud from their private lives and expect to be able to do it on the job. This is creating the challenge of securely backing up, recovering and retrieving this data with the same level of effectiveness and confidence you experienced in pre-BYOD days. As more data is created at the edge of the enterprise, Commvault offers a dependable, secure and easy to use solution for efficiently sharing, protecting and accessing that data according to the same standards as your data center, helping ensure business continuity and workforce productivity and reducing risk.
Commvault Endpoint Data Protection and Commvault File Sync and Share software are the answer to IT's need for an enterprise-class, endpoint data protection and secure file-sharing solution specifically geared toward the personal cloud and BYOD activity. It enables you to easily and transparently back up and recover all desktop and laptop data and provides unparalleled access to protected content for users to search, sync and share without compromising security.
Building on the success, standards and functionality set by Commvault software, Commvault Endpoint Data Protection and Commvault File Sync and Share gives you efficient data protection, web and mobile secure access, automated file sync between devices, secure file-sharing, optimised deduplication and scheduling and integrated eDiscovery and legal hold.
"With Commvault Endpoint Data Protection, our employees' data is kept safe. The best part is that, Commvault has enabled us to meet our corporate security requirements and the data is backed up and available so that we can have users up and running quickly after a hardware or software incident occurs." - Lisa Romine, Acxiom senior manager of enterprise solutions
SEVEN BENEFITS OF COMMVAULT ENDPOINT DATA PROTECTION SOFTWARE
ONE: Easy Remote Backup
Mindful of the remote worker environment, Commvault Endpoint software enables you to perform backup for users over HTTPs without impacting their day to day activities. It also expedites recovery, centralises protection, retention and recovery operations and improves operational efficiency - thus reducing business risks associated with lost information. And if your workers are creating or editing files on tablets and smart phones, you can also protect this data due to the ability to upload key files to their laptop and the backup pool. A key point: this functionality is built on the Commvault enterprise backup and recovery infrastructure with the same reporting, scheduling, administration, ease of use and ability to use any storage tier, from disk to tape to cloud.
TWO: Better Collaboration with Commvault File Sync and Share
BYOD workers thrive on the 24 x 7 capability of mobile – being able to share information and collaborate without geo-physical boundaries. Security, though, remains a factor in management of enterprise data that is owing back and forth on a variety of devices. Commvault File Sync and Share provides complete endpoint data protection so that users can search, sync, and share without compromise to security. Secure file sharing is now possible, with colleagues, partners and customers collaborating in a private cloud as an alternative to e-mail. You can share a link or simply create a shared file or folder from the Commvault ContentStore with an individual or group to allow them to view, download, and upload new files and versions from their web browser or by dragging and dropping content into their EDGE Drive folder. Users can also access their shared content and Edge Drive folder when using the Commvault Edge mobile applications for iOS,Android and Windows smartphones and tablets. Content owners can manage access by adding or removing users from the share or by deleting the share. Commvault File Sync and Share software brings corporate data back into IT control, where it can be managed within corporate guidelines and away from unsecure, consumer cloud file sharing services.
THREE: Quick, Self-Service Recovery
Administrators can easily recover an employee's files (in or out of place) using backup data located centrally. End-users can find and restore files from any backup on any client they are authorised to access, without requiring administrator intervention, through a web console, mobile apps, or natively in Windows Explorer.
FOUR: Advanced Mobile Synchronisation
Commvault Endpoint Data Protection enables users to synchronise a set of files and folders with up to three computers at once. Synchronisation can be bi-directional or one-directional. When you make a change or add files on one of the computers, the files on the other participating computers are synchronised automatically. Your mobile workforce will also be able to retrieve a file created on their desktop back at the office campus and securely share that information with a colleague without ever having to activate their desktop. They will have their own personal 'data cloud' from which they can retrieve data on demand. It's the best of both worlds: IT managers reduce risk and deliver secure data portability, at the same time, workers have self- service access to data when they need it, to review, or share, increasing productivity.
FIVE: Mobile Data Loss Prevention
Data breach and data leakage caused by lost or stolen laptops is a significant security concern. With Commvault Endpoint Data Protection, files and folders can be encrypted to prevent unauthorised access in the event of a loss or breach. The software also provides remote wipe capabilities so that data can be erased if a client has, for example, not contacted the server in a defined period of time. Geo-location is another feature of Commvault Endpoint Data Protection. You can track and record the location history of a laptop at the time of the last connection with the server, to further confirm it is lost or stolen.
SIX: Tighter Access Monitoring
Giving employees the tools they need for secure mobile file usage also necessitates monitoring of activity to further mitigate risk. Commvault Endpoint Data Protection software provides administrative control to manage policies and permissions for all users and also enables auditing and reporting of access to data and any significant changes.
SEVEN: More Efficient Data Management
Managing large scale distributed data environments is made easier than ever by Commvault's technology which provides advanced backup capability and a back-end repository that eliminates inefficient data silos. All backup and archive data – regardless of origin – is stored in Commvault's ContentStore, enabling you to consolidate protection and archive data without the hurdle of data silos that waste resources and infrastructure.
Automating tasks is another way in which Commvault is helping IT professionals efficiently manage ever increasing data flow. Commvault's technology helps you deploy, setup and manage over 25,000 systems on one CommCell. It enables you to leverage installation policies that can automate silent deployment and installation, recognise new clients and add them without human intervention and enable the automatic application of unique backup parameters based on predetermined user groups.
DELIVER THE SECURE, PERSONAL CLOUD WITH THE RIGHT SOLUTION
The BYOD environment can be scary. Add to that a distributed workforce and you could be in trouble. Your employees and partners are creating valuable business information outside the data center at hyper speed, and security isn't always top of mind when deadlines are to be met and decisions are waiting to be made. Commvault has taken into account the way people want to work today and, building on the foundation of Commvault's single-platform data management software, created an endpoint answer that will enable you to secure your data, recover files at optimal speed, and improve collaboration and productivity while still mitigating risk. You will also be able to efficiently conduct comprehensive file eDiscovery to meet legal and compliance requirements.
To learn more about Commvault Endpoint Data Protection and Commvault File Sync and Share, click here.