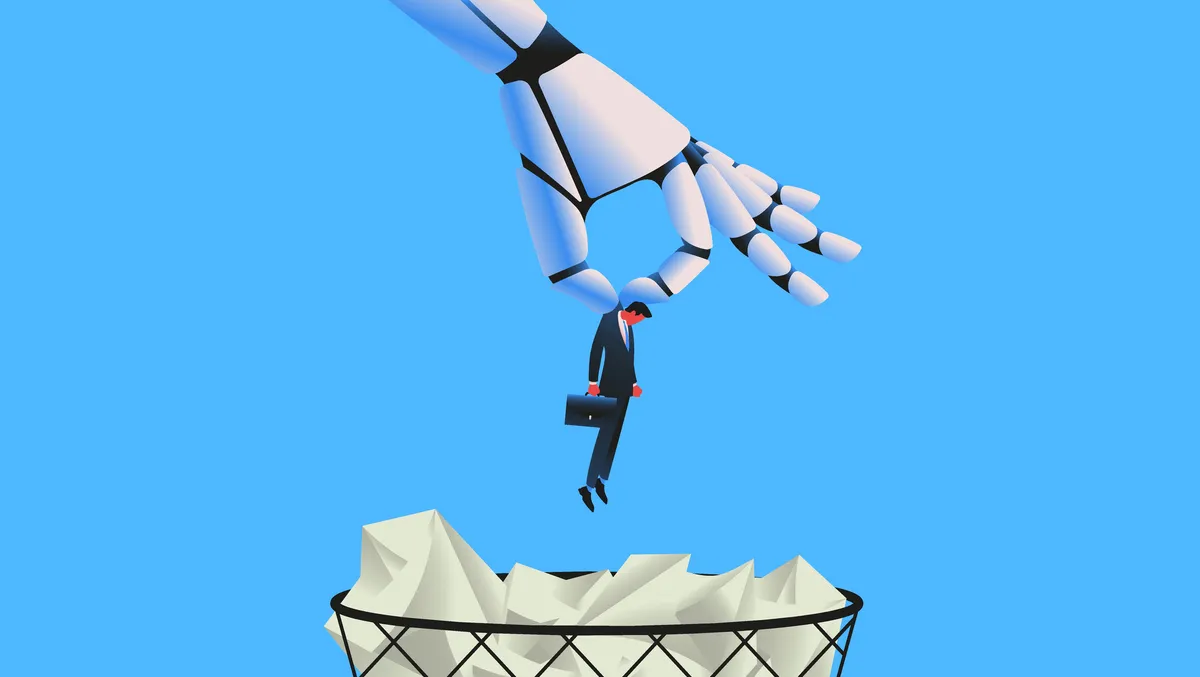 Half of small biz HRs are worried about losing their job to AI
With AI use quickly ramping up across all sectors, new research from HR, payroll, and recruitment platform Employment Hero's SuperHuman: AI adoption shaping the future of HR Report found that nearly half of HR professionals across ANZ worry about AI taking their jobs.
Despite these concerns, 76% of HR leaders agreed that AI can help them save time and make their job easier, while 66% reported that they are excited about how AI will transform the role of HR.
With over 86% of HR operations already actively using AI-powered software in the workplace, what is clear from the findings is that the adoption of AI into the HR industry delivers substantial benefits that begin with reducing admin work and will lead to HR professionals having a stronger pulse on the well-being, skillsets, and engagement of their employees.
The report surveyed 521 HR leaders and showed that AI will empower and support them to take a more strategic and human-centric approach to their roles. Uncertainties will also be alleviated as they will be decision-makers in deploying AI within the industry and influence the pace of change, areas of AI integration, and how its implemented.
AI and machine learning in HR Practice
The most common use cases of AI tools revolve around analytics, generative AI, and using algorithms and machine learning to match employees to roles and monitor compliance.
Employment Hero's study found 40% of HR leaders today are leaning into AI's capabilities to identify and report on employee data trends that can be used for efficient onboarding and retention activities, alongside other crucial internal workforce gauges such as employee happiness, absence or disengagement, as well as performance and ROI. In turn, the data obtained via AI can give HR leaders the information they need to appoint the right staff to the appropriate positions.
Besides more effective reporting, HR content creation is significantly streamlined with AI. In fact, 39% of HR leaders use AI to help them write content such as job descriptions and employment updates. At the lower end, HR executives aren't as accustomed to openly using AI tools to personalise programs based on employee factors (29%) and optimise compensation and benefits packages (28%).
This data represents a discrepancy in AI use. While this could be attributed to due diligence, it could also suggest that HR professionals aren't ready to hand over more bespoke tasks to algorithms just yet. While professionals are happy to let AI enhance their understanding of data or generate content for them, they are less likely to lean on AI to help them recognise or reward their staff, instead relying on a more personal and individual understanding of performance to lead these discussions.
What skills will AI look to replicate, and where will it increase?
Looking ahead, 72% of HR professionals predict that the use of AI in their role or HR function will increase in the future, with most expecting it to take a paced approach - with 46% believing it will increase slightly and 26% believing it will grow significantly.
Training and development were identified as the areas where AI will have the most significant impact (34%), followed by employee analytics (32%) and employee self-service (29%). On the other hand, employee offboarding (12%), reward and recognition (14%), and remuneration and benefits (16%) were seen as the least affected areas of HR.
The benefits of AI for modern HR
Processes, analytics and efficiency are at the forefront of what benefits HR professionals believe AI tools will bring. At the same time, retention and culture are still seen as human-first problems.
With speed and efficiency top-of-mind for 41% of HR leaders regarding AI benefits, improved HR analytics (36%) and streamlined HR processes (33%) follow. In contrast, only three per cent believed that using AI will have no benefit in their role at all. Interestingly, 33% of HR professionals in practice (those who work for businesses providing HR services) identified improved employee engagement and well-being as one of the most significant benefits of AI tools, compared to 40% of HR professionals working in business services who say improved employee productivity is one of the greatest benefits.
The AI knowledge gap
While AI conversations have circled around almost every business sector, some age groups are evidently less aware of its progression than others. Specifically, HR professionals in smaller organisations (under 50 employees) were 19% more likely not to know whether the software they use leverages AI. This knowledge gap also existed among older HR leaders, with 21% of over 45-year-olds stating that the software they work with doesn't use AI and 10% unsure.
"The data from our latest study represents the HR industry in the midst of a transformation due to the influence of AI technology. Instead of their jobs being at risk, HR professionals are being given the tools and time to be more strategic in workforce planning and employee care," says Dave Tong, Co-Founder, CTO, and Head of Product at Employment Hero.
"Through AI integration, they are crafting what their roles will look like in the future, shifting from more admin-heavy work to a strategic people and culture focus.
"While professionals are happy to let AI enhance their understanding of data or generate content for them, they are less likely to lean on AI to help them recognise or reward their staff, instead relying on a more personal and individual understanding of performance to lead these discussions.
"Interestingly, we found that most HR professionals believe there will be a paced approach to the increasing use of AI in their roles," Tong says.
"This could reflect how they'd like to see AI rolled out so they have time to learn and adapt as these new tools are introduced. These findings showcase how HR leaders today see AI tools helping employees become self-sufficient when advancing their careers and giving managers an easier way to check in and analyse progress and performance."