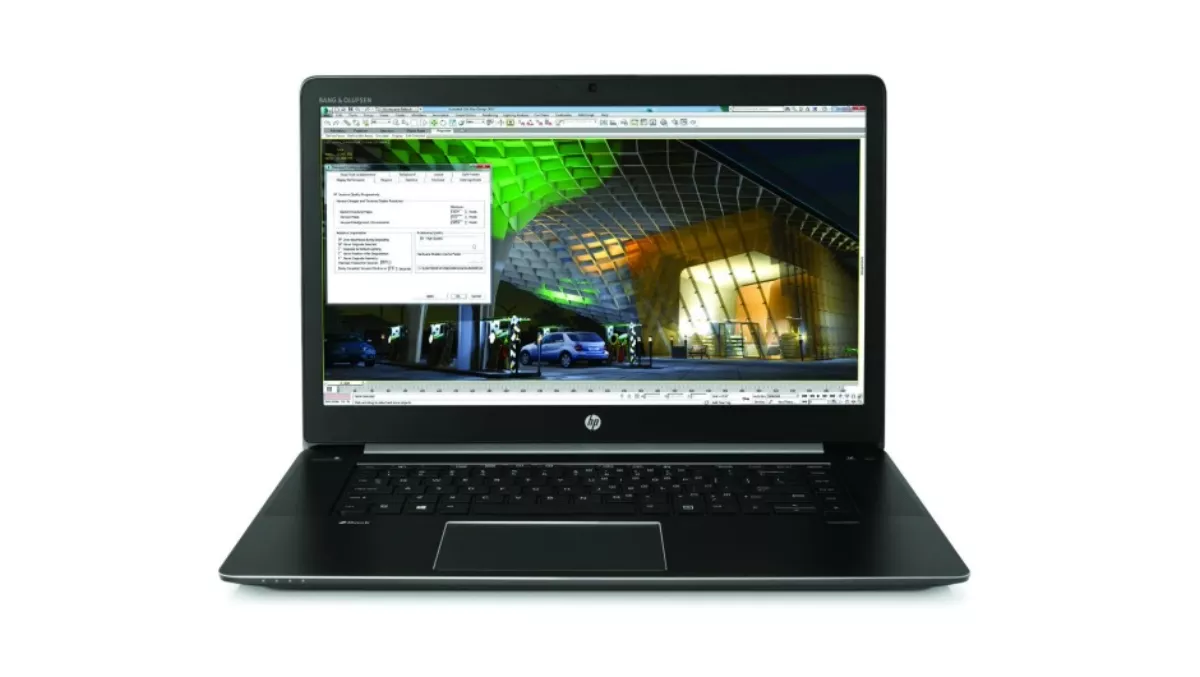 Hands-on review: HP ZBook Studio G3 Mobile Workstation
FYI, this story is more than a year old
The HP's ZBook Studio is a fully fledged no compromise mobile workstation.Where high performance workstation laptops used to be bulky, ugly, heavy and would get very upset if parted from a mains power outlet, the ZBook is easy on the eye and definitely portable.
So what makes the ZBook a workstation? For a start it sports a 4K display, an Intel Xeon CPU plus a Nvidia Quadro GPU. It is also light and thin enough to be mistaken for a business grade notebook.
Look and Feel
At only 18mm thick and weighing in at a chiropractor pleasing 1.9kg, the ZBook isn't isn't exactly light (especially when compared to the latest crop of ultrabooks) but it is still lighter than many other similarly equipped notebook PCs (Microsoft's Surface Book is heavier while Apples 15" MacBook pro is roughly the same weight). Most other notebooks don't pack a Xeon processor or as muscular graphics hardware.
Looks-wise, The ZBook is definitely a no-nonsense piece of kit. Its matte black alloy chassis exudes an industrial aesthetic that hints at the raw power housed inside. A roomy QWERTY keyboard is complimented by a roomy trackpad that is both lengthy and wide, making the use of the mouse a far more accurate undertaking.
Looking at the upper deck of the ZBook, there are mesh like vents that are subtly built in, which helps with airflow to the Intel Xeon CPU and keeping things from getting too hot. The ZBook mightn't be what many would call a classic or even pretty, but it does sport an attractive if somewhat minimalist industrial aesthetic.
Under the hood
The ZBook runs an Intel Xeon desktop-strength processor (or it can be downgraded to Intel's Core i7). Bizarrely, the ZBook only packs 32GB of RAM, which seems odd given its powerhouse spec and muscular CPU.
As you'd expect from such a muscular spec, the ZBook isn't lacking in the graphics department. For a start, there's a Nvidia Maxwell Quadro Graphics Card and that's hooked into a 4K display. There's also a degree of future proofing, as the ZBook also packs a Thunderbolt 3 port. In theory, this means you should be able to connect it to higher end graphics and display hardware.
There's also plenty happening on the connectivity front. The ZBook is equipped with a RJ-45 port, three USB 3.0 ports, two Thunderbolt 3 ports and an HDMI 1.4 connector. In short, about the only thing missing connectivity-wise is a kitchen sink.
You'd be forgiven for thinking that running the ZBook would involve a trade off between its ample specifications and battery life, yet I managed (with typical use) to wring just over 8 hours of battery life performing fairly light tasks (web/email/word processing), and just over half that with more demanding chores (4K video, 3d graphics rendering etc). Given the ZBook's specifications, this is not too shabby at all.
The ZBook is ideal for graphic designers and other power users wanting portability and power. Compute power does come at a price, and the ZBook commands a sticker price of around $4,000 depending on where you shop. Add to this the ZBook's size and portability plus some very welcome extras such as Thunderbolt 3 ports and you really can't go wrong.