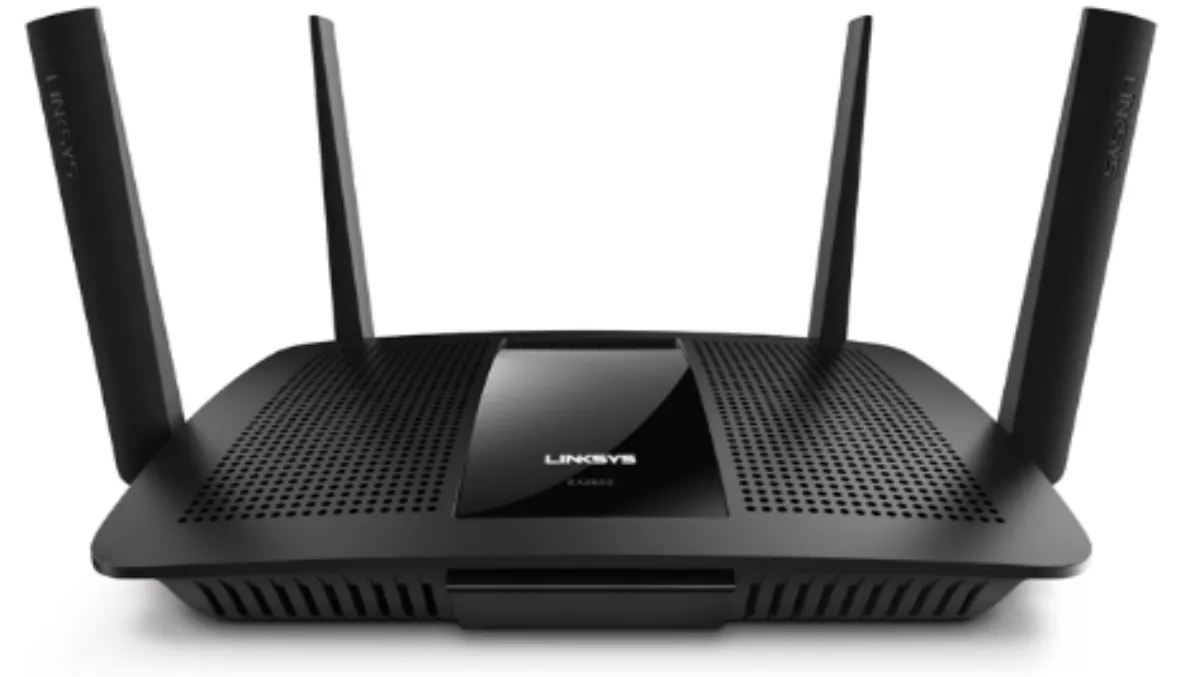 Hands-on review: Linksys AC2600 Max-Stream MU-Mimo
FYI, this story is more than a year old
Internet access is a lot like air. We take it for granted, but get extremely tetchy when it stops working. The rise and rise of networked gadgets has seen trouble brewing on the Wi-Fi front, with the ever increasing numbers of networked gizmos in our homes causing lesser specc'd routers to fall over. From network attached storage through to smartphones, smart TVs and contracts, the amount of gear in a typical home that's reliant on Wi-Fi connectivity has grown massively in recent years.
My place has over 20 gadgets that are instantly transformed into paperweights without internet access. Keeping all this gear reliably connected places a no small amount of strain on my overworked router. Resets were a weekly ritual and these are compounded by my many neighbours Wi-Fi networks. Interference on the 2.4GHz band frequently creates connectivity headaches.
So when invited to test the Max-Stream AC2600 MU-Mimo router, I literally leapt at the chance to see if it could fix what was ailing my home network.
Look and Feel
Out of the box, the AC2600 is a pretty conventional looking router, with Linksys have opted for a rectangular slab type design. About the only real clue to the AC2600's beefed up Wi-Fi chops are the four antennas arranged around its edge.
Where other router manufacturers go out of their way to slather their gear with blinking LEDs, Linksys score major brownie points for using a single glowing Linksys logo, which can tell you at a glance that the power's on or if there's a network issue. With a growing number of people situating their routers in lounges, a blinking LED light show can be an annoying distraction, especially when trying to watch TV.
As with most routers, the AC2600 packs 4 Gigabit Ethernet ports plus a WAN socket on its rear. Rounding things out is a power switch, reset button and socket for the bundled power brick.
In Use
The AC2600 Router is one of the first to make use of Qualcomm's MU/EFX Wi-Fi tech, which in theory should see it delivering significant performance improvements and greater reliability with crowded mixed mode network environments like mine. After several weeks of use, I can say that Linksys have definitely made good on this.
The AC2600 proved to be especially adept at keeping my network of 5GHz/2.4GHz 802.11 b/g/n/ac Widgets running reliably. What also impressed was the fact that when paired up with an external hard drive hooked into its USB 3.0 port, the AC2600 delivered read/write performance rivalling many of the dedicated home NAS boxes I'd previously tested.
Getting set up was also an adventure. The AC2600 is able to be configured by hooking it to a PC or Mac via an Ethernet cable, or by using the included installation CD. This sounds great in theory but like a growing number of Ultrabook owners, my Acer PC didn't have a CD ROM drive, nor does it sport an Ethernet port.
Thankfully there's a third option in the form of a cloud-based set up that saw me logging into linksysmartwifi.com to get things running. The linksysmartwifi.com feature also handily combines with an IOS/Android app to allow you to keep an eye on your network from anywhere there's mobile coverage using a smartphone or tablet.
The AC2600's interface is well-organised and responsive. The two key features also really stood out. The Network Map displays an intuitive map of all connected gizmos which can be sorted by connection wireless or wired or type (e.g. Mobile devices, printers, and PCs etc.). Clicking on any of the graphical representations of a device allows you to view more information on its connection and settings.
The other feature that got my seal of approval was the highly intuitive Media Prioritisation widget. This allowed me to drag and drop icons for connected devices into High and Normal priority lists for speedier access to the Internet. It was intuitive and in practice worked like a charm.
This said, it isn't perfect. Limited options for tweaking Wi-Fi were frustrating. I would have liked to have seen the 5GHz band being usable as AC-only. Even though USB attached storage proved blisteringly fast, the lack of Time Machine support is also bound to be an annoyance for Mac users. Here's hoping Linksys follow Asus and D-Links lead and address these issues with future firmware updates.
Under the Hood
Nifty features aside, there's plenty going on under the AC2600's hood. Perhaps the most noteworthy feature is Linksys's inclusion of Qualcomm's MU/EFX 802.11AC Wi-Fi silicon, which Means the AC2600 features Multi-User Multiple Input Multiple Output (otherwise known as MU-MIMO). Designed to handle Wi-Fi bandwidth more efficiently, it was a key factor in the AC2600's ability to to deliver solid data speeds to the assorted devices on my home network.
Most 802.11AC capable routers on the market use single user MIMO technology. This means they send full capacity WiFi data streams to all connected devices, regardless of what data rate the devices are actually able to connect at, wasting a shedload of bandwidth in the process. With MU-MIMO, the router can transmit multiple streams, and each caters for the maximum connection speeds for each connected device. This in theory means that each of the devices on the network can connect without slowing each other down.
I say in theory as MU-MIMO needs to be supported by both the router and the connected devices. At the moment few, if any devices support MU-MIMO, but it does provide some pretty handy future proofing.
MU-MIMO support aside, the AC2600 can crank out a theoretical maximum WiFi throughput of up to 1,733Mbps on the 5Ghz and up to 800Mbps on the 2.4GHz, making it very zippy indeed. Best of all considering my own situation is the fact that the AC2600 has a muscular 1.4GHz dual-core processor, 128MB Flash storage and 512MB DDR3 RAM memory, meaning it can handle loads that'd leave many other routers floundering.
Performance
The AC2600 ran like a cut cat on 5GHz. When in the same room as the router, I was getting just over 400Mbps. Moving to another room at the opposite end of the house saw speeds drop down to a still impressive 255Mbps.
2.4GHz speeds weren't quite as impressive, but the AC2600 still managed a perfectly usable 129Mbps in the same room and 51Mbps at the other end of the house.
Even without MU-MIMO devices connected, I was also pleased to note that everything from the assorted SONOS players, through to netcams and NAS boxes all seemed to run smoothly, a real win given the number of other routers I've shredded with my bloated home network.
Speaking of range, the AC2600 covered my entire home and a good chunk of our back section. The AC2600 also ran without any hiccups throughout my testing. Large file transfers didn't phase it. No resets have been required so far either.
With more CPU grunt than a pig farm and plenty of RAM, the AC2600 proved to be an adept NAS device. I tested the A2600 with a USB 3.0 connected external hard drive. Copies zipped along at a blazing 89MBps writing and 103MBps reads. This is easily comparable to most dedicated NAS boxes I've tested.
Verdict
The AC2600 is a winner for homes with a large collection of Wi-Fi connected widgets. This isn't just because it's able to deliver a faster connection to each device, but because it'll take a huge load of traffic yet deliver rock solid performance. Add to that its speed as a NAS device as well as its ability to be managed remotely and there's a whole lot to like.
If like me your current router is struggling as your home network grows like topsy, Linksys's AC2600 Max-Stream MU-Mimo router is definitely worth checking out.
Related stories
Top stories