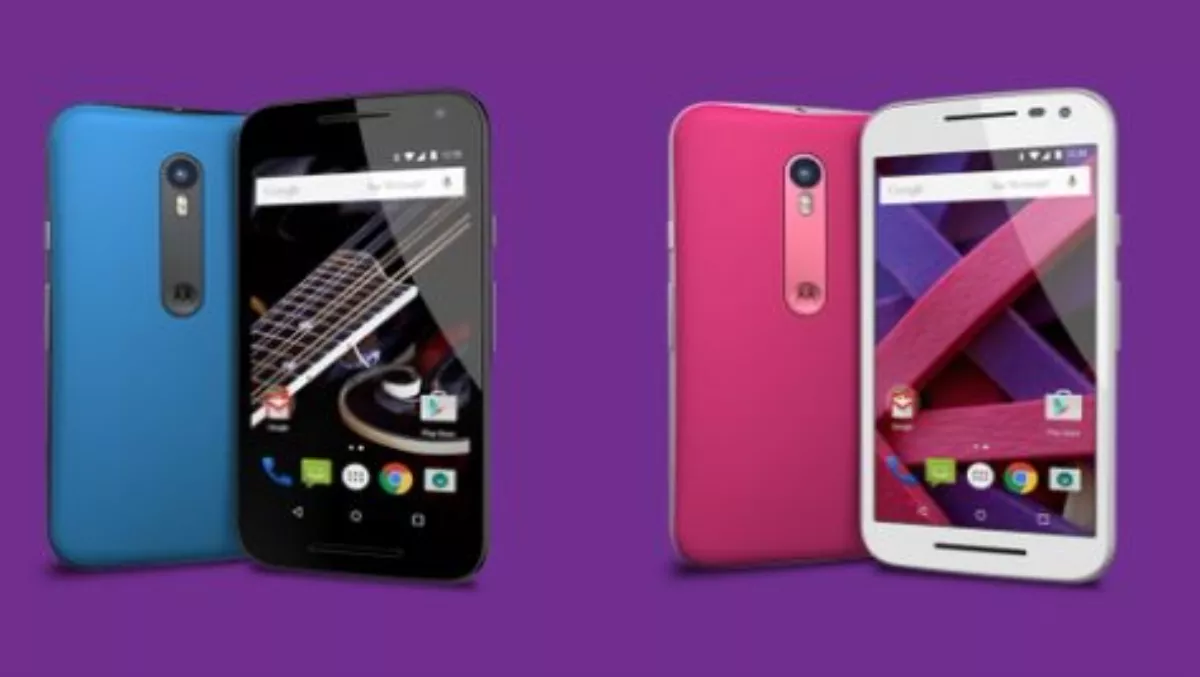 Hands-on review: Moto G (2015 edition)
FYI, this story is more than a year old
Back in 2013 Motorola showed the world with the Moto G that affordable smartphones didn't mean sacrificing specs.
Motorola is about to launch the 2015 version of the Moto G. The big question I have is this - Have they carried off the smartphone equivalent of that all too difficult third album with the Moto G?
Look and Feel
Looks-wise, the 2015 Moto G is similar to the previous Moto G, sporting a removable rear cover. When removed, it provides access to both memory card and SIM slots. Rubber inserts on its underside also provide the first hint of a key feature for this year's Moto G. IPx7 water resistance. In non-geek-speak, this means that it can take a dunking in up to 1m of water for up to 30 minutes and keep on keeping on. It'll be great to see an affordable smartphone with water resistance go on sale.
The Moto Maker site is still a US only thing. This is a real shame. US buyers can go online to customise a huge number of options. These range from the colour of its rear cover and metal trim to its boot screen message. Moto Maker could be a killer feature in a small crowded market like NZ. Please launch Moto Maker here soon!
The 2015 Moto G's design is curvaceous, and it's a chunky monkey. This said, it'll withstand the knocks and bumps that'd leave other smartphones (and their owners) crying all the way to the repair shop.
Bells & Whistles
One component that wasn't upgraded in the 2015 edition is the screen. As with last year's model, the Moto G 2015 has a 4.5" 1280 x 720 IPS LCD screen. This might not sound ideal, but less pixels should in theory mean a better battery life.
In use the Moto G's screen was crisp, vivid and viewable under sunlight. Topped with Gorilla Glass 3, it also looks to be able to handle some rough and tumble too.
While the Moto G has all the bells and whistles you'd expect (e.g. GPS, Wi-Fi and Bluetooth), it doesn't have NFC. Given the move to contactless payment options such as Semble, this seems an odd thing to leave out.
NFC grizzles aside, The Moto G is a zippy device that comes in two flavours - 8GB or 16GB storage. Both versions sport the same Snapdragon 400 CPU, but the 8GB version has 1GB of Ram while the 16GB has 2GB Ram. Early feedback is that the 2GB version offers smoother performance, but I was unable to get both models to verify this.
Another bonus is its dual SIM slots. These will help travellers not wanting to be clobbered with international roaming charges by using both a New Zealand and local SIM card.
Motorola wins points for their decision not slather the 2015 Moto G with frivolous user interface tweaks and shovel-ware. The look and feel of the interface on the Moto G is stock Android (lollipop).
Motorola also put quite a bit of thought into the few customisations that on the Moto G. Those that are there are actually useful, leaving the Moto G uncluttered.
These include a Migrate app for importing data from an earlier smartphone, the Moto camera app and the active display feature plus the Moto app.
The Moto app gives users a dashboard to control a heap of features including a handy Do Not Disturb mode. Once you get used to Active display it soon becomes indispensable. Like the Moto X, the Moto G shows notifications and other info on-screen even when in standby. Active display notifications display when you a) get a notification or b) pick the Moto G up.
Getting an at a glance view of notifications when the Moto G is in standby was dead handy and I found myself becoming quite reliant on it.
The Moto G uses Sony sensor for its rear shooter, and have paired it with an f/2.0 lens. In use, I was impressed by the Moto G's camera. Shooting is a responsive undertaking thanks to a near non-existent shutter lag. Equally important, its image processor means that the Moto G also has the smarts to crank out good quality photos under wide a range of shooting conditions.
With daylight shooting conditions photos were usually vibrant, yet natural colour-wise. Details were good, without any hints of image sharpening. The auto mode also did a good job of working out exposures so that contrast levels were spot on. The f/2.0 lens was an added bonus that let me snap some pretty nifty depth of field type pics.
As good as the Moto G's camera is it still didn't outperform Huawei's P8 when shooting in low light and at night. The lack of optical image stabilisation or low-light camera modes meant that night photos looked dark and grainy or were blurred. This said the Moto G's camera still out-performs the shooters on most other mid-market smartphones I've recently tested.
Verdict
The 2015 Moto G is a compelling and well thought out piece of hardware. Motorola could score themselves a huge competitive advantage in the NZ market by offering access to Moto Maker to Kiwis.
It may seem like a chubber, especially when other smartphone makers are crafting lighter and slimmer phones, but water resistance and solid build make it a great phone for active types.
The Moto G's camera is also pretty impressive, especially considering that like previous Moto G's, the 2015 edition will sell for a reasonable sticker price.
Camera bang for buck performance aside, Motorola has managed the near impossible task of not clogging up the user interface with frivolous customisations. So has Motorola has managed to craft that oh so difficult third album smartphone? You betcha. They've created a mature smartphone that performs well above its anticipated price point.
Tech specs
RRP: TBA
Operating system
Android™ 5.0 Lollipop
Storage 8/16GB, microSD Card Slot up to 32GB
Dimensions Height: 70.7mm x Width: 141.5mm x Curve: 6.0-11.0mm
Weight 143g
Camera: Rear camera: 8 MP AF
Front camera: 2 MP
Audio 2 Speakers: front-facing
Qualcomm® Snapdragon™ 400 processor with 1.2 GHz quad-core CPU
Memory RAM: 1GB/2GB
Display 4.5" 1280 X 720 HD, 329 ppi
Networks UMTS: 850/900/1700/1900/2100MHz, HSPA+ DL 21.1Mbps (Cat 14)/UL 5.76Mbps (Cat 6)
Battery 2070 mAh
Related stories
Top stories