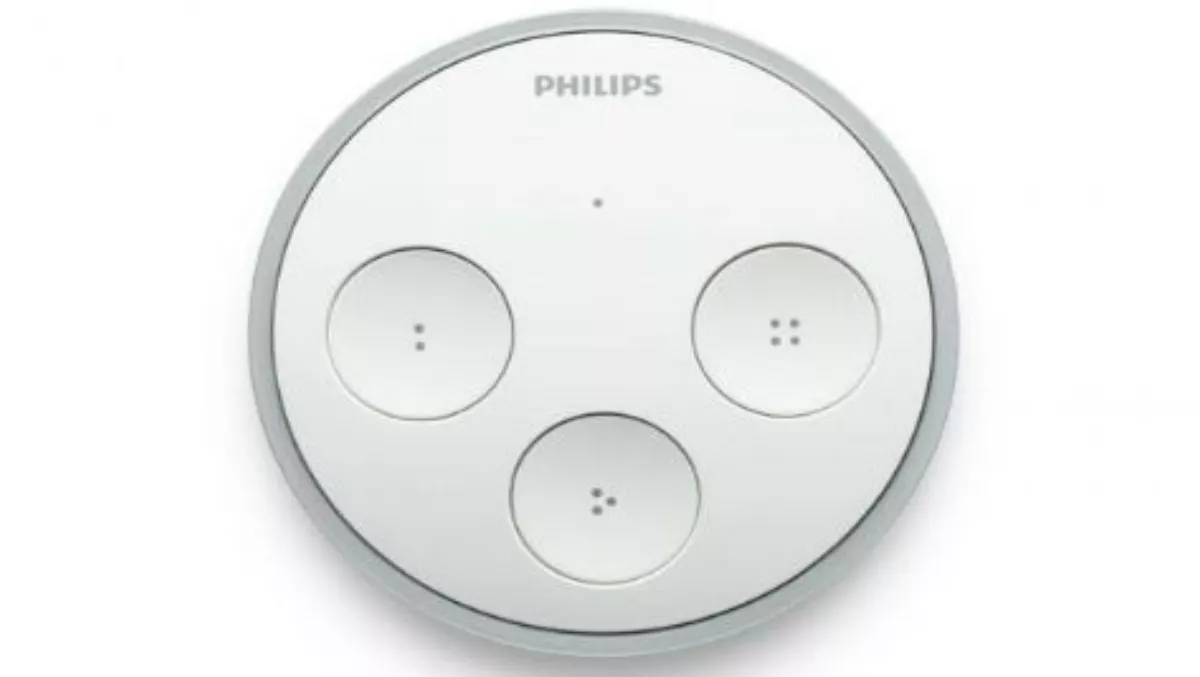 Hands-on review: Philips Hue Tap
Fri, 4th Sep 2015
FYI, this story is more than a year old
Philips latest addition to their Hue lighting range, the Tap, is as you'd expect a clever piece of gear that greatly extends the usefulness of Philips Hue lights. If you've ever had a chance to check out Philips smart wireless colour changing Hue LED lights, you probably came away wowed. The Tap wins by adding more usability to Hue bulbs and even better still, does it with no batteries or mains power at all.
Perhaps the biggest benefit of the Hue lighting gear is that you also get the ability to control lighting wirelessly with an Android or IOS smartphone. That they're infinitely customisable (each Hue bulb has a red, blue and green LED with adjustable brightness levels to create millions of possible colour combinations) makes the deal even sweeter still.
As nifty as this may sound, you may not always be within reach of your smartphone (or as I found out it could be flat). For other family members who don't have the Hue app (or dare I say it, a smartphone) the situation may be equally frustrating. And it's precisely here where the Hue Tap comes into its own.
Getting Set up
Some gadgets can be finicky, fiddly and downright frustrating to set up. The Tap definitely isn't one of these. From unboxing to actually using the Tap, total set up time was less than 5 minutes.
The first set up step involves sticking the Tap on the wall so it can carry out its main purpose in life, (being a smart light switch). Because I knew Philips would want their review units back, I didn't mount it into a wall, and left it with the telly remote on the coffee table, where it worked just fine.
Unlike other smart lighting solutions, there's no need to call an electrician, or fiddle about with batteries. The Tap uses the kinetic energy, so each time you hit a button on the Tap, the energy of you hitting the switch button generates all the power needed. Better still, like its Hue bulb siblings, the Tap is wireless, which means it's a set and go solution.
Look and Feel
Looks-wise, the Tap follows the Philips white on white Tupperware school of design as used by the rest of the Hue product family.
Its round puck like shape makes it look like a left over prop from Space:1999 or any number of other sci-fi flicks. While this'd look pretty darned sharp in a modern home, it stuck out a bit in our turn of the century villa. This said, the Tap isn't huge. Its lack of batteries greatly reduces its bulk.
In Use
The tap unit has three buttons on its front, and the front fascia also does double duty as a fourth button. You can also customise what each of the button on the Tap does. This means that a single Tap button can control either a single bulb on or an entire group of Hue bulbs, making the Tap dead handy for controlling the lighting in several rooms.
About the only grizzle I had was that the Tap could be a little more intuitive. With a standard light switch you tap it once to turn a light on and again to turn the light off. Not so with the Tap. While you push a Tap button to turn Hue lights on, pressing the same button doesn't turn them off. It turns out that I had to press the fascia to achieve this. While it works, it isn't intuitive and this is a key consideration with a light switch.
To get the Tap to do its thing, you also need to push each button quite hard. This took a bit of getting used to, but worked in practice and is a small price to pay for not having to change batteries every few months.
Verdict
The Tap is a simple product that does exactly what it says on the box. While a light switch isn't normally the stuff of a full review, the Tap's ability to use kinetic energy instead of batteries or mains wiring makes for a dead easy install and significantly less impact on the environment over the longer term and it makes Hue lighting accessible to everyone in your household.
The only real downside with the Tap is that like its Hue siblings, the upfront costs are high. Even though the Tap is about as state of the art as you can get for a light switch, at just shy of $90, it's a pricey add-on to already pricey Hue bulbs.
This said, if you do the maths and factor in the cash you'll save on electricity by going with LED lighting (not to mention spending less on replacement bulbs) it isn't too hard to easily justify a Hue lighting system and the Tap. That plus the ability to create custom lighting environments still makes Tap and Hue a really fun and highly extendable lighting option.