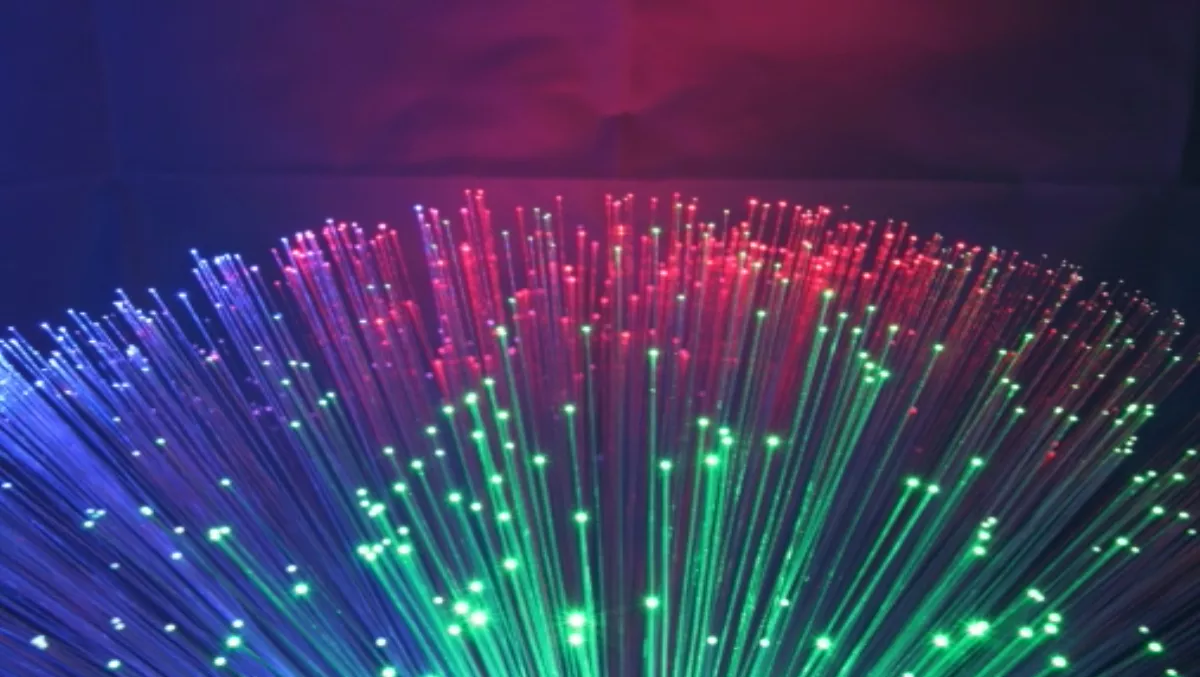 High fibre time for Kiwi business...
By Heather Wright,
Mon 15 Sep 2014
FYI, this story is more than a year old
The nationwide UFB programme has raised the profile of fibre in New Zealand. But what does it mean for Kiwi businesses?
Say fibre to the average Kiwi and they'll probably think you mean the ultra-fast broadband rollout – if not something the doctor tells them they need to eat more of.
And it's true that the government's UFB programme is delivering fibre to streets, homes, businesses, schools and other organisations around New Zealand. But it's not all about getting faster YouTube downloads.
A report InternetNZ commissioned with Google from Sapere shows there are significant productivity gains to be made for businesses from better use of internet tools – and from fibre.
In fact the report, The value of internet services to New Zealand businesses, says firms that use a fibre connection are up to 12% more productive.
The report covered four sectors: tourism and retail, dairy farmers and agriculture and professional services firms, and the report authors say in all cases they were told that the internet is already having substantial positive productivity impacts, and that there are more to come.
Auckland-based Brian Holgate Panelbeaters was the first business to connect to UFB on the Chorus network in March 2012. The company reportedly achieved 10-15% productivity gains in the year after connecting.
Jordan Carter, InternetNZ chief executive, says the business impact of fibre connectivity will grow as people learn how to use it to best effect.
"If all businesses were using it as well as the front runners, we'd make significant economic gains as a country. The rise in availability is giving business new options that arise from fast broadband, compared with what they are using today.
"The uses will continue to grow as more people use it. New services will develop and become more accessible, the bigger the market is," he adds.
Speed...
Last month, Spark proposed that speed limits be increased on the UFB networks being built around New Zealand to one gigabit per second for downloads.
When the network rollout began in 2012, the standard download speeds available were 20 or 100 megabits per second, Spark general manager product and service delivery, Lindsay Cowley, says.
Cowley says since then there have been 'encouraging product innovation and speed increases' by the four fibre companies contracted to build the UFB network.
"A top download speed of 1000 Megabits, or one gigabit, per second – the maximum technically possible under the UFB network's current configuration – is now on the table as Ultrafast Fibre has announced it will launch the product throughout their coverage area of approximately 162,000 addresses in the central North Island."
The telco also called for more national consistency on products offered by fibre companies to avoid a 'fibre tangle' and has written to all four fibre companies outlining its preferred range of inputs, ranging from the 30Mbps download, 10Mbps upload – the current standard entry-level input – to 1Gbps download, 500Mbps upload.
It's a move that, unsurprisingly, got the thumbs up from InternetNZ.
Says Carter: "The UFB is a vitally important piece of infrastructure for New Zealand's development. With the rollout - impressively - going ahead of plan, and take-up taking off, it's already a huge success story.
"The question is whether we are making the best use of UFB. A commercial offer of lightning quick gigabit speeds would be a significant step towards doing so," he adds.
He says UFB is a key tool to rolling out fast broadband, and the project means New Zealand will end up in a better position than many other countries, given that the project will ultimately cover 75% of New Zealand households.
"That's pretty world-leading. And that's besides the business grade fibre already available in CBD areas and some other spots where private investments have already seen infrastructure installed."
However, Carter says while UFB is a great programme for getting broad-based access to fast infrastructure out there, he does have concerns that the network being built can offer gigabit services, but that much of the network is still offering top speeds of just 100Mbps.
"That's changing in the Waikato region where the local fibre company is offering 1Gbps plans, and Chorus is running the Gigatown competition. Spark has called for gigabit to be available everywhere, on a consistent basis. I think that's where UFB will get to over time.
"With the huge public investment that's gone into building the network, it doesn't make sense to run it slow."
Dedication time...
And therein lies the kicker for larger kiwi enterprises. While UFB has certainly pushed fibre into the public eye, some are cautioning that it's not for everyone.
"There's a misconception in some parts of the market that because UFB is the latest kid on the block, it's the best," says Nick Willis, CityLink chief executive.
"Sometimes people think that because it's new, it must be the best, fastest and most flexible. But dedicated fibre has been out there for a number of years, providing better service and more flexibility."
CityLink is one of a number of companies offering P2P fibre for businesses including Voyager, Snap and Chorus, and operates an intercity broadband network, along with offering dark fibre and ethernet metropolitan and national networks.
Dedicated fibre offers uncontended – or unshared – fibre, offering more stable and consistent bandwidth than UFB, where when the network is congested it slows down.
Optimus Systems notes that while UFB will most likely be an improvement in your current internet performance, 'only premium fibre can deliver reliable performance and provide guaranteed support'.
Willis agrees, saying while UFB is a 'great product in the residential market' and brings new levels for that market, it can be a step backwards for business.
"UFB brings a new price point to the market at the entry level, but businesses really looking to take advantage of fibre are not moving to UFB, they're staying with dedicated fibre. We're selling more fibre connections than ever before," he adds.
He adds that UFB has raised expectations in the market and prompted businesses to begin looking at fibre. "And when they dig into the details, they realise that dedicated fibre can be a better option."
Willis says UFB might be a great way to connect a single customer to a single service provider, but it can't be used for multi-site offices or data centres in the cloud.
And, he cautions: "Things like SDN don't work on top of the UFB framework, because it's not built that way."
He says CityLink is seeing plenty of demand for dedicated fibre, particularly as more companies move compute resources into the data centre.
"And we're seeing a lot of Wi-Fi on top of fibre. That enables you to really start getting a competitive network to the cellular network. We're seeing more businesses running their LAN and mobile over fibre, because mobile is more expensive than Wi-Fi.
"The office boundary is being pushed out more on Wi-Fi." Carter says the dedicated fibre vs UFB debate depends entirely on the connectivity needs of the business.
"Dedicated fibre may have advantages in terms of bandwidth and direct point-to-point networking options compared with UFB offerings: businesses can have more control over their networks if they're buying dedicated connectivity compared with more mass-market options."
But he says, this will be a key test for how innovative the four local fibre companies will be. "How much competition can they offer existing or potential dedicated fibre providers with their infrastructure?"
And that, he says, is a story yet to be written.