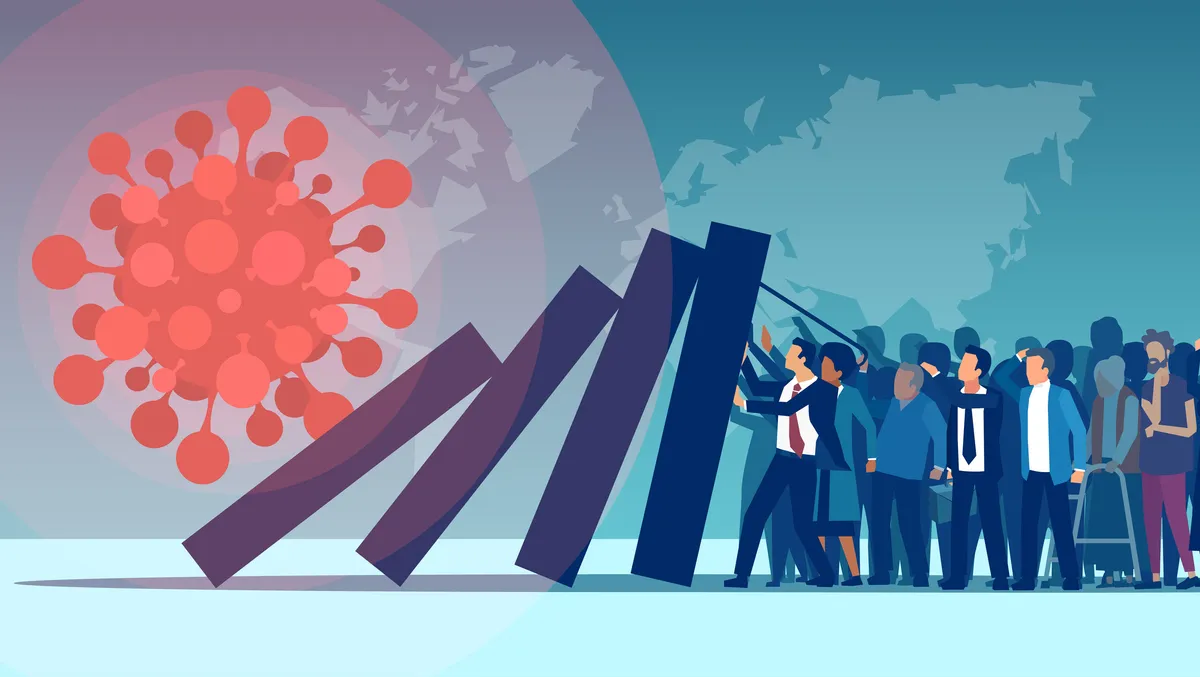 How Omicron-proof technology helped businesses traverse the 'Big Sick'
FYI, this story is more than a year old
When businesses were battling through Covid disruptions, contact centres were utilising innovative technology solutions.
During Omicron's peak in New Zealand earlier this year, coupled with the crippling return of the flu in what was dubbed a 'twindemic' – 'the Big Sick' well and truly proved its massive disruption to Kiwi businesses.
A recent survey from Stats NZ around sickness within the household labour force highlighted the impact for New Zealand's businesses grappling with staffing disruptions during the outbreak. The April-June 2022 quarter saw a 24.6% increase in reported staff sickness when compared to the previous quarter. These numbers grew significantly to 96.8% when comparing them annually, highlighting the impact the general winter ills and chills have had on Kiwis over the last year.
During periods when in-person working interactions are reduced, contact centres pick up a lot of the slack and many of them are still dealing with huge fluctuations in call volumes. Through the Omicron surge earlier this year, Digital Island's customers alone, which primarily stretch across government, health, retail, IT, automotive, logistics and fintech, saw significant increases in call centre demand.
Thankfully, new technology is helping organisations relieve some of this pressure.
As we've seen over the past few years, the ability for businesses to adapt quickly, whether to new government restrictions or changes in demand levels, is critical. In the first round of lockdowns, our customers adapted fairly quickly to sort work from home set ups for their contact centre staff. Now we're seeing the need for specialised change.
Just being able to pick up a call at home is no longer enough, especially for businesses experiencing record numbers of customers seeking virtual communication. Contact centre teams need to be able to access different systems and link to CRM databases if they want to stay ahead and solve customer problems quickly and satisfactorily – chasing that First Call Resolution (FCR) benchmark.
The beauty of cloud models is businesses can ramp up and down their service requirements depending on demand. Rather than investing upfront in expensive hardware kit that might not be able to keep up with demand, or might end up being overspecced, there's flexibility to scale up or down depending on business needs.
Innovative technology platforms that offer an easy-to-use omnichannel cloud contact centre for businesses to provide superior customer service at a lower cost are becoming the norm in an increasingly remote workforce. In New Zealand, Digital Island is supporting many local businesses successfully connecting to Amazon Connect.
While many businesses have responded to short-term Omicron-related pressure by ramping up their contact centre firepower, longer-term, people want options for how they communicate with businesses, not just via phone calls.
We are seeing how platforms that offer true omnichannel capability – including customer interactions across email, text and social channels like WhatsApp and Facebook, are growing in popularity and proving customer demand for interacting on platforms that suit their preferences.
Similar to the health sector, there is an element of 'triage' involved to resourcefully manage a contact centre. Businesses need to deal with the most urgent requests first, with the resources they have available.
It's important for these systems to integrate into other databases so customer information is seamlessly tracked. This helps priority customers feel valued – but not at the expense of other customers. This way you can deal with high-value engagements first, while more transactional requests can be directed to self-service digital options like wikis, FAQs and chatbots.
It's a hybrid approach. With banking, I do most of the transactional stuff online. But if I need a mortgage, I want to talk to a human. While some might think artificial intelligence is set to wipe out jobs, we see it as allowing people to do their jobs better and more efficiently.
Time is the new currency, so if you reduce the phone conversations required, as well as the length of time for each call to be resolved by providing the right information at the right time, contact centre teams have more time to deal with the important things.
So which sectors does this technology suit best? For any business trying to drive out admin-heavy tasks and make their existing contact centres more efficient, the cloud can be a real enabler.
In the health space, Digital Island was behind the rapid deployment of a national COVID contact tracing and case investigation solution. Reach (previously CBG Health Research Limited) was contracted by the Ministry of Health to urgently stand up a call centre when Delta's arrival in New Zealand was imminent. Within a record seven days, Reach call centre agents were able to make calls through Digital Island's customised Amazon Connect technology.
Farmlands Co-op recently adopted Amazon Connect and says the contact centre has been something of a win-win-win. It allowed farmers to go hands-free when calling, which was safer for them, while providing agents with a better understanding of the customers coming through. As a result caller queries were sorted faster and wait times were shortened. Now Farmlands Co-op's customer team can work from anywhere on a secure cloud-based system, rather than in a centralised contact centre, so COVID-19 restrictions haven't influenced service.
This technology isn't just about improving results for businesses and customers. It's also about making it easier for contact centre agents and managers to do their jobs. We've all read about pandemic-induced overload on the workforce.
Technology is not a cure-all but in a post Omicron landscape, it will allow many businesses to adjust accordingly and attempt to keep customers and staff happy. It's certainly helping to manage some of their contact centre symptoms and bolstering their immune systems for any shocks in the future.