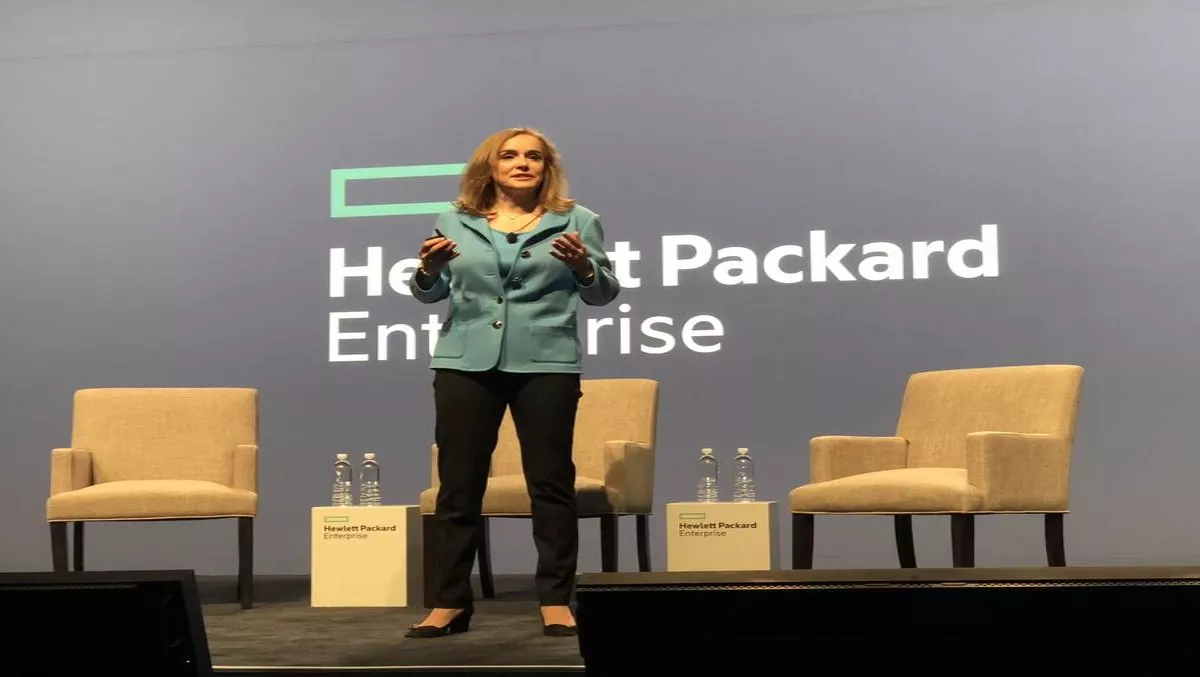 HPE introduces service to optimise public, private and hybrid cloud consumption
FYI, this story is more than a year old
Hewlett Packard Enterprise (HPE) has announced HPE GreenLake Hybrid Cloud, a new consumption experience designed to help customers manage and optimise their on- and off-premises clouds.
HPE GreenLake Hybrid Cloud is an automated cloud operating model, leveraging HPE's leading intellectual property and standardised with HPE best practices to help customers consume the exact cloud resources they need, wherever their workloads live – while driving improved performance, cost, security and compliance.
By eliminating the need for staff to manage the hybrid environment day-to-day, the new solution helps diminish human error and enables staff to focus on innovation.
Hybrid IT is the reality for most enterprises as it allows them to blend a mix of applications, services and platforms, all tailored to their needs.
However, many enterprises struggle with the complexity of operating different private, public and hybrid clouds and having the right skills to oversee and manage their cloud implementation, which can lead to unknown, unrestrained cost and risk.
According to Gartner, by 2020, organisations that lack cost optimisation processes will average 40% overspend in public cloud.
In addition, many customers lack automation and simple tools to unleash the agility of the cloud, and continuous monitoring of controls and compliance frameworks to manage risk.
HPE GreenLake Hybrid Cloud helps solve the problem of complex management.
It sets up processes to manage cloud resources in a customer's environment of choice; establishes specific cost, security and compliance controls; and then manages those resources on behalf of the customer. Unlike a traditional managed service, GreenLake Hybrid Cloud offers an automated, cloud-native model that is designed to eliminate the need for organisations to hire or train new staff to oversee and manage cloud implementations.
HPE Pointnext SVP and GM Ana Pinczuk says, "Enterprises need a fast, simple way to optimise their public and on-premises clouds to enable applications and data under a common operating model.
"HPE GreenLake Hybrid Cloud is a breakthrough solution that removes the complexity of operating multiple clouds and enables customers to maintain control, reduce costs and accelerate time to value.
HPE GreenLake Hybrid Cloud helps deliver rapid time to value, simplified IT, and services for continuous management of specific cost and compliance controls for public and on-premises clouds.
Leveraging the cloud architecture and implementation expertise from HPE Pointnext through its acquisitions of Cloud Technology Partners and RedPixie, HPE GreenLake Hybrid Cloud provides ongoing management and optimisation of customers' environments in leading cloud solutions such as AWS, Microsoft Azure and Azure Stack.
HPE GreenLake Hybrid Cloud is built on an automated toolset featuring HPE OneSphere and HPE's software-defined technology to support and operate hybrid cloud workloads.
Microsoft Azure Stack is delivered using the HPE GreenLake flexible consumption model that brings the pay-per-use approach to on-premises environments using the HPE ProLiant for Microsoft Azure Stack.
IDC Program VP Rob Brothers says, "Looking at how companies like to optimise their cloud experience, we find that 23% want to consume off premises as-a-service and 35% on-premises as-a-service with the remaining being in a capex or leased model.
"HPE has created an offer with the acquisition of Cloud Technology Partners and RedPixie that can span between the on and off premises cloud."
451 Research found that two of the biggest challenges customers face when implementing their cloud infrastructure are compliance and cost management.
HPE GreenLake Hybrid Cloud helps solve these challenges by offering key benefits:
Accelerate time to value – Cloud-native, automated operating model delivers shorter time to cloud and increased speed of IT operation
Pay-per-use – Consumption model and continuous monitoring of cost control areas to align costs with business needs helps reduce total cost of ownership (TCO) for on-premises IT
Simplify IT – Expert services from HPE Pointnext cut the "heavy lifting" in the data center and free staff for strategic business value
Keep proper control – Real-time alerting of monitored control failures and remediation recommendations, as well as continuous synchronisation and monitoring controls for compliance, helps customers have up to date information on what is being monitored and helps reduce the unintended risks that come from inexperience