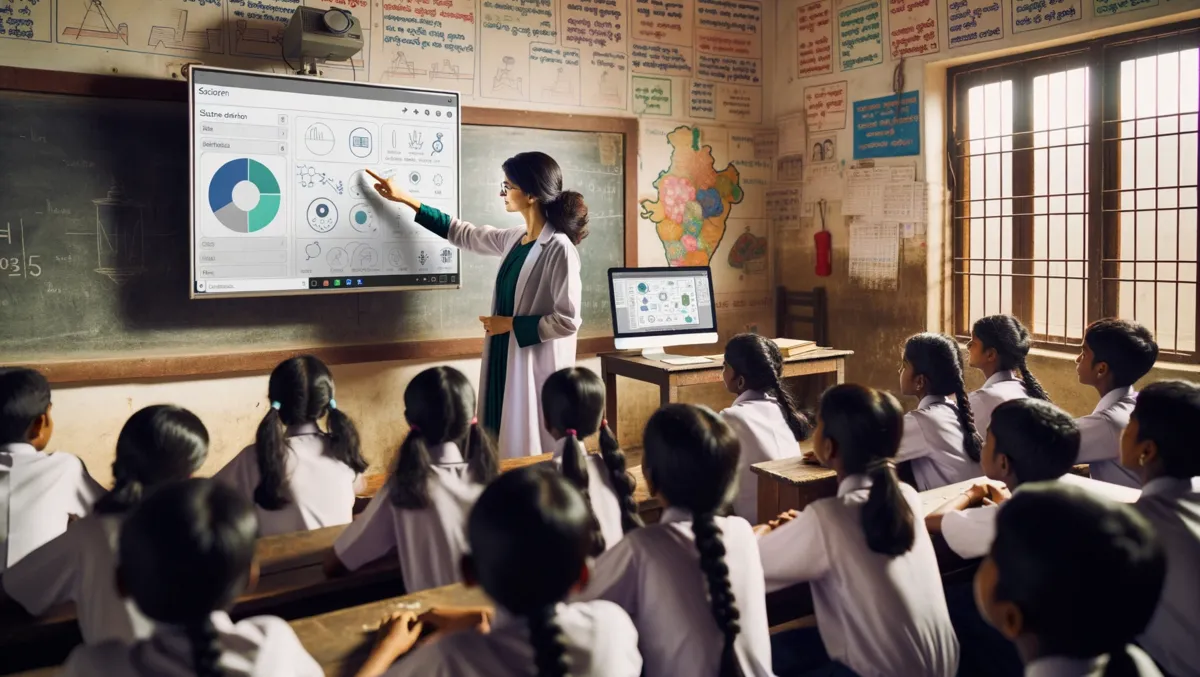 Indian teachers co-design AI tool with Microsoft for enhanced learning
Thu, 2nd Nov 2023
By Sean Mitchell, Publisher
Teachers from India have contributed their expertise to Microsoft Research in order to design a new AI tool, Shiksha copilot, aimed at enhancing the creation of quality educational content. Taking on the challenges of lesson planning, time management, and classroom organisation, the AI is intended to help teachers construct personalised learning experiences, design assignments, curate hands-on activities and more.
The Shiksha copilot project is a partnership between Microsoft Research India and other Microsoft teams. It's an effort to heighten learning outcomes and empower educators to produce extensive, age-specific lesson plans by combining prime online resources such as textbooks, videos, classroom activities, and student assessment tools. The AI-powered digital assistant-like tool was conceived around teachers' specific needs identified through numerous interviews and workshops.
The team has formed an alliance with local NGO Sikshana Foundation, which focuses on the upliftment of public education, to pilot this program in public schools around Bengaluru, India. The team underscores that a lesson plan is like a road map, outlining what students need to master and how to efficiently cover the syllabus during class time. This ranges from objectives for student learning to teaching methods and tactics to strategies for student assessment.
Science teacher Parimala H V of Government Higher Primary School, Santhe Beedhi, Bengaluru, suggests that with Shiksha copilot, she is capable of creating a comprehensive lesson plan in 60 to 90 seconds instead of 60 to 90 minutes. "I was thrilled to have the opportunity to use Shiksha copilot", she said, "It could revolutionise the way teachers teach."
Experiences like Parimala's underscore the transformative potential of the tool. Teachers in the Bengaluru area face challenges such as large classroom sizes and the need to prepare lessons in both English and Kannada. Yet, Shiksha copilot has proven effective, helping teachers like Gireesh K S, at Government High School, Jalige, to increase student engagement through digital resources. "Shiksha copilot is very easy to use compared to other AI," he commented, attributing it to the program's alignment with local syllabi and curricula.
Shiksha copilot has unique features designed to enhance the educational experience, informed by a multitude of technological advancements. It builds generative AI models with unified multimodal capabilities and enhances multilingual capacity for regional-language instructions. It's also adaptable, supporting connections to private and public content resources and available through several mediums such as WhatsApp and Telegram. It incorporates safety, reliability, and trustworthiness through prompt designing, intensive testing, content filtering, and AI regulations, according to Tanuja Ganu, principal research SDE manager at Microsoft Research.
Initially, there was some scepticism among teachers regarding the application of AI for lesson planning. However, Mahalakshmi A, a science teacher at a rural Government Higher Primary School outside Bengaluru, had a change of heart after a two-hour initial workshop session. "This is the first time that it felt like the teachers also had a tool for themselves," she exclaimed.
The pilot program for Shiksha copilot is currently underway at over 10 schools around Bengaluru, with researchers aspiring to expand it across the state of Karnataka and beyond, in association with the Sikshana Foundation. Its development is related to Project VeLLM at Microsoft Research India, which is endeavouring to create an inclusive and accessible platform for developing population-level copilots, addressing challenges like multilingual user bases, varied skillsets, limited devices and connectivity, domain understanding, guardrails, and safety principles.