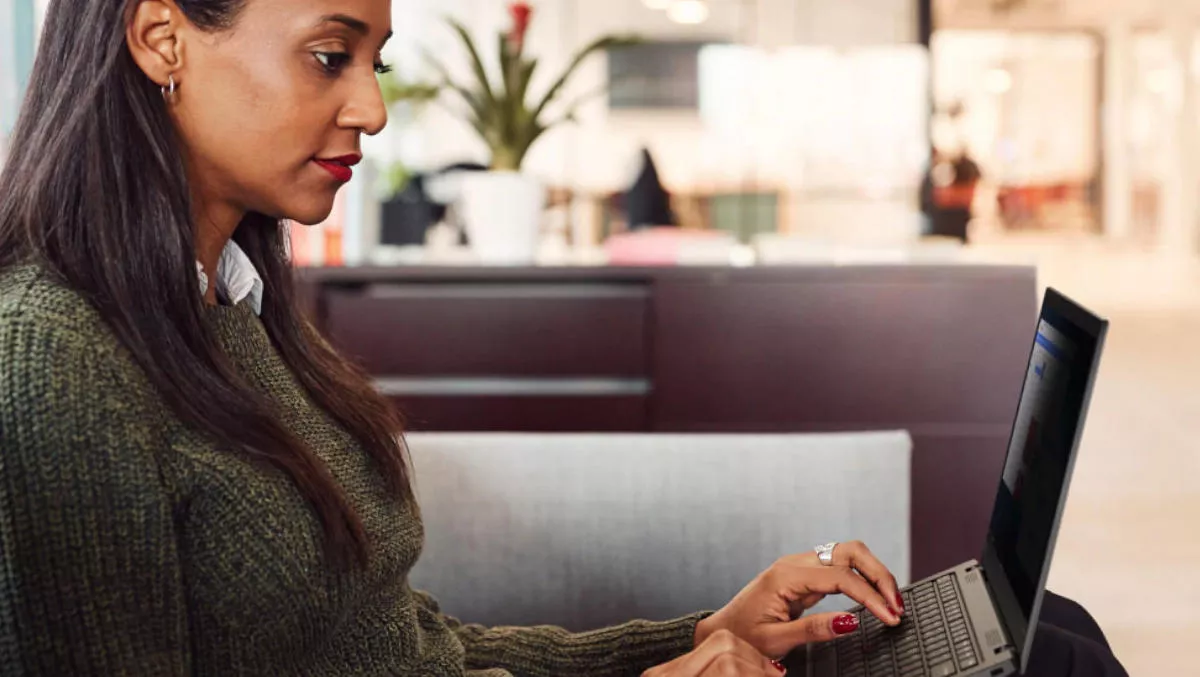 Ingram Micro offers huge discounts on Lenovo ThinkPads
FYI, this story is more than a year old
Lenovo ThinkPads have long defined what it means to be a trusted, reliable business notebook. What better way to find out why their reputation is they're one of the most reliable, longstanding notebooks on the market than making them part of your business.
That's exactly why Ingram Micro is offering Lenovo ThinkPads at prices so good, they're almost free. Channelling the words of talk show queen Oprah, everyone gets a ThinkPad with these great deals.
Ingram Micro's top ThinkPad picks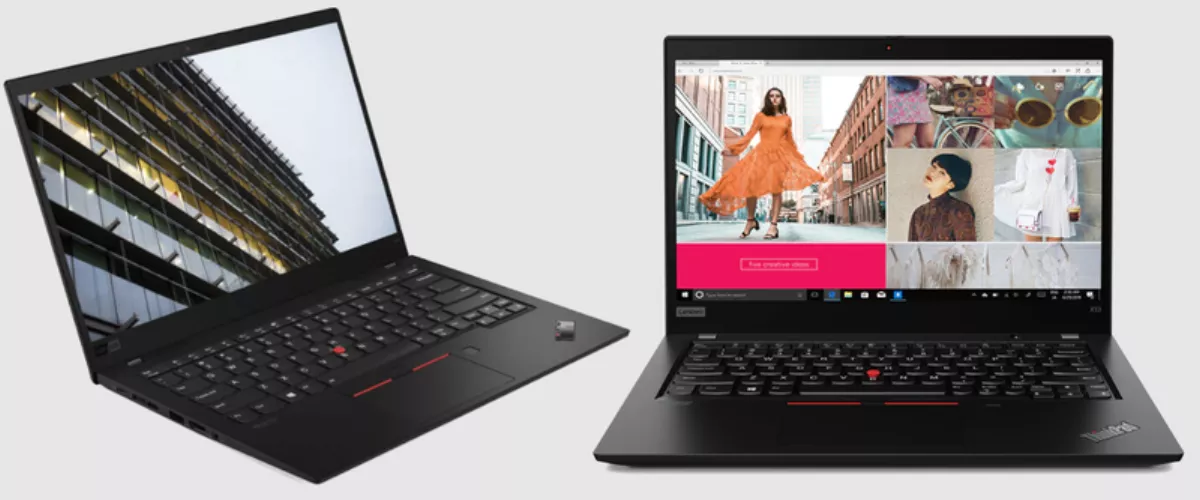 First up is the ThinkPad X1 Carbon i5, with a 256GB SSD and 16GB RAM.
Ingram Micro is offering the X1 Carbon i5 (256GB) for a special price of $1,949.00 (normally retailing for $2,500).
For those who need a little more storage, the X1 Carbon i5 can also come with a 512GB SSD. This one normally retails for $2590 but Ingram is offering a special discounted price of $2,099.99 (normally retails for $2,690).
For those on a budget, check out the ThinkPad X13 i5. If features 16GB RAM and a 256GB SSD for just $1,599.36, normally $1,989.

Bonus upgrades on selected items

Bonus upgrade to ThinkBook Plus (20TG006XAU, $185.12 value) with every ThinkBook 20RS0029AU purchased
Upgrade to ThinkSmart View (ZA690016AU) for just $199 (normally $496.89) with every ThinkPad X1 Carbon purchased from stock
Upgrade to ThinkVision M14 Mobile Monitor (61DDUAR6AU) for just $199 (normally $312.60) with every ThinkPad X1 Carbon purchased from stock
Valid until 31 March or while stocks last.

Bonus offer: Webcam with ThinkVision Monitors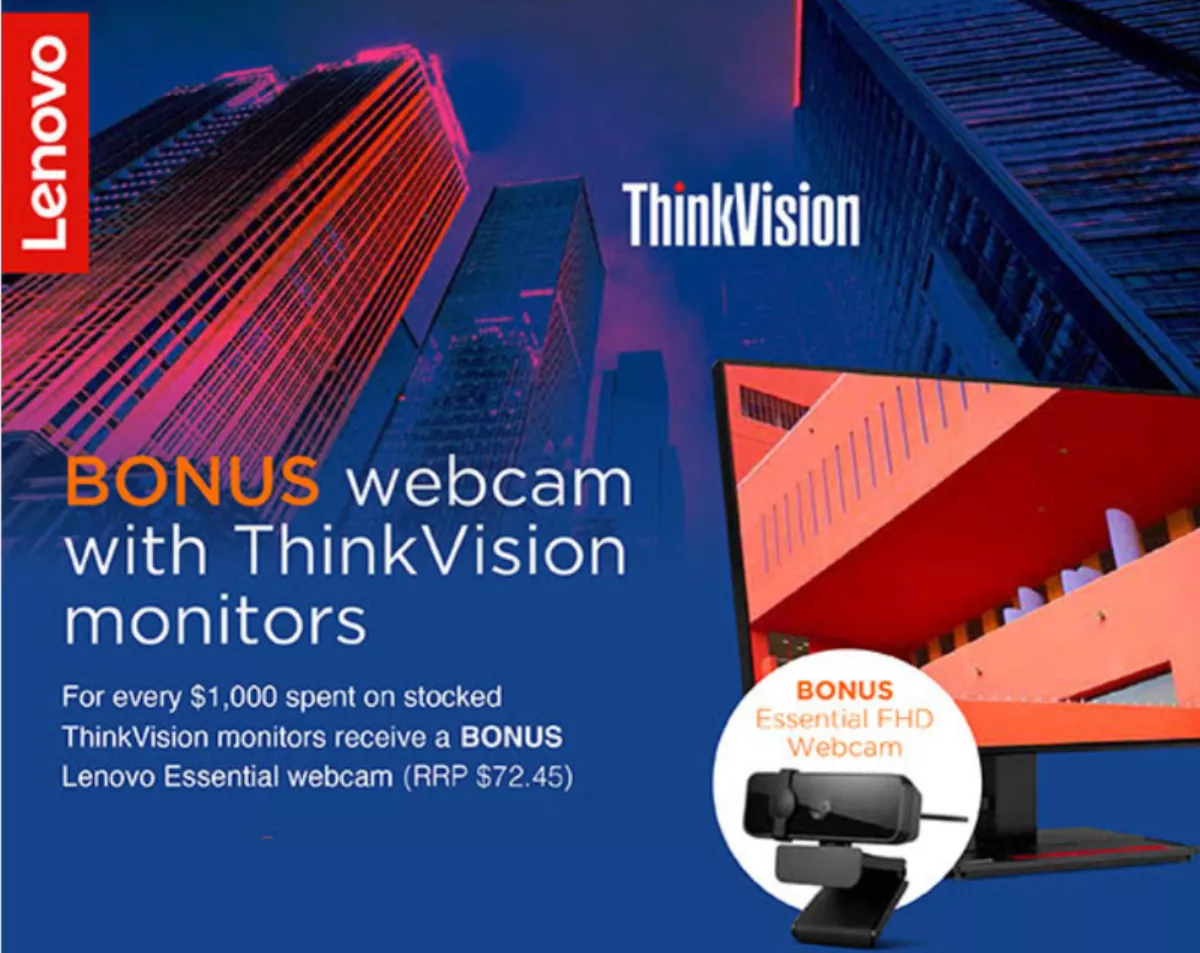 For every $1000 you spend on ThinkVision monitors, you will receive a bonus Lenovo Essential FHD webcam worth $72.45.
Valid until 31 March.
Bonus offer: Bluetooth in-ear headphones when you purchase the ThinkPad X1 Series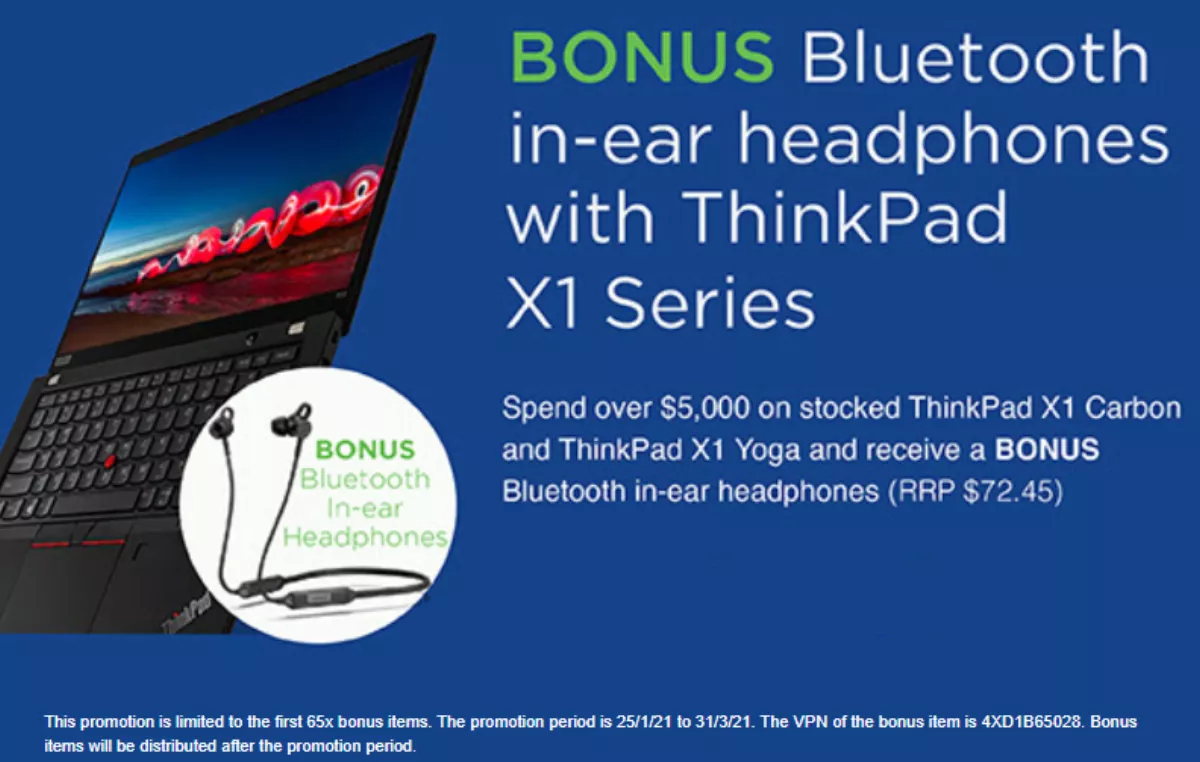 When you spend more than $5000 on the Thinkpad Carbon X1 and ThinkPad X1 Yoga, you will receive Bluetooth-enabled in-ear headphones (valued at $72). Valid until 31 March.

Bonus offers: USB-C docking stations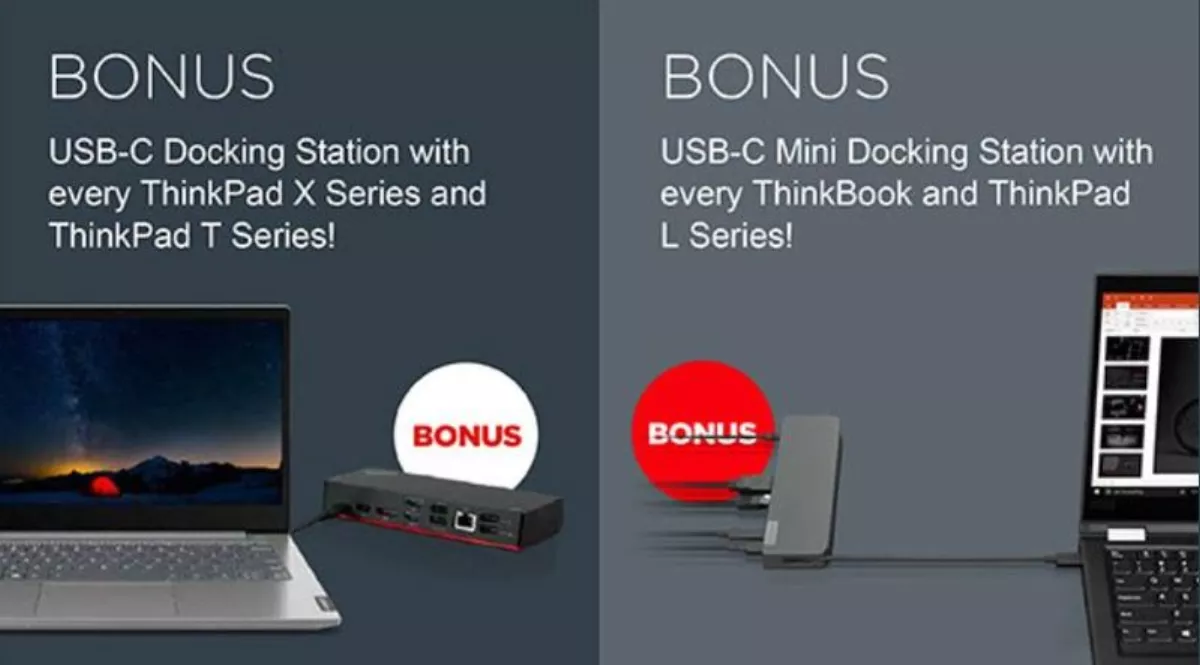 For every ThinkBook and ThinkPad T Series purchased, you will receive a USB-C docking Station.
For every ThinkBook and ThinkPad L Series you purchase, you will receive a USB-C Mini docking station.
Offers valid until 31 March.

Bonus offer: Receive 3 Year Premier Support on ThinkPad T and X series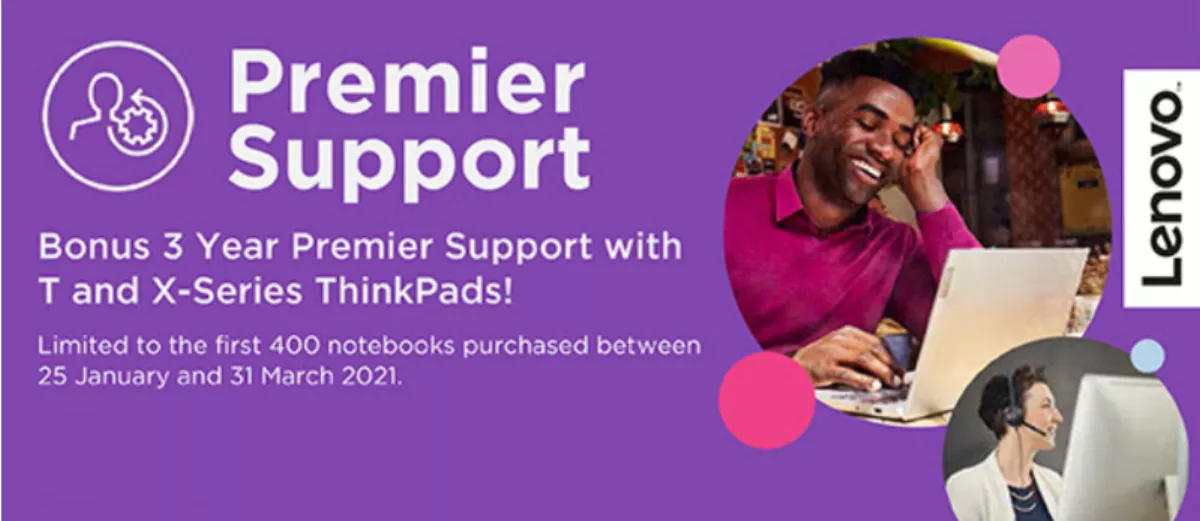 For the first 50 T and X-Series ThinkPads purchased before 31 March, you'll receive a bonus of three year Premier Support.
What does Premier Support offer?
Call centre support for basic troubleshooting, out-of-the-box support and technical issues.
Dedicated, advanced technical support available 24/7/365.
Warranty claims including parts and labour.
Comprehensive hardware and original equipment manufacturer (OEM) software support.
Single point of contact for simplified end-to-end case management.
Technical Account Managers for proactive relationship and escalation management.
Comprehensive suite of reporting
Lenovo Service Connect portal for install base details, service ticket status and reporting to help identify trends and proactively address issues
Asset Tag option for easy reference to Premier Support call centres around the world.
Valid until 31 March.
Shop here now.

Craving pizza? Go to Hell (Pizza, that is) courtesy of Ingram Micro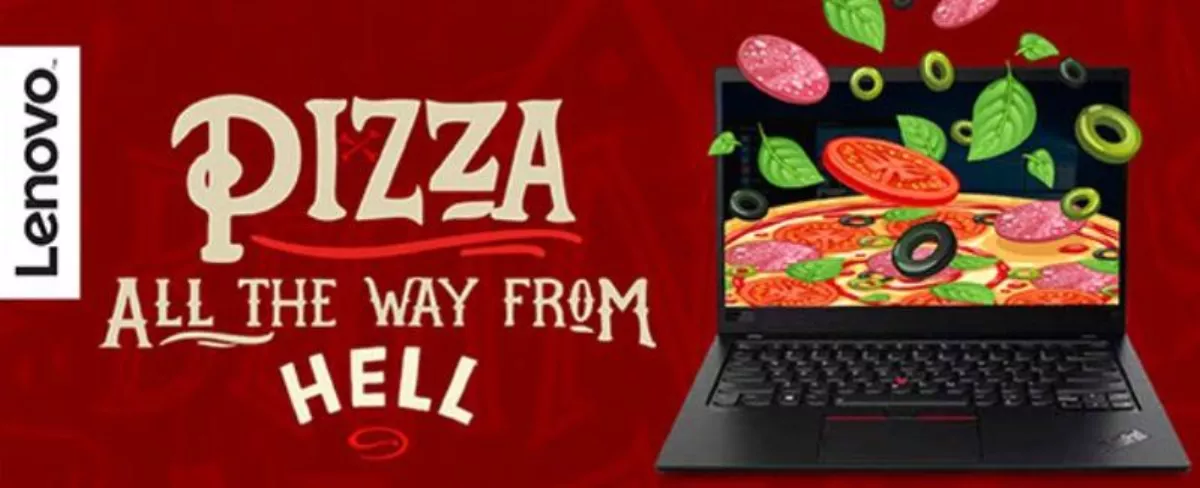 You will get 1 Double pizza for every quote
1 Double pizza when you purchase from Ingram Micro
Purchases that include a ThinkVision monitor will receive a free garlic bread and any dessert.
The total prize pool of Hello Pizza vouchers is limited to $4,000. Vouchers will be allocated on a first-quoted, first-served basis. Eligible quotes (1 pizza) are those requested between 21/1/21 and 31/3/21. Eligible purchases (2 pizzas or more) are those converted from eligible quote before 31/3/2021.
Keen to snap up a deal? Contact:
Jonathan Hare, Business Development Manager - Lenovo PCG
E: jonathan.hare@ingrammicro.com
P. +64 27 703 6974.