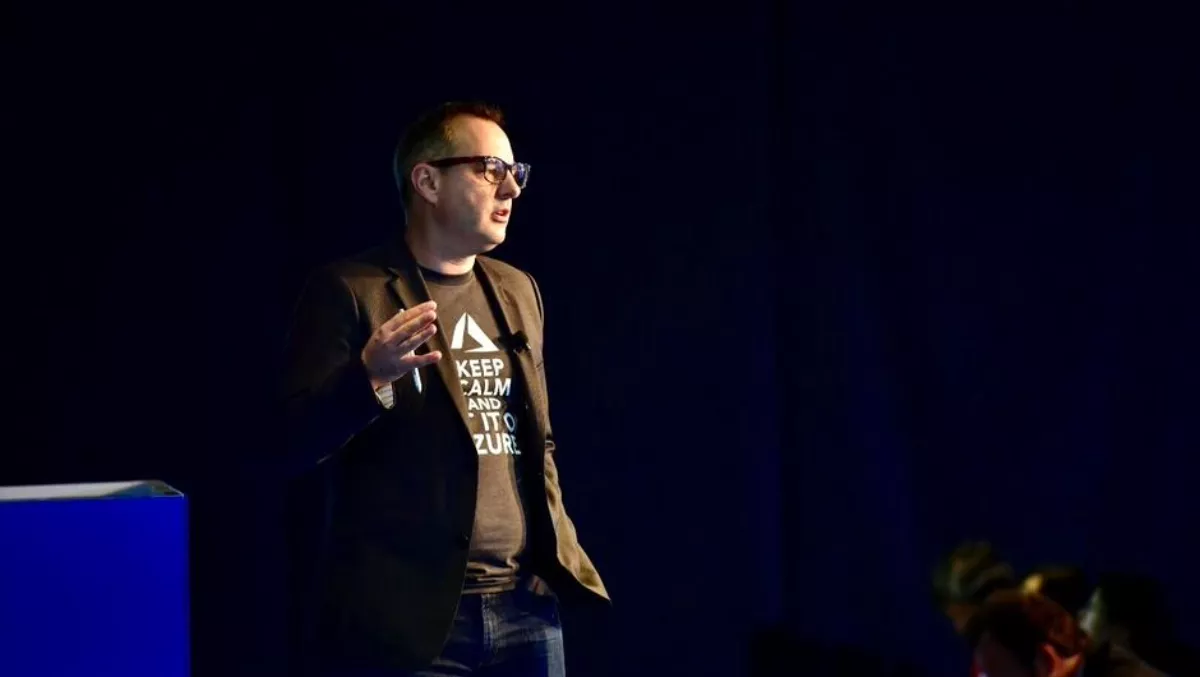 Intelligent cloud, Azure Stack, compliance - Highlights from the Auckland Azure Summit
Fri, 13th Apr 2018
FYI, this story is more than a year old
Microsoft kicked off with its Azure Summit series of events yesterday morning in Auckland.
The event was held at the Viaduct events centre and saw over 700 business leaders, IT experts, partners and customers coming attend, despite the wet and wild weather that had been battering Auckland.
It focused on how Kiwi organisations can harness the next generation of cloud to transform their business, featuring a variety of speakers from Microsoft heavyweights Vijay Tewari and Russell Craig; to Azure customers like BNZ, Pageproof, and Mercy Ascot Hospitals.
Microsoft NZ national technology officer Russell Craig also announced a new feature, the Compliance Manager, available now on the Microsoft Trust Centre to help companies understand their compliance posture with Azure across different regulations and certifications worldwide.
Here are some of the highlights from the event:
BNZ technology strategy head John Baddiley spoke about BNZ's transition to Office 365 and shared his insights on how he sees technology trends like open banking, increased partnership between banks and fintechs, natural language processing, and serverless computing would impact the banking industry.
.@BNZ's tech strategy head John Baddiley says #regulation is the biggest barrier he hears cited as the barrier for #banks to go #cloud, and often that's misinformed. #AzureSummit #Auckland

— Kp (@_kpricious) April 10, 2018
.@BNZ's transition to @Microsoft #Office365 in 2000 #AzureSummit #Auckland pic.twitter.com/78caskFJvg

— Kp (@_kpricious) April 10, 2018
"#Chatbots and #NLP are a technology that we're seeing as very promising - applications in customer facing bots, NLP being embedded as an interface for our own customer and staff apps." #AzureSummit #Auckland

— Kp (@_kpricious) April 10, 2018
"the important thing for us is to be learning how these things work and iterating with them rapidly - once the technology is perfected it will be too late."#AzureSummit #Auckland

— Kp (@_kpricious) April 10, 2018
Baddiley concludes: "The future is #multicloud. It's not about cutting #cost. Enterprise #agility relies on people, process, and technology, and #tech is the easiest one.#AzureSummit #Auckland

— Kp (@_kpricious) April 10, 2018
North Shore-based startup PageProof shared how it's partnership with Azure allowed it to enter new markets and clients quickly.
.@teampageproof counts @FlyAirNZ, @SKYNZ, the IRD, and @Uber among its clients #azuresummitnz #azuresummit2018

— Kp (@_kpricious) April 10, 2018
Microsoft's Vijay Tewari flew in from Seattle to talk about the use cases for Azure Stack and how it evolved out of Microsoft's effort to be customer-centric and bring the cloud to the client where they are at.
"We are all going to live in a hybrid world and Microsoft has developed Azure Stack as an extension of Microsoft Azure, to give businesses and individuals autonomy over where their sensitive data is stored," says Tewari.
.@Azure's Vijay Te Wari shares the hybrid use cases of Azure and #AzureStack using cruise ships and defence solutions as examples. #azuresummit2018 #azuresummitnz pic.twitter.com/c3hWuVJ0Fp

— Kp (@_kpricious) April 10, 2018
He emphasises that organisations that are dispersed or operating remotely, like mobile sales teams, tourism operators, and even cruise ships and defence force units like Navy vessels, can benefit from hybrid cloud offerings like Azure Stack.
It enables them to gather, store and send mission-critical data no matter how poor their internet coverage is and where in the world they may be – even in the middle of the Pacific Ocean. For a country like New Zealand, which has no fixed data centers, Azure Stack makes it possible for businesses and individuals, including health and government organisations handling sensitive information, to securely store data within New Zealand, rather than in an offshore data center.
.@Umbrellar, @Datacom, and Revera are the #MSPs supplying #AzureStack in NZ. #azuresummit2018 #azuresummitnz

— Kp (@_kpricious) April 10, 2018
Umbrellar cloud head David Howden jumped on stage to talk about why it's providing Azure Stack as a managed service.
David Howden on how he realised @Umbrellar had to fly the flag to bring @Azure services to NZ.#azuresummit2018 #azuresummitnz pic.twitter.com/Gwq2S2ojim

— Kp (@_kpricious) April 11, 2018
Most #CIOs tell @Umbrellar the single biggest barrier for their organisations to adopt #cloud technology is #culture. #azuresummit2018 #azuresummitnz

— Kp (@_kpricious) April 11, 2018
Data security and sovereignty remains a hot topic and for Microsoft New Zealand national technology officer Russell Craig, it is a key focus to build trust in Microsoft's cloud solutions.
.@Microsoft's National Technology Officer Russell Craig streams via Skype as his flight gets diverted from Auckland due to the weather events #azuresummit2018 #azuresummitnz pic.twitter.com/rqtNHc0PPm

— Kp (@_kpricious) April 11, 2018
Craig gave insight into Microsoft's commitment to protecting sensitive information held by its customers in healthcare and the public sector and the rigid safeguards in place to ensure Azure is watertight.
Craig outlines @Azure's commitments on #data stored in its #cloud service. pic.twitter.com/ts4Jm5tArH

— Kp (@_kpricious) April 11, 2018
"At Microsoft, we are committed to protecting the privacy of our customers' data. In an age where technology holds more and more of our personal information, as a technology provider Microsoft recognises that we have a duty of responsibility to this data," he says.
"As a result, we apply a holistic approach to security, are leaders in compliance and remain committed to transparency. "We help you to keep your data secure, ensuring it remains private and under your control 24/7. We manage your data in accordance with the law and are open and transparent with our practices so you know what we are doing with your data at all times."
.@Azure's #compliance credentials worldwide. #azuresummit2018 #azuresummitnz pic.twitter.com/iEzHxVhFt2

— Kp (@_kpricious) April 11, 2018
Craig announces the #Compliance Manager, a new capability available within the @Microsoft Trust Centre. #azuresummit2018 #azuresummitnz pic.twitter.com/vjRPODmvw9

— Kp (@_kpricious) April 11, 2018
Recently Microsoft challenged the US government's request to access data that is stored offshore in a much-publicised US Supreme court case.
Craig explained that while Microsoft recognises the government's role and responsibility to represent and protect its people, they also believe overzealous governments should not be able to demand access to data that is not stored in their country.
Craig: @Microsoft has taken the US government to court four times over protection of #privacy of personal #data. #azuresummit2018 #azuresummitnz

— Kp (@_kpricious) April 11, 2018