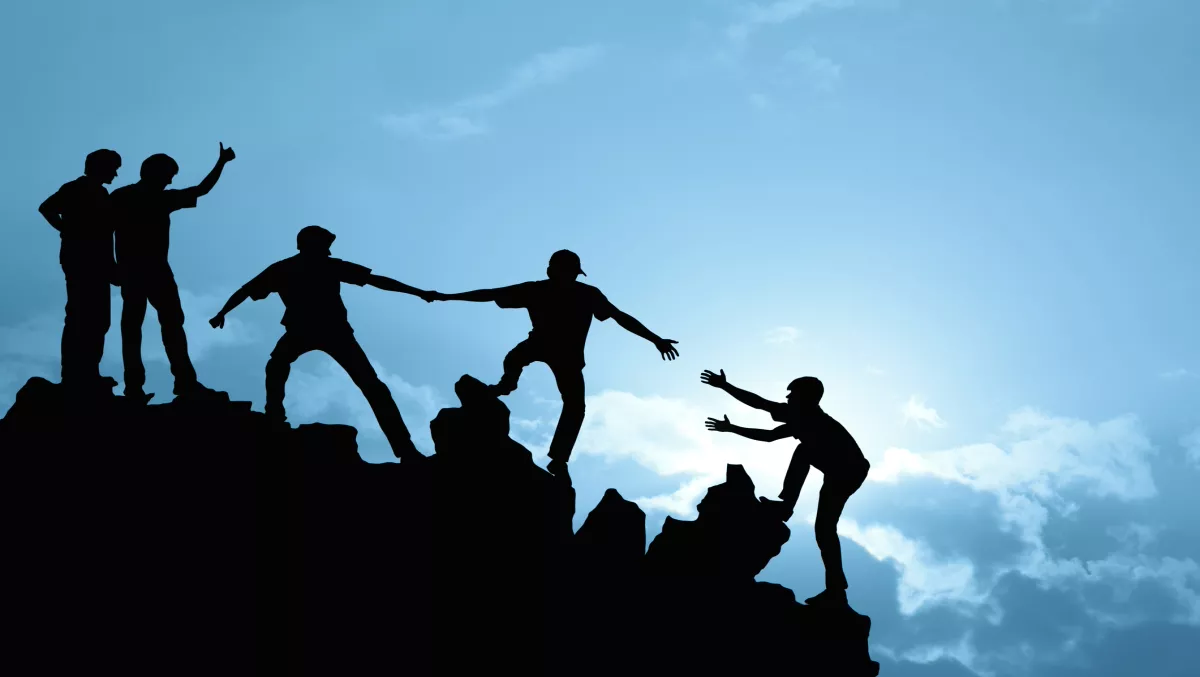 Interview: Hitachi on how collaboration is the key to success in the hybrid era
Mon, 4th Sep 2017
FYI, this story is more than a year old
By Julia Gabel, News Editor
Since the early 90s, Hitachi Data Systems (HDS) has been providing computer data storage systems and solutions to businesses around the world.
Simply put, the channel-centric organisation serves anyone with IT needs from over 170 countries.
HDS' Phil Teague, industry and alliance solutions director and Matt Greensmith, chief technology officer discuss the company's partner ecosystem, hybrid cloud trends across Australia and New Zealand, and how working with other companies is the key to success in the hybrid era.
Hybrid cloud
Commenting on hybrid cloud trends across APAC, Greensmith says almost every customer they talk to, especially in the enterprise sector, are all hybrid cloud users of some sort.
"It would be very rare if a customer didn't use Software-as-a-Service or a couple of different workloads in the public cloud.
Greensmith explains that today, it's a question of data management, and finding the best mix of cloud services to form your cloud strategy.
"It might be that private cloud is the best cost versus service level mix, or it might be the public cloud, or managed, private cloud. Either way, you need to be able to evaluate which one is best.
And what underlines an effective hybrid cloud offering, says Greensmith, is a good partnering strategy.
"You need be able to work where your customers want to be. So, we're talking about working with organisations like VMware and Microsoft, to provide more technologies.
"Just as important is understanding that in this new hybrid world you need to be able to play well with others in the environment – it's all about flexibility.
He adds, "You can't lock your customers in. It's one of the key things that we look at and it comes out particularly in our object storage. There needs to be an openness to our environment so people can easily use the service or incorporate it into management platforms, or use some of our services and other party's services in combination.
Object storage - security
Hitachi Content Platform, the name for the company's object storage fleet, includes object storage, file services delivered as object storage, API integration, and enterprise Sync and Share.
"We also look at this platform as an intelligent data lake that can store not only the data in object form – storing data in object form makes it much easier to manage – but it also has the metadata directly attached to that object.
And like always, security is a central focus of the company's object storage solutions.
"Once something goes into the object store, it is protected in a number of ways. We set the policy of protection level that says - how many copies do we want to keep? We keep multiple copies so that we can recover if something happens.
Greensmith continues, "Then we have self-healing that runs over the top of that. It's a routine that runs in the background and continually cycles through every object in the store and just verifies that it's correct.
"Very simply, it just checks the hash that gets generated for that file, it goes through and checks the file matches that, and if it doesn't it goes and finds a secondary or tertiary copy of that object and copies that back over to the original, the corrupted version, and self-heals in that way.
And in terms of safeguarding from external security breaches – the platform can do that too.
"All data can be encrypted – that's an administrative choice, whether you encrypt or not," says Greensmith.
"So that data can be protected – and that's really important when you might tier some storage out to a cloud service, it's then outside of your physical control so by putting some encryption on, it at least keeps it within your intellectual control.
Cloud service providers and partners
Teague says when it comes to the relationship between a customer and a cloud service provider (CSP), a Service Level Agreement (SLA) is crucial.
"SLAs are important when delivering any type of service to customers. No matter what type it is, it comes down to setting clear expectations with the customer and subsequent price points for the services offered.
HDS has extremely high SLAs around its product technology and customer support, which are well-regarded in the industry and around the world.
"In addition, as a part of our offerings for our cloud providers, we can provide tailored managed cloud services for our cloud providers, and establish the right SLA in terms of the service they need to deliver to their customers.
But for customers, with the myriad of CSPs available, when it comes to finding the right CSP for them, it can be challenging. There are many areas to consider such as a CSP's application and/ or industry experience in the services they offer - Where is my data being stored, are there any data sovereignty or industry compliance requirements?
With the large array of pricing models out there, there are a lot of hidden costs associated with cloud services, Teague warns.
"Customers need to be mindful of that, and partners delivering services around that need to consider that when offering a solution to their customer base.
In this regard, HDS stands out - the company has very transparent and predictable pricing models for Cloud Partners.
"In respect to supporting our partners, we provide standard fees. We have no hidden costs," says Teague.
"We explain the flexibility of our pricing models and provide examples of how they are applied to the type of infrastructure the customer wants.
Surebridge, a long standing and strategic Hitachi partner is a great example, delivering full transparency and flexibility when it comes to cost and business models to customers, which aligns with Hitachi's approach and values.
"As part of our True North Partner Program, we do everything from very flat, standard lease rates all the way to flexible consumption models. But we don't have hidden costs around the things like the extraction of data, the migration of data, and the associated costs around that.
To see how Hitachi Data Systems and Surebridge IT can help your organisation get ahead, visit the website.