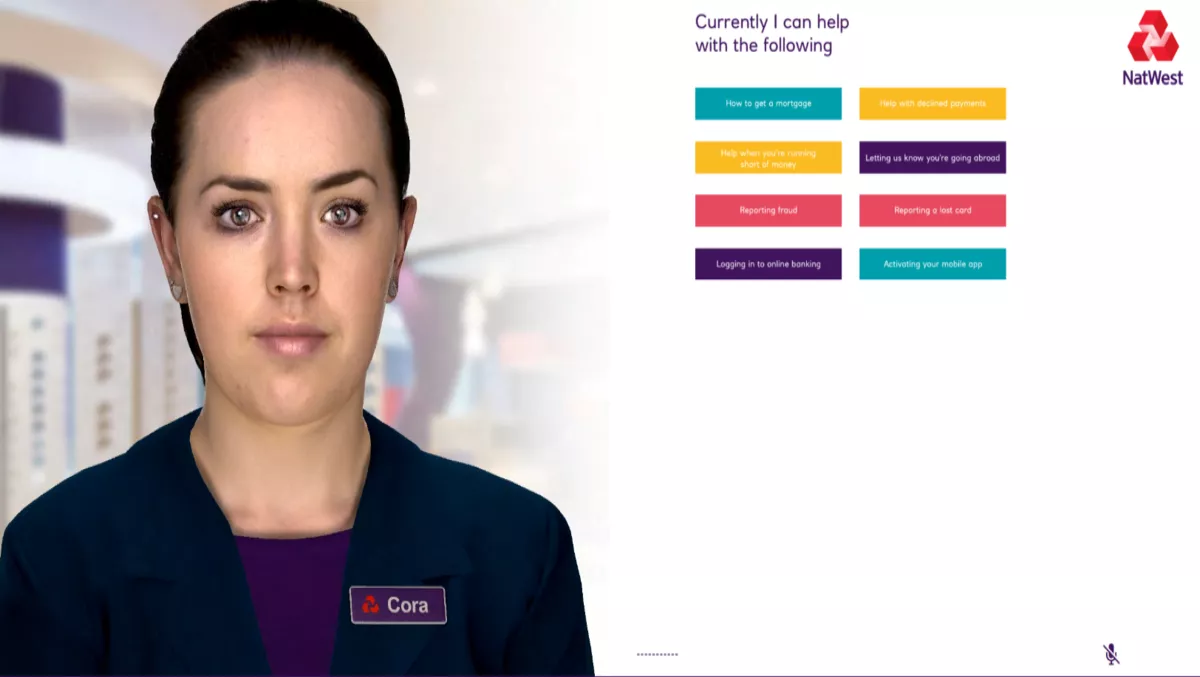 Kiwi AI company's digital human being tested at UK bank
FYI, this story is more than a year old
UK bank NatWest has today announced that it's in advanced testing of an AI-powered 'digital human', which could in future be used as an additional way for customers to get answers to basic banking queries.
The bank has since the start of 2017 deployed a text-based chatbot called Cora which customers can use on the bank's online help pages that answers 200 basic banking queries and now has 100,000 conversations a month.
But drawing upon advances in neuroscience, psychology, computing power and artificial intelligence, a new Cora prototype has been built to include a highly life-like digital human that people can have a two-way verbal conversation with on a computer screen, tablet or mobile phone.
Cora the digital human is able to answer basic verbal questions like "How do I login to online banking?", "How do I apply for a mortgage?" and "What do I do if I lose my card?
It could serve as an additional way for customers to get help on top of the usual branch, telephone and online services and in the long run could answer hundreds of everyday banking questions.
The technology relies on using audio and visual sensors, which are standard in modern computers and mobile phones.
NatWest have been building the Cora digital human using technology provided by New Zealand-based company Soul Machines, whose co-founder and CEO Mark Sagar won awards for his ground-breaking facial technology in King Kong and Avatar.
Soul Machines uses biologically inspired models of the human brain and neural networks to create a virtual nervous system for their digital humans that can detect human emotion and react verbally as well as physically, through facial expressions.
Like humans, it is trained when dealing with new subject matter and when she makes mistakes she learns, so that over time the interactions become more and more accurate.
Whilst NatWest will only deploy the technology if it successfully completes a pilot, it is thought it could be used to help free up time for human advisors to answer more complex customer questions and could also be used to answer queries which fall outside normal working hours and days.
Testing to date has suggested customers that have avoided digital services in the past may be more inclined to interact with digital humans like Cora and it could help blind and partially sighted customers who are unable to engage with visual content.
NatWest innovation director Kevin Hanley says, "We're really excited about this technology because we think it could create another way for our customers to bank with us on top of the usual services we offer and be used to help answer questions round the clock, whilst cutting queuing times for simple questions.
"The technology has real potential for the future and we're also looking at how we can use it to help train our staff on certain subject matters.
Soul Machines chief business officer Greg Cross says, "NatWest has been at the forefront of technology vision and advancement for years and using Soul Machines to reimagine their customer experience sets them apart and continues to show the bank's leadership in engaging and providing the highest level of service for their customers.
"We are honoured to be working with NatWest on this pilot to evolve Cora into an emotionally responsive digital human that can interact face-to-face with its many customers.