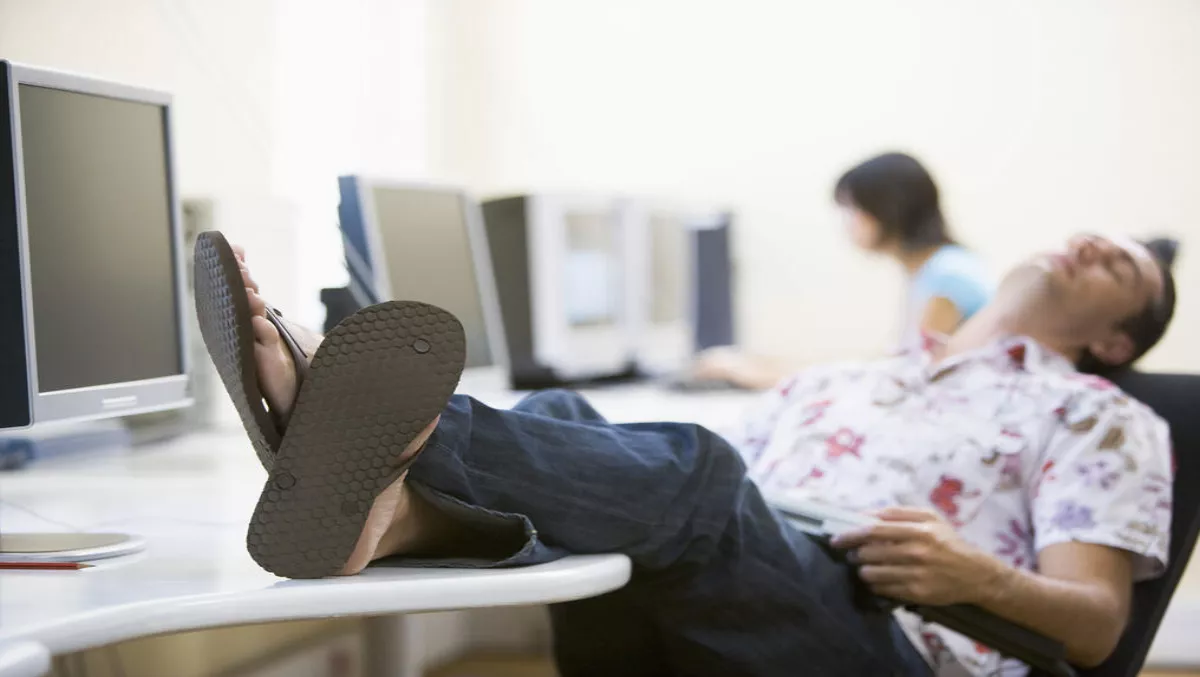 Kiwis unproductive, unfriendly and don't care about work attire
FYI, this story is more than a year old
A new study from Qualtrics has revealed Kiwi workers aren't so keen on socialising with their coworkers outside of work, don't regard dressing formally for work important and are slightly less productive than their global counterparts.
The Global Attitudes Toward Work survey reveals findings of how Kiwis are motivated to work, their views on working productivity, and how they compare to other workers throughout the world. Questions regarded work issues ranging from productivity and motivation, work/life balance, and punctuality, to management, attire, job hunting and more.
The study found that 93% of New Zealanders are least likely to socialise with co-workers outside of work.
"It's surprising that New Zealanders aren't interested in socialising with colleagues outside of work hours. It seems this is more important for European countries such as Italy, which had the highest number of workers wanting to socialise," comments Bill McMurray, managing director Asia Pacific and Japan, Qualtrics.
"And in relation to dress codes, only 22% of New Zealanders considered dressing formally for work to be important," he adds.
"Public transport clearly isn't popular with Kiwis either considering only 3% take the train, 1% take the bus, and nobody walks to work."
In terms of how New Zealanders like to communicate with their colleagues, 85% prefer face-to-face communication rather than video or phone.
The study also revealed New Zealanders are slightly less productive than global averages. New Zealand respondents said 62% of their working hours were productive, compared with 70% globally.
The Germans reported the highest levels of personal productivity and placed the most importance on punctuality. Meanwhile, the Italians ranked themselves as the least productive.
"It's important for organisations to understand how their employees perceive their own productivity and working conditions so they can encourage deeper engagement and commitment, and potentially implement financial rewards tied to performance and productivity," McMurray says.
"Companies can then measure employee engagement through direct employee feedback via a system such as the real-time Qualtrics Insight Platform."
The study also revealed 70% of New Zealand workers prefer to receive performance feedback less often than weekly.
"Workers tend to fear being micromanaged. Instead, they prefer to feel that their employer cares about them," McMurray says.
"New Zealanders rank caring about employees, honesty, and competence as the top three attributes of a manager. The bottom three were being persuasive, assertiveness and being energetic. This is valuable information for companies looking to hold onto skilled workers," he says. "Companies can demonstrate that they care about their workers by regularly asking them for feedback about working conditions, for example," says McMurray.
"By getting feedback directly, employers both demonstrate their commitment to their staff and get the valuable information they need to help them build a stronger workplace culture," he explains.
"The result is likely to be more loyal and productive employees. In order for employee feedback to be effective, organisations must communicate the feedback results and take action on feedback, almost immediately.
"Too many organisations outsource their employee feedback programmes, which is a slow and cumbersome process, taking months to take action on the feedback. Qualtrics is bringing a paradigm shift to employee engagement programmes by providing real-time, managerial reporting," says McMurray. Additional survey findings included: • New Zealanders spend just 15 minutes per day on social media, compared with a global average of 17.4 minutes per day. • Job satisfaction sits at an average of 54% around the world, with 54% of New Zealanders extremely or moderately satisfied with their jobs. • On average, 55% of people around the world are extremely or moderately satisfied with their work/life balance. French, American, German, and Canadian workers tend to be most satisfied, with Greeks being the least satisfied with just 35.5% identifying as extremely or moderately satisfied. • 85% of New Zealanders prefer face-to-face communication, 8% prefer video conferencing, and just 7% prefer telephone communications. • Something all countries had in common is that people would turn to friends first when looking for a new job, over job sites, family, a former employer, or Facebook. • The French prioritised dressing formally at work far more than any other country. Over 55% felt it was extremely or very important to dress up, while the Swedish and Greeks felt the least compelled to dress in formal wear at work. Only 22% of New Zealanders considered dressing formally important for work. • Most people in all countries (except the Netherlands) find working for a large established company most appealing. Americans, at 38%, feel the preference most strongly, while the French demonstrate the strongest penchant for entrepreneurialism, with 16% most likely to report that working at a start-up is most appealing.
Related stories
Top stories