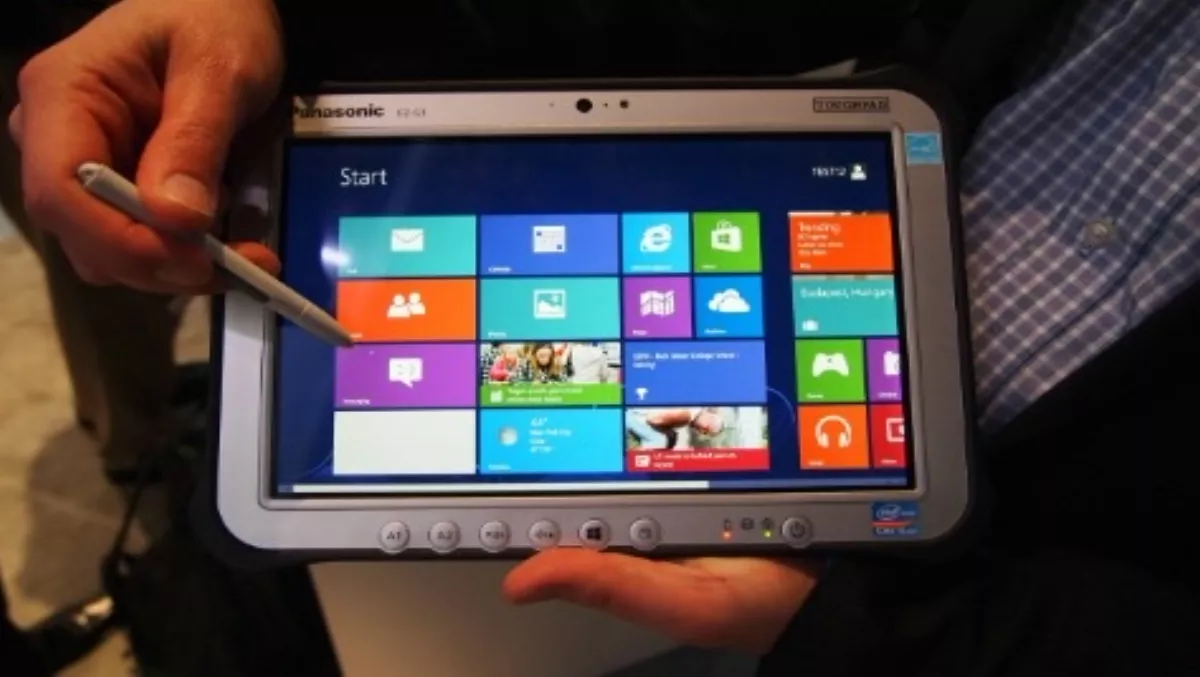 Local Kiwi councils turn to Panasonic Toughpads
By Shannon Williams,
Mon 12 Jan 2015
FYI, this story is more than a year old
Local councils across New Zealand are turning to 'rugged technology' as more of their work heads outdoors.
A growing number of Panasonic Toughbook and Toughpad products are being deployed among key personnel, equipping them with devices capable of going anywhere council staff do their work.
Richard Thomas, IT manager at Central Hawke's Bay District Council, says 'tough technology' is a better bet for outdoors work. "We decided long ago that a 'normal' computer isn't the best idea on, for example, a building site where you have to cope with dust, potential knocks and drops and other harsh characteristics of these environments," he explains.
"Our Toughbooks have survived just that for over four years now with no trouble whatsoever."
Jason Simons, information services group manager at Wanganui District Council says "tablets have become very useful tools in the workplace as they allow applications and technology to easily go with personnel in the field.
"However, for many council activities, you need something which is capable of handling knocks, drops, spills and splashes, and, while it may not seem a major issue, you really do need something that can be viewed clearly outside."
Simons says WDC initially tested standard tablets but quickly found their limitations, particularly for what he calls 'infrastructure areas' – staff members tasked with building inspections and management of drains, roading and other council property.
"These are our extreme users; we've found the Windows 8 Toughpads to be an ideal solution not only as a tablet device for the field, but as a complete desktop replacement," he says.
The Panasonic's Windows 8 Toughpads are a complete Intel computer, with RAM, processing power and SSD drive capacity comparable to that of a desktop PC, self-contained in a device with a 10.1-inch screen. The Panasonic has also been expanding with two Windows 8.1 Pro models now available; the 10.1-inch FZ-G1and the 7-inch FZ-M1, along with a new 7" Celeron model running Windows 8.1 standard.
Staff members are able to use one device, which can be docked at their office workstation but can also be taken into the field.
While delivering considerable convenience for the employee, there is a further benefit, Simons says. "There isn't any need for synchronisation or double-keying of information and we have fewer devices to look after, from a support and management perspective. And because these are Windows devices, our enterprise applications work seamlessly on them."
Thomas affirms Simons' mention of the necessity for a daylight viewable screen and also points out how tablet features such as cameras and dedicated GPS become a major advantage for council work.
"The availability of a camera on the FZ-G1 Toughpad is a real advantage as inspectors can take geotagged photographs of sites where work needs to be completed and include them in reports, saving a lot of hassle," says Thomas. "In addition, the visibility of the screen is especially important and something you won't get with a regular tablet."
Simons has confirmed the Wanganui District Council has expanded the use of the devices in its environment. "We're moving through our field staff to see where Toughpads are the best tool for the job," he says.
"Wherever we have a need to either capture or retrieve information – and with council a landlord and property manager, there are a lot of such environments – and whenever we have anyone in a truck or car or environment which isn't nice and clean, then we look at deploying the Toughpad."
Simons says his staff members' devices are the 'envy' of employees of neighbouring councils. "We do a lot of work providing support to our colleagues in adjacent localities and yep, there is some jealousy that our people have the best tools for the job," he remarks.