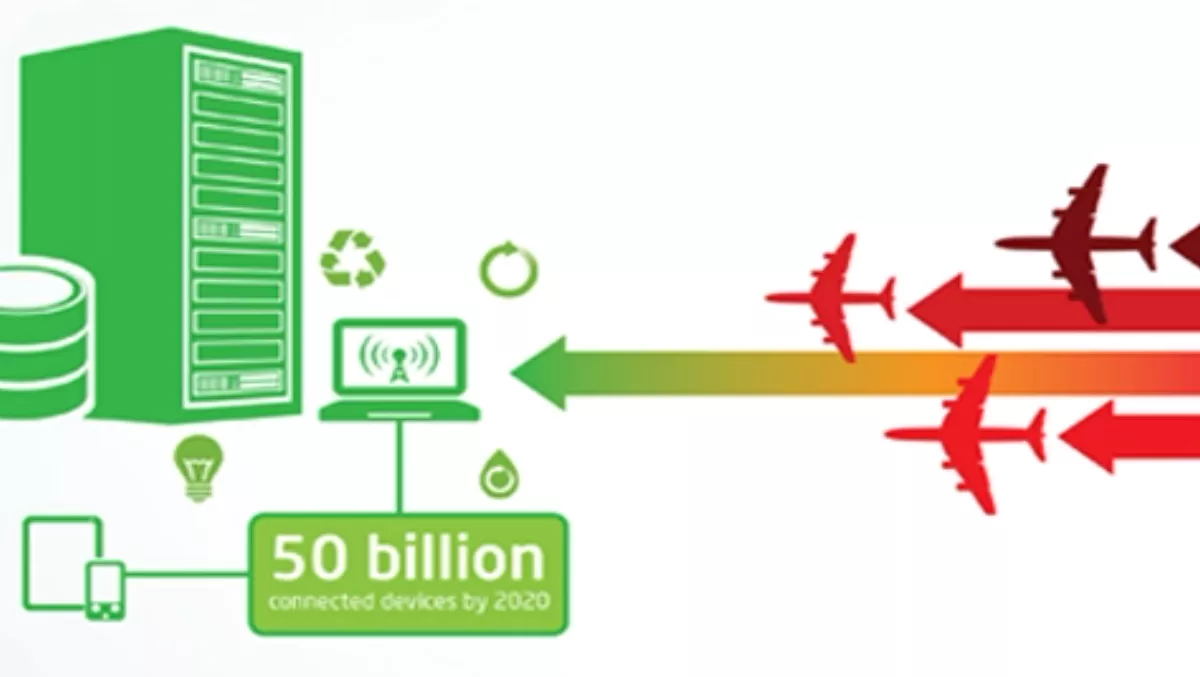 Make it energy efficient says Schneider Electric
FYI, this story is more than a year old
IT energy consumption is predicted to surpass that of the airline industry by 2020. Schneider Electric's Simon Smith looks at one option to rein in equipment and infrastructure consumption.
Our need to process and store data is increasing exponentially, and it is estimated that in New Zealand internet traffic will nearly triple from 2013 to 2018. Globally, we're moving into a period termed 'the internet of everything' (the interconnection of computing-like devices with existing Internet infrastructure), which means that by 2020 there will be 50 billion connected devices – nearly seven per person.
This growth will be powered by data centers as they house the IT systems and components that make this connected world possible. Data Centers are also becoming highly virtualised environments, and while virtualisation by its very nature drives larger capacity for data storage, it also drives up energy usage.
It has been predicted that IT energy consumption will surpass the airline industry by 2020. Therefore data center facilities are facing huge pressure to maximise energy efficiency and sustainability.
Hello NABERSNZ?In response to this, New Zealand's Energy Efficiency Conservation Authority (EECA) has released a joint discussion paper with Australia's Department of Industry. The paper calls for a system to be established in New Zealand that's similar to Australia's National Australian Built Environment Rating System (NABERS) for Data Centers – a classification that measures IT equipment and associated infrastructure.
In Australia the data center ratings systems help organisations more effectively measure and assess the impact of their energy usage so that they can make better informed decisions about their ongoing operations.
New Zealand already has NABERSNZ, similar to NABERS Australia, however it does not currently include data center ratings. In New Zealand the system provides rating for buildings that have driven energy efficiency improvements in the commercial building sector. By installing modern systems such as better cooling solutions in data centers, organisations have been able to cut energy costs dramatically and improve their bottom line by up to 30%. Reducing the energy usage in buildings yields the same bottom line benefits as a 3% increase in rental income, or a three per cent increasein net operating income.
The paper from EECA in New Zealand finds that New Zealand would benefit from adopting a suitable version of NABERS for data centers over the next few years. If 75% of large data centers embraced NABERS for Data Centers, then this could save 3.5 terawatt hours (TWh) of power by 2030, according to the report.
In the future, facilities that have an energy management strategy incorporating these ratings will have a competitive advantage in a cluttered market where it's hard for customers to distinguish between facilities. Organisations need to start to address the ratings today if they want to ensure they stay ahead of the market and that they're making the best decisions when it comes to managing their energy costs.
Simon Smith is regional manager for Schneider Electric, which offers integrated solutions across multiple market segments, including networks and data centers.
Related stories
Top stories