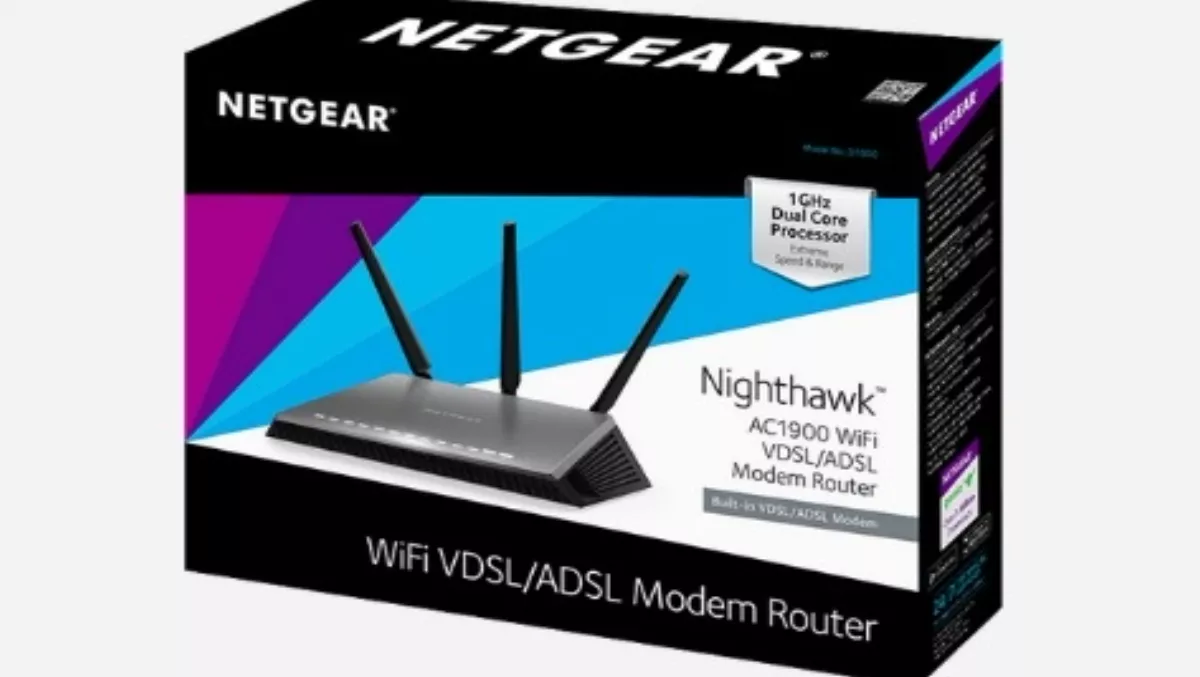 Meet Netgear's latest premium modem router
FYI, this story is more than a year old
​Netgear has introduced Nighthawk AC1900 WiFi VDSL/ADSL Modem Router (D7000) with dual band WiFi and Gigabit Ethernet to its line-up of VDSL Modem Routers.
The two-in-one device is a high performance router with an embedded DSL modem supporting ADSL/ADSL2/ADSL2+ and VDSL/VDSL2 speeds.
It sits in Netgear's premium line of routers and has a dual-core 1GHz processor which boosts wireless, wired, and USB performance.
It's also the first AC1900 VDSL Modem Router to offer two SuperSpeed USB 3.0 ports, for faster connections and twice the USB storage access.
The Nighthawk AC1900 WiFi VDSL/ADSL Modem Router provides a built-in fast DSL modem for broadband that is compatible with legacy ADSL, ADSL2 and ADSL2+ connections as well as VDSL and VDSL2 speeds.
It also offers a Gigabit Ethernet WAN port for universal compatibility with any internet service.
Within the home or local network, Nighthawk delivers wireless up to 1.9Gbps (AC1900 WiFi = 600+1300Mbps) and Gigabit Ethernet speeds.
High-powered amplifiers, three external antennas and Beamforming+ improve range and reliability to extend coverage and reduce dead spots.
Its simultaneous dual band WiFi technology (2.4GHz for range and 5GHz for performance) avoids wireless interference.
The router is designed to support connections to more devices than typical modem routers from a DSL Internet Service Provider, making it appropriate for home networks with multiple device connections such as smartphones, notebook, tablet and desktop computers, gaming consoles, smart TVs, and Blu-ray players.
"Internet Service Providers typically address the lowest average performance requirements when bundling a modem router with their subscriber service package.
"Even if you're paying for an extremely fast DSL broadband service, you're probably not getting the fastest WiFi and latest features in the equipment you're using for in-home networking," says Doug Cheung, Netgear DSL Products senior product line manager.
Nighthawk AC1900 WiFi VDSL/ADSL Modem Router also supports the Netgear genie app.
With the personal dashboard users can instal, monitor, control and repair their home network.
Through the app they can access their home network, view the real-time network map of all the connected devices on their network, check bandwidth usage, block WiFi devices, set up guest WiFi, and manage parental controls.
In addition to guest network access and parental controls that can be tailored to each device, users have VPN support for secure access to their home network and can customise a free URL to create a personal FTP server.
Related stories
Top stories