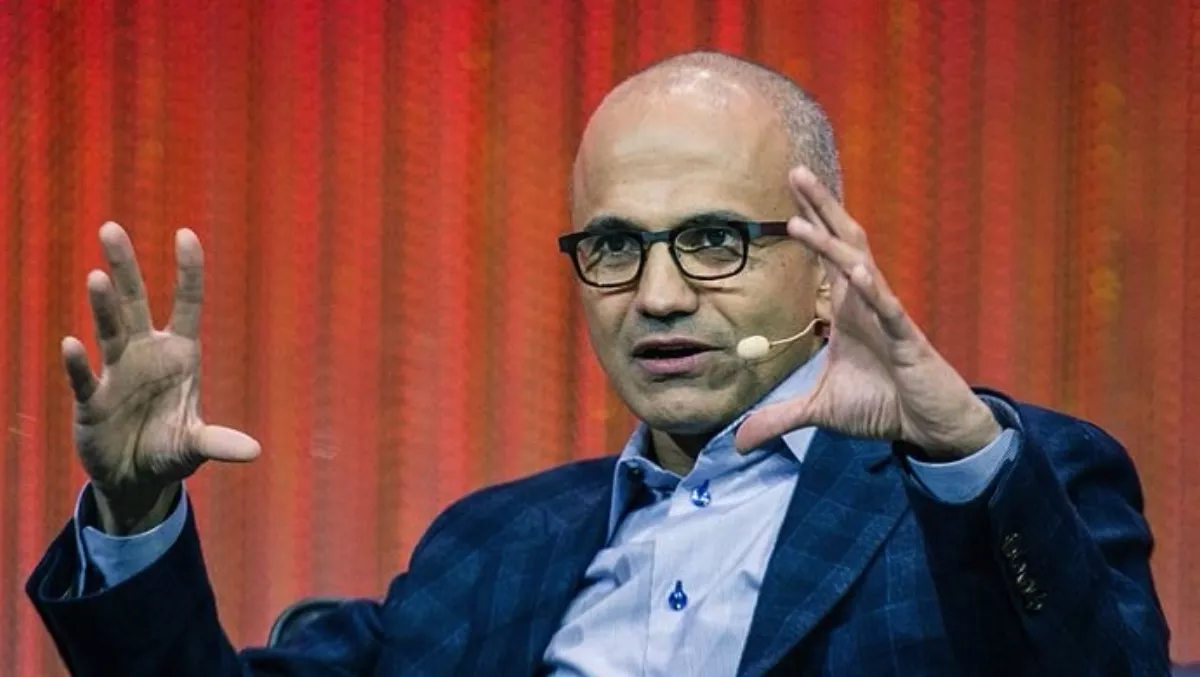 Microsoft employees give new CEO a '12th man' welcome
Fri 7 Feb 2014
FYI, this story is more than a year old
On Tuesday morning, the Studio D building at Microsoft resembled a mini-version of Seattle's Century Link Field.
Hundreds of Microsoft employees swarmed around a small stage and craned their necks over three floors of balconies and stairwells, raising voices and clapping hands to welcome the company's third CEO, Satya Nadella – and to honour the previous two CEOs, Steve Ballmer and Bill Gates.
"Yeah!!!" said David Vautier, who works in Microsoft IT, when asked about his take on the CEO announcement.
"I think they made an excellent choice. He can inspire us to new levels and focus on a future with devices and services."
On that stage in the middle of the Studio D atrium, the company's three CEOs stood together in an energetic show of unity and excitement for the future of Microsoft under Nadella's leadership.
"Well Sunday was a really, really big day in Seattle – and it didn't have anything to do with the Seahawks," said John Thompson, the new chairman of the board.
"On Sunday morning, our board met and unanimously appointed Satya our next CEO." He says that after an extensive external and internal search that spanned about seven months, "The best talent we could find for this job was right here inside Microsoft."
"I am honoured, humbled and excited – three words that describe what I feel," said Nadella, who thanked Gates and Ballmer and smiled into a crowd documenting everything with a sea of Windows Phone devices. "You and Steve have built an amazing company. The technology this company produces has changed the world."
He singled out the "Empowering" commercial that aired during the big game Sunday as capturing "the essence of what only Microsoft can do – create technology that can empower us all."
Nadella encouraged employees to "find meaning in our work," and to realize "the emotional connection of the impact work has outside of work."
Service engineer Adam Citterbart, who served in the U.S. Army Special Forces for seven years before starting at Microsoft just a week ago in Global Foundation Services Government Operations, has made that emotional connection.
"Things have worked out well," said Citterbart, 28, who earned a Bronze Star because of a 14-hour firefight in Afghanistan. He went through the Microsoft Software & Systems Academy to transition out of the military in 2013.
"A lot of the expectations I had have been exceeded. It feels like I fell into another Special Forces team … They took a chance on me with the veteran initiative.
"They had the faith to put us in a role and get us trained to impact the company. They're willing to back that. Coming out of the military with four kids – this is risk-taking for me."
While the announcement in front of employees was brief – Nadella promised "plenty of opportunities to do more dialogue and Q&A's" – he kicked off his new role with optimism and reiterated what he wrote to employees in an earlier email.
"This business of ours is an exciting business. And one of the core things we've got to realize is that this business does not really respect tradition. What it respects is innovation on a go-forward basis. So it's really our collective challenge that we now need to make Microsoft thrive in a mobile-first and cloud-first world."
"He's amazing," Ballmer said in his characteristic fist-pumping style, which prompted a reaction akin to fans watching a Beast Mode moment.
"Satya is thoughtful. Satya is cool. Satya is deep. He sees the playing field. He really thinks things through. He's absolutely the perfect choice as our new CEO."
"I second everything Steve said, about this is the right choice for us. I think we'll mark this as a very exciting day," said Gates.
"Microsoft was founded on a belief in the magic of software. We've got some amazing strengths – and we've also got some challenges … I'm thrilled we got the right leader to take the software to the next level."
"I'm so excited to be a part of this new era," Vautier said, echoing what other employees seemed to think about the new CEO.
"The world is changing, and he's thinking about how we use devices. He's bringing us to that leading edge. I know we can get there with Satya."