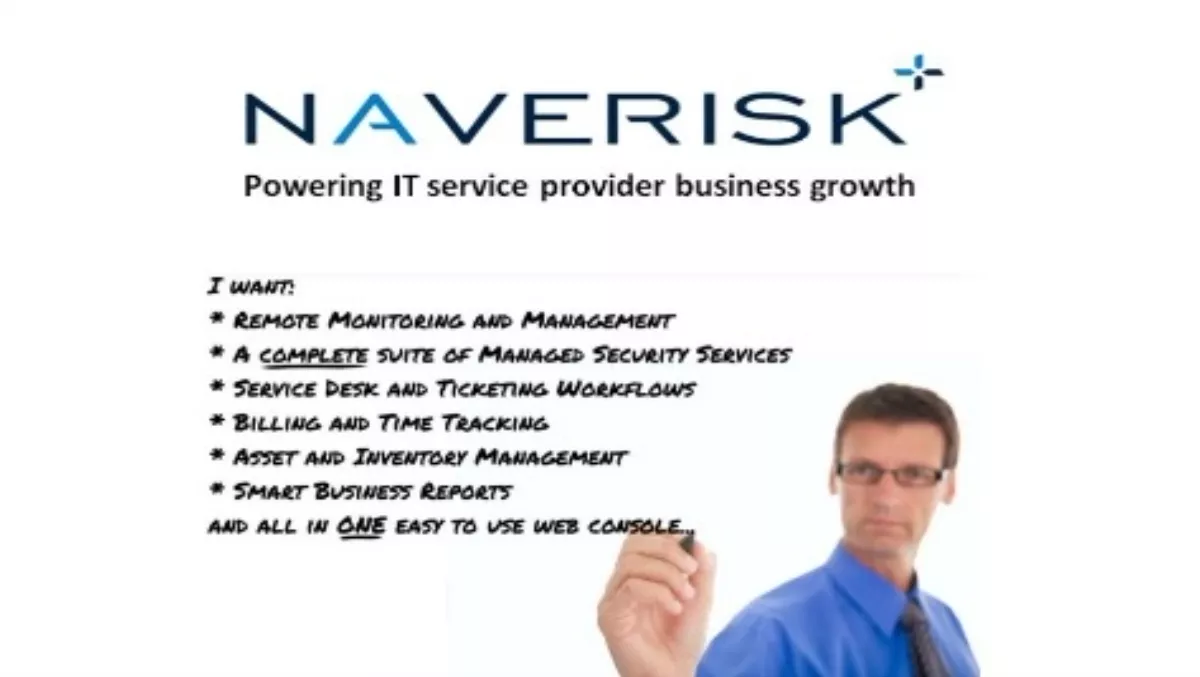 Naverisk releases 2014 R2 and delivers on promises
Mon 15 Dec 2014
FYI, this story is more than a year old
Naverisk, the global leader in unified RMM and Service Desk automation software for MSP's, has announced the immediate availability of Naverisk 2014 R2.
The new platform release features a network probe to fast track customer on-boarding, enhanced native remote control capabilities, integrations with ScreenConnect and TeamViewer, PSA integration improvements and partner lead upgrades across the entire Naverisk RMM and Service Desk capability set.
"We are delighted to deliver 100% of the features and improvements promised in our R2 roadmap to our global MSP partner base. R2 is another pivotal release for our partner's. The improvements in our platform are vast and this is another very strong step towards our vision of offering the most complete, fit for purpose, unified RMM and Service Desk platform for MSP's on the market", says Jon Kalaugher, Naverisk, founder and CEO. "We are already well underway with our 2015 R1 release and look forward to continuing to deliver on our product and support quality promises to our partners".
"Having been a veteran of Kaseya, Centrastage, N-Able and GFI, I can say that Naverisk is a breath of fresh air. It contains all the necessary features you would expect from an RMM platform, I've been running the R2 release for a few weeks now and it is another very solid upgrade. Naverisk have been great to deal with as a company and their support has been excellent," says Donald M, Asylia, managing director.
2014 R2 Features and Improvements
General Platform Enhancements and Integrations
Boolean Search
AutoTask and ConnectWise Integration Improvements
TeamViewer Remote Control Integration
ScreenConnect Remote Control Integration
RMM Enhancements
SNMP Monitoring Enhancements
Naverisk Native Remote Control Improvements - Remote Control Health Monitoring. -

Remote Control Self-Healing. -

More granular configuration settings.

Device Application Processes Management
Wake On LAN
Network Probe – Device Discovery via WMI and SNMP Methods
Scheduled Job Optimization
Patching Automation Improvements
Task Manager Enhancements
Verbose Automation Result Management
Service Desk Enhancements
Agreements – Workflow Improvements
Home / My Activities – Comprehensive User Activity Auditing
Notes - Private / Public
Email Integration Workflow Improvements
Various Service Desk Workflow Improvements - Technician scheduling workflow improvements -

Print Ticket - format as a client sign off form/job sheets -

Time Recording – support all formats, Hours and HH:MM.
Reporting
Save Report Views
Customized Reporting
Backup Reporting Improvements
Click here to download the roadmap.
About Naverisk
Naverisk is a market leading unified Remote Monitoring, Management and Service Desk platform allowing SMB focused IT companies to automate IT service delivery and streamline back office processes. With offices in New Zealand, The United Kingdom and the USA, Naverisk offers a truly localized partnership experience and is available as a Cloud service or as an Onsite installation.
For more information about Naverisk, visit their website.