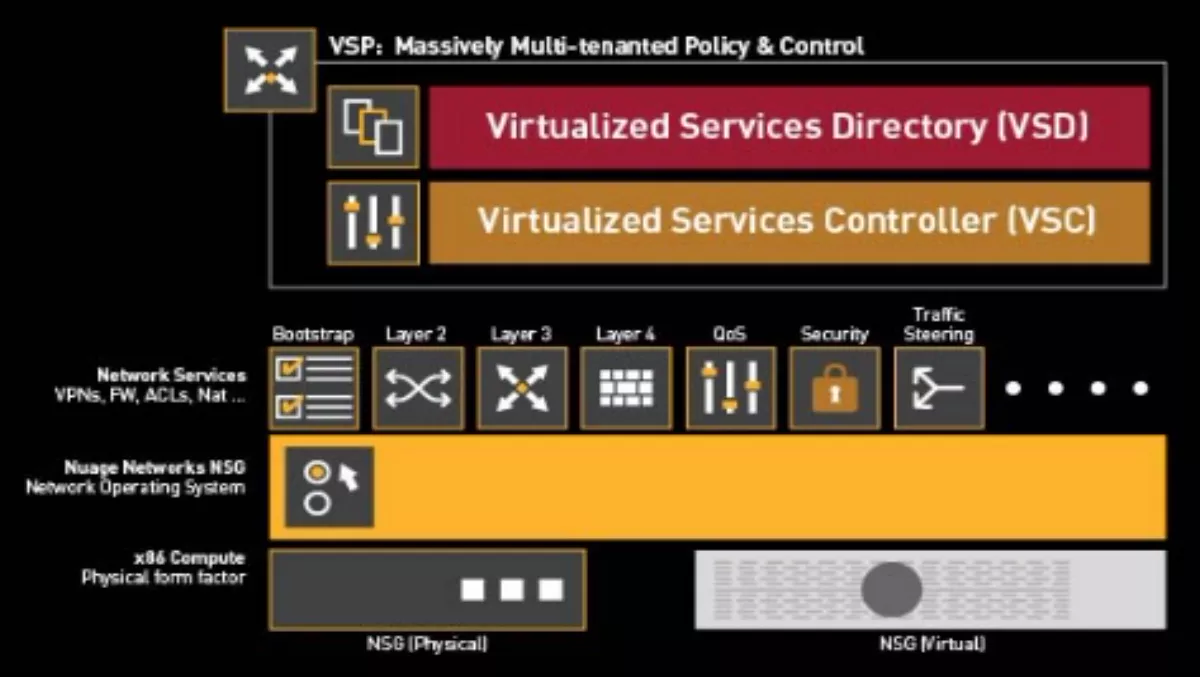 Nuage extends SDN benefits to branch offices, Kordia onboard
FYI, this story is more than a year old
Not dissimilar to an arms race, leading networking vendors are fighting to innovate in the area of SDN.
SDN promises to revolutionise the way a network is managed by an enterprise or telco. The automation and cost savings from adopting SDN is an attractive proposition for these network operators.
In early 2013 networking vendor Alcatel-Lucent funded an internal start-up called Nuage Networks. The French word for cloud, Nuage reflected the opportunity that Alcatel-Lucent saw in virtualisation and cloud migration.
Nuage essentially is the (SDN) software defined networking strategy for Alcatel-Lucent. It offers a Virtualised Services Platform (VSP) that works with OpenStack, CloudStack and VMware to virtualise much of the network.
Today they announced a Virtualised Network Services (VNS) initiative that will offer branch offices the same benefits that data centers are receiving from SDN. The key difference being that the branch office devices maybe in remote locations not just on the one local area network (LAN).
In extending the VSP, they have taken a fresh approach to branch office networking that expands freedom of choice and offers a new operational model for delivering network services. VNS can exploit and utilise both corporate WAN and internet access bandwidth securely, to increase the range of application deployment options and reduce cost without compromising visibility and control. VNS enables the creation of templates that describe and manage the workflow of network services for any combination of applications in any cloud, and at any location.
Sunil Khandekar, CEO of Nuage Networks, added: "With Nuage Networks VSP being increasingly recognised as the SDN platform of choice, the time has come for SDN to branch out beyond data centers, extending the capabilities of policy-based network automation and effortless connection to all business locations. Nuage Networks VNS can dramatically simplify the delivery and consumption of network services by and for the world's leading enterprises."
"With its Virtualised Network Services (VNS), Nuage Networks offers enterprises a new operational model for delivering and consuming cloud services consistently from private and public data centers to their branch locations and distributed users," said Brad Casemore, IDC. "Within this context, a comprehensive application-centric policy framework can significantly simplify today¹s complex networking workflows, deliver greater agility, and result in compelling OPEX savings."
Kordia's involvement
"As part of our business service portfolio, we are evaluating different deployment models to meet the expanding needs of our enterprise customers. We are looking towards network automation that is programmable and can be dynamically tailored to the unique business requirements of our customers. We applaud the extension of Nuage Networks SDN solution to include policy-driven network services to connect the enterprise branch to the cloud." – Drew Gilpin, Director of Sales and Marketing at Kordia New Zealand.
Nuage Networks VNS is in trials now and will be commercially available in Q1 2015.
Related stories
Top stories