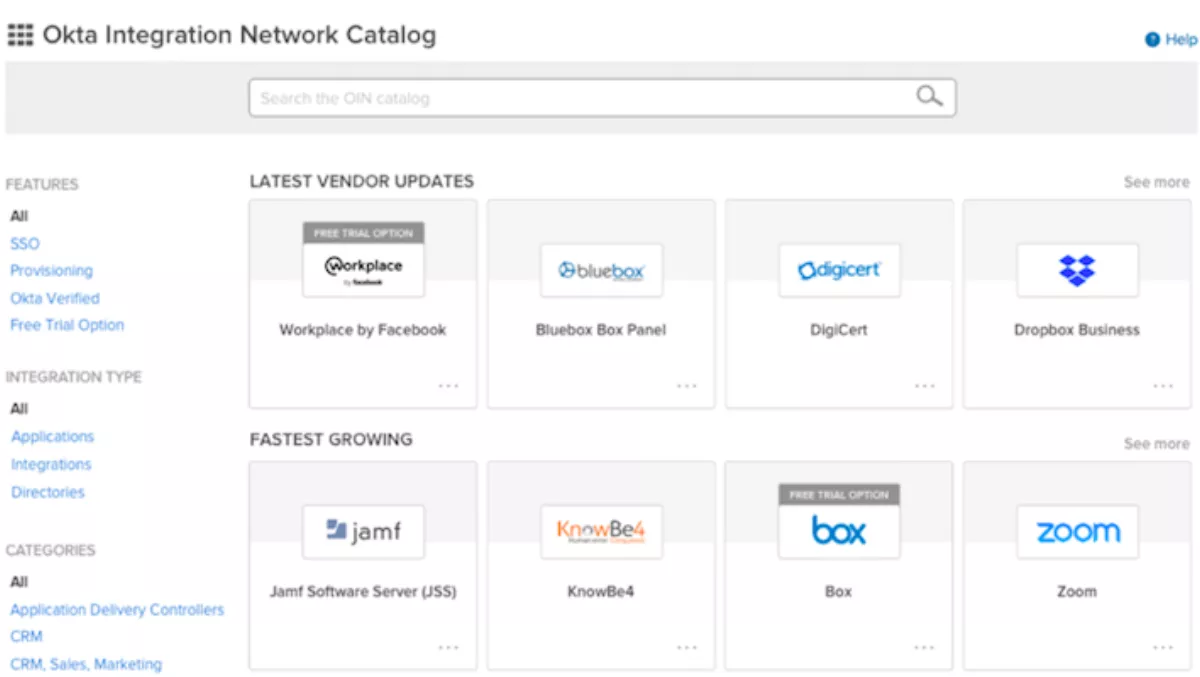 Okta allows organisations to set up apps with one click with Project Onramp
FYI, this story is more than a year old
Identity solutions provider Okta has announced Project Onramp, a new initiative that allows IT admins to find, test, set up and give their workers access to and secure their data in apps and services with one click from the Okta Integration Network.
Founding partners include Box, Workplace by Facebook, OrgWiki, PagerDuty, RingCentral, McAfee, Zscaler and Zylo.
Integrations include standing up a tenant with full enterprise functionality.
Project Onramp is now open to application providers everywhere.
The rise of cloud applications has enabled organisations to adopt leading and innovative technologies to drive their missions forward.
With Project Onramp, companies can more easily find and test new, innovative tools for their teams – enabling workers to securely try out tools from Okta's leading ecosystem partners tailored to specific needs.
Project Onramp also simplifies the process and reduces time spent on creating and connecting users to services for IT by allowing organisations to spin up tenants of and secure their data in applications such as Box, McAfee, Workplace and RingCentral with one click in Okta.
Administrators can also ensure that only the right people or teams have access to a particular app in their organisation.
Project Onramp makes it easy to pre-select a test group and also eliminates the need to manually import specific users or go through the process of connecting to a legacy system such as Active Directory.
"For almost a decade, Okta has been the connective tissue between people and applications.
Today, with Project Onramp, we're making it even easier for organisations to give workers access to the tools they need," says Okta chief executive officer and co-founder Todd McKinnon.
"It's simple: our customers start with Okta as the central hub for their apps and services. Our partners are connected to Okta to make it easier and more secure to give access to workers," he says.
"Let's make it easier for IT to get up and running – just one click, and you're ready to go."
Box chief product officer Jeetu Patel says, "At Box, our mission is to power how the world works together by driving seamless collaboration at every enterprise.
"That's why we are joining Project Onramp and are excited that with just one click, organisations will be able to deploy Box right within Okta."
"Almost every business process revolves around content and as organisations increasingly move this critical content to the cloud, Box is the secure content platform of choice for enterprises around the world."
Workplace by Facebook vice president Julien Codorniou says, "Businesses large and small are looking for ways to more easily and securely give their workers the most innovative tools available to do their best work, but getting to that goal hasn't always been as easy as it should be.
"By joining Okta's Project Onramp initiative, we'll help more organisations collaborate and get more done – making it simple to give their teams access to Workplace right within Okta."
Customers will be able to use Project Onramp to set up partner apps in Okta later this year.
Related stories
Top stories