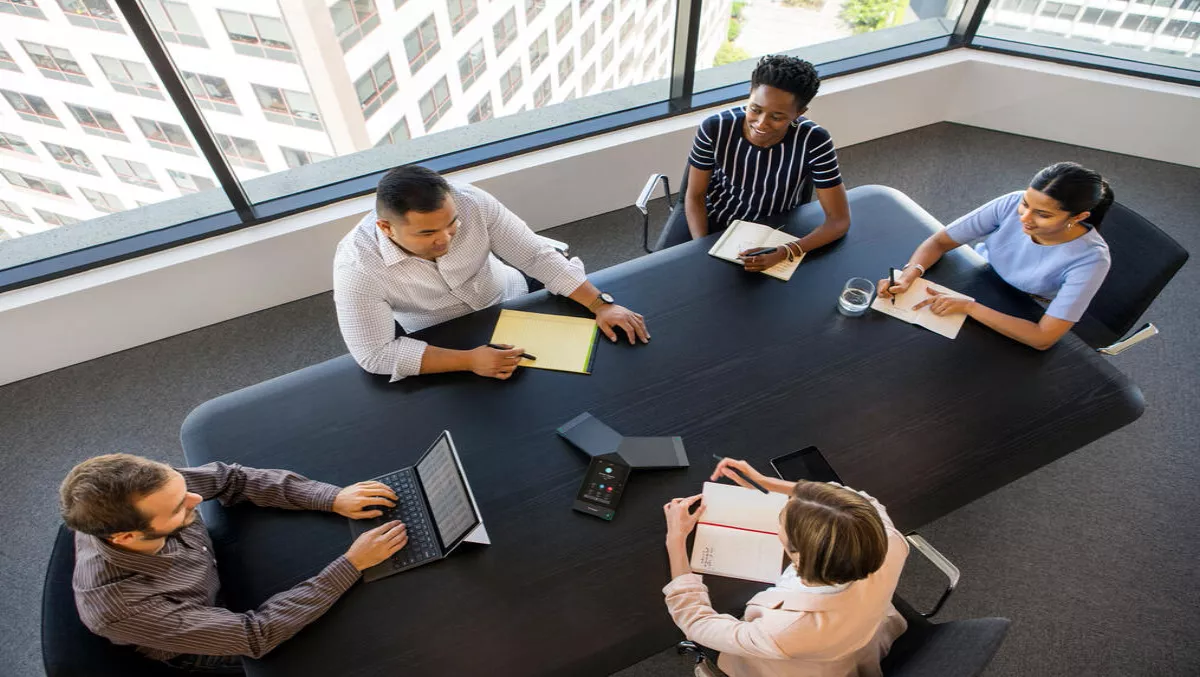 Polycom introduces new products & updates a classic
FYI, this story is more than a year old
25 years ago, Polycom introduced its flagship three-legged conference phone, changing the way the business world communicates.
The Polycom phone quickly became the conference phone of choice for all - from Fortune 1000 companies to world leaders and even characters on The Simpsons - earning its place in pop culture and selling millions of units.
And today, Polycom is introducing a series of new and updated conferencing solutions for businesses of all sizes.
Just like Polycom's iconic three-legged conference phone, the company has released a new and instantly recognisable communication tool – the Polycom Trio 8500.
Built for mid-sized conference rooms, the Trio 8500 is a solution that delivers a range of Polycom features, including HD voice audio quality, Polycom NoiseBlock and multi-line registration and will be expandable to include video and content sharing in the future.
The Polycom Trio 8500 also includes a full color touch screen interface and Microsoft Exchange calendar integration.
"In today's connected world, high quality audio conferencing that bridges the communication gap between geographically dispersed workforces, regardless of location or device is fundamental to the future of work," comments Tony Simonsen, managing director, Polycom Australia and New Zealand (A/NZ), Japan & Korea.
"For a quarter century, businesses have known to look for Polycom's visually distinctive phones and have counted on them to provide superior and unparalleled call quality."
"Australia is a major conference phone region for Polycom and we expect Trio 8500 to be well received by both channel partners and customers."
"It's been designed for the 21st century workplace with a modern look and crystal-clear audio quality and designed for the best interoperability across ecosystems, another signature Polycom feature."
Polycom Trio 8500 was made available on 19 September.
Moreover, Polycom has also added new features to the Polycom Trio 8800.
The Polycom Trio 8800 now allows participants to pair personal devices to share local content over Apple AirPlay or Miracast certified devices for wireless flexibility.
Later in the year, the device will also support enterprise-class motorised pan-tilt-zoom (MPTZ) cameras that offer a broad degree of visibility for high-definition collaboration experience in larger conference rooms.
Commenting on the market demand for audio conferencing solutions within Asia Pacific, Shuishan Lu, industry analyst ICT Research, Frost & Sullivan says, "For more than two decades, audio conferencing has been helping organizations of all sizes communicate and get work done."
"In the current era of technology complexity and rapid change, we continue to see major technology leaps that are influencing everything from workplace design to office culture and workflow. These transformations are also changing the audio conferencing sector with vendors introducing capabilities like video and content sharing into the mix."
"Businesses are demanding intelligent, audio conferencing solutions that can quite literally 'do it all', enabling them to connect and enable collaborate with ease from meeting room to personal device and third-party collaboration software."
In addition, Polycom is also introducing a new audio solution for team and personal spaces, such as huddle rooms, with the new Polycom VoxBox, an compact speaker phone that allows customers to access Polycom's HD Voice technology anywhere, anytime and with any device.
Related stories
Top stories