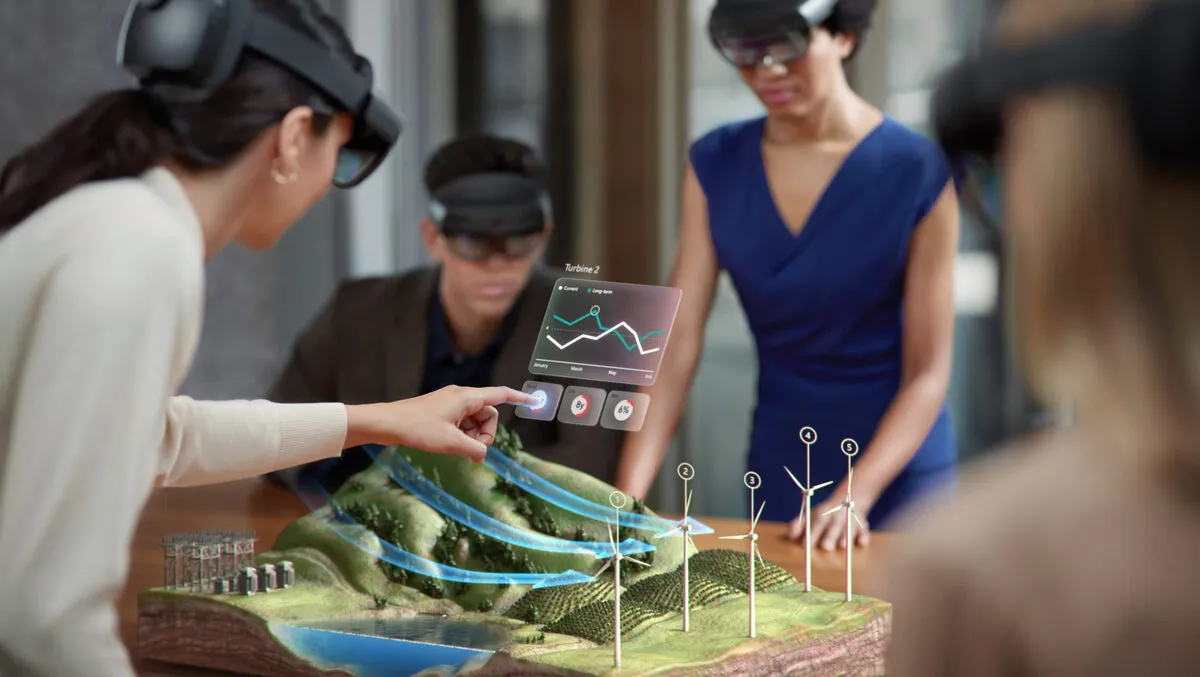 Putting the data horse ahead of the technology cart
Fri, 30th Sep 2022
FYI, this story is more than a year old
Amid the excited conversations about how technology may soon become Aotearoa's biggest export, the world's almost miraculous digital transformation and the forthcoming Microsoft New Zealand datacenter region, there's one question I often ask myself: Are we over-indexing on thinking about technology rather than data?
As Microsoft's National Technology Officer, this may seem like a strange question to ask. However, if you really know Microsoft, you'll know that we are as interested in data as we are in technology. There's a simple reason for this – without data, information technology is irrelevant. And this is true not only for individuals and organisations; it applies at a national level too.
When I first took up my role in 2014, I was excited to see the interest government was taking in the question of how we use and benefit from data in New Zealand, through the work of what was called the Data Futures Forum, which made recommendations to Cabinet on this subject based on four principles:
Value – New Zealand should use data to drive economic and social value and create a competitive advantage
Inclusion – All parts of New Zealand society should have the opportunity to benefit from data use
Trust – Data management in New Zealand should build trust and confidence in our institutions
Control – Individuals should have greater control over the use of data about them.
Subsequently, in 2015 Cabinet established the Data Futures Partnership. In a report summarising some of the key insights presented to Ministers, there was a focus on "data-driven innovation (DDI)". It was estimated that in 2014, DDI had contributed gross value add to the New Zealand economy of $2.4B, or 1.4% of total economic activity. Had we been doing as well as Australia, this could have jumped to 4.4%, pointing to significant potential for New Zealand to do better with data.
The report then asked what was holding NZ back. Four things were cited: insufficient data sharing; unrealised potential for data re-use and innovation; difficulty in navigating the data-use ecosystem; tenuous public trust in the data use ecosystem. Fast forward a bit and, by 2018, the role of Government Chief Data Steward (GCDS) had been created at Statistics NZ and the Data Strategy and Roadmap For New Zealand was published. The report included the diagram below, giving a useful idea of just some of the ways in which data can contribute to improving government and strengthening our economy (although, if you ask me, it was light on the social benefits of data).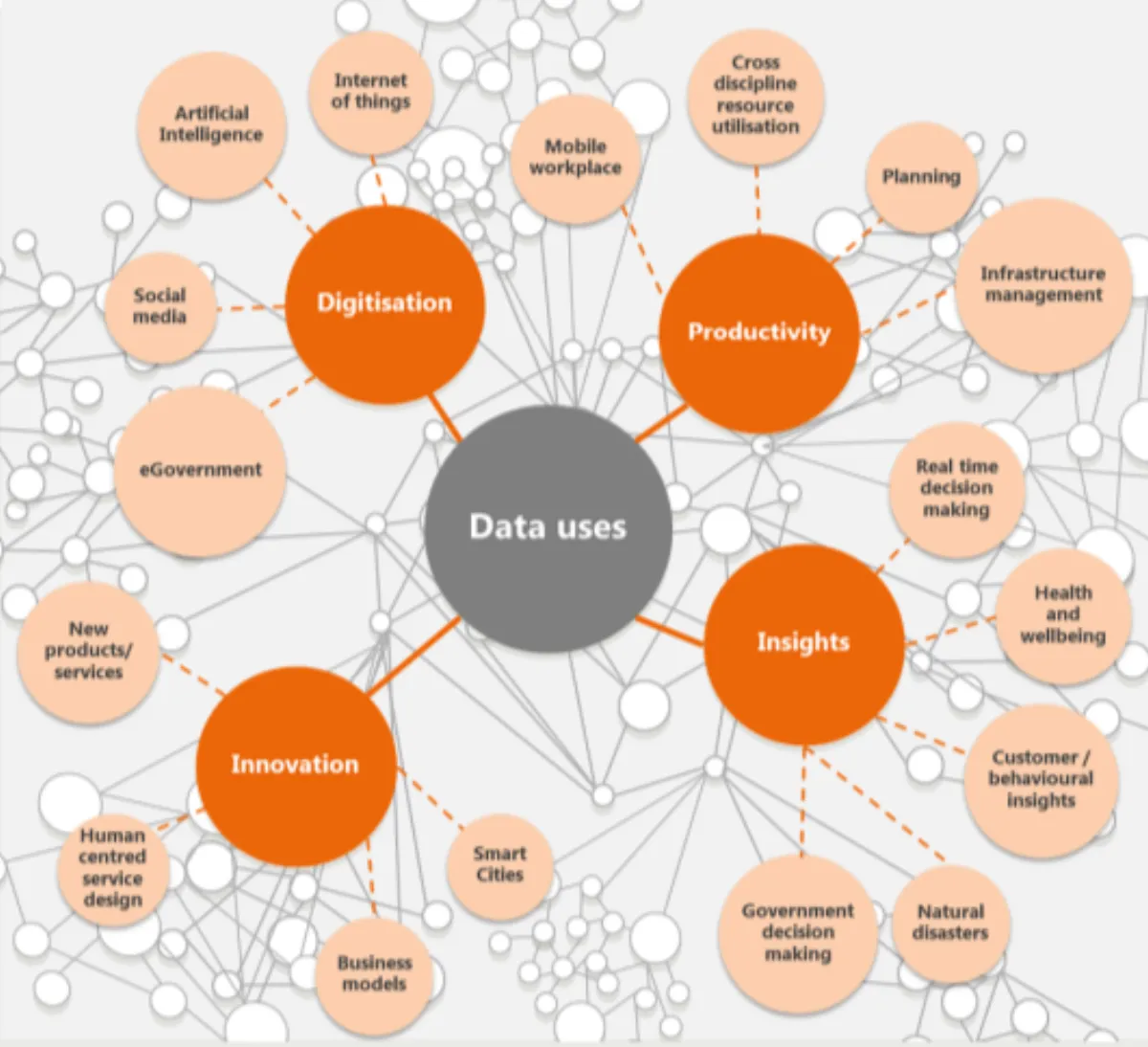 Since then, the GCDS has led work to develop (among other things) a Government Data Strategy and Roadmap, a Data Investment Plan, and has progressed work of unique importance on co-designing Māori data governance.
But it's the Digital Technologies Draft Industry Transformation Plan, created by MBIE in partnership with NZ Tech, that really underlines the greatest challenge and opportunity for New Zealand around data-driven innovation, noting that we are around five years behind other leading countries, such as the United States.
According to MBIE's draft plan: "though New Zealand organisations have a reasonable understanding of data and its use, relatively few have embraced it as a basis for improved decision-making, at the upper management and board levels, where there remains a preference for 'gut feel'. Based on a recent report commissioned by the Productivity Commission, it is unlikely New Zealand businesses have made the cultural shift in the last five years".
As an incentive to change, if we're able to leverage data effectively for innovation, MBIE forecasts around NZD$4.5 billion per year in economic benefits.
Most recently, the government has published its inaugural Strategy for Digital Aotearoa, built around three themes of trust, inclusion and growth. There is a strong focus on doing better on harnessing data as an enabler of our social and economic development.
So, where does this all leave us? On the positive side, the government, alongside many other organisations, absolutely understands the national importance of data and has committed to many strategies and plans over the years to help us realise the opportunities it presents. The Strategy for Digital Aotearoa in particular recognises that our journey will be muti-faceted, requiring us to not only focus on data and technology in purely technocratic terms, but with a firm eye on trust, inclusion, ethics and the views and interests of Māori.
However, while we have understood the importance of doing better with data for a long time now, we haven't yet begun to put intentions into action. I see parallels here to New Zealand's persistent challenge in improving productivity.
When I ask myself what is holding us back, it comes down to having the right culture and mindset about the role that data can play in our future economic and social wellbeing. Without this mindset, organisations are also failing to invest in the skills needed to support change in our organisations, from the governance level through management teams down to the frontline.
Amongst all the data-related skills we need to invest in, I see that data governance and data collaboration are the most important. Here in New Zealand, Microsoft has taken advantage of our partnership with the Open Data Institute to support the work we've been doing with the Ministry for the Environment, local and regional government and Ngāti Toa to create a demonstration of what more collaborative use of data could enable. This combines the lived experiences of mana whenua with data stored across multiple agencies, showing how Porirua Harbour and the Kenepuru Stream catchment have changed over time, and how they are likely to change in future.
This work has reinforced the fact that building our ability to collaborate around data, establishing frameworks that enable trusted data sharing and ethical use of data, is at least as important as our technical data management capabilities.
This is an urgent concern. Alongside New Zealand's significant deficit in skilled data scientists and the need to invest more in training in important growth areas such as privacy, cybersecurity, artificial intelligence and cloud technologies, we also need to be skilling more data governance and collaboration specialists, so we can lift our levels of data-driven innovation with confidence that we are building trust along the way.
Microsoft is vitally interested in enabling everyone to do better with data, as exemplified by our global "Open Data Campaign" that we initiated in 2020, stating that "We believe everyone can benefit from opening, sharing, and collaborating around data to make better decisions, improve efficiency, and help tackle some of the world's most pressing societal challenges".
In the end, we should all continually ask ourselves what are we collecting data for? In the long run, I believe we should aspire to build a shared understanding of what we might call New Zealand's "national data estate" – some of it public, some of it private, and some of it in the hands of communities – that will underpin our collective future prosperity and wellbeing.
Well-governed, ethical, innovative and collaborative use of data should be the foundation of our development as a digital society with a globally competitive digital economy.
We have all the strategies we need to achieve this. Now all we need is to develop the data culture, data-driven mindset and skills we need to realise it.