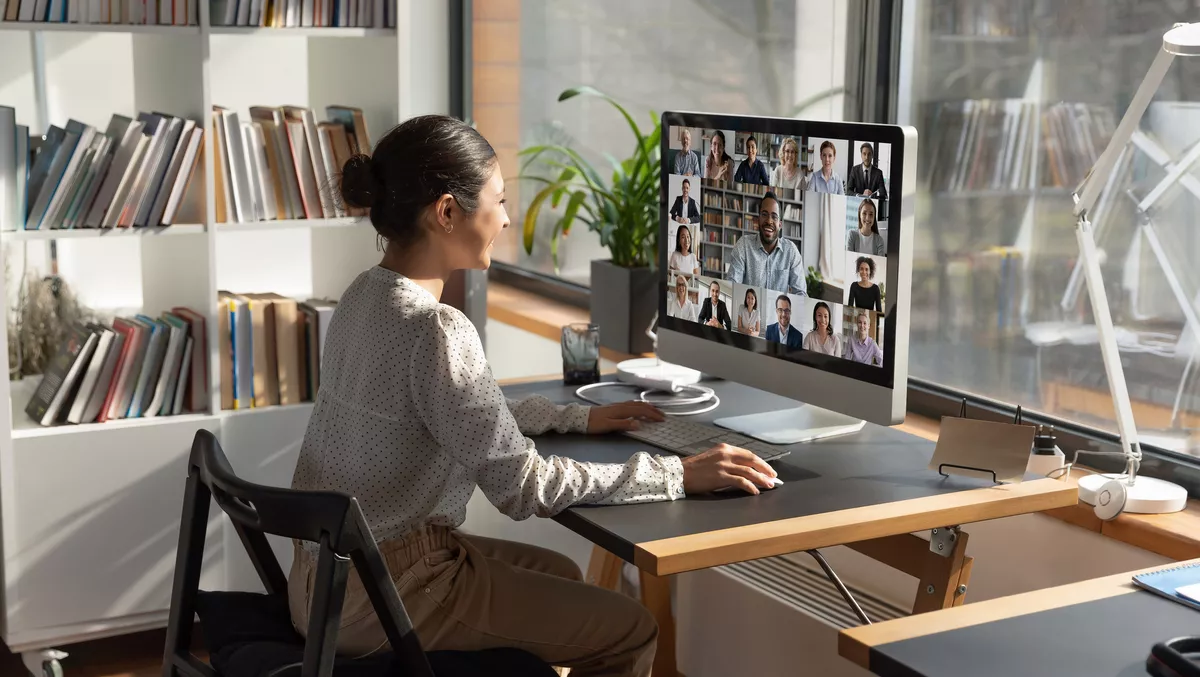 Research finds Kiwis prefer real backdrops in video calls
FYI, this story is more than a year old
New research from Natural Paint Co. has found that 74% of Kiwis prefer seeing a natural background behind people during video meetings.
Natural Paint Co. collated responses from almost 700 Kiwis on their quirks and preferences when in a video call.
The results found that almost three-quarters of New Zealanders preferred to see a natural background during work calls, which Natural Paint Co. says indicates that employees should consider removing artificial screen effects or blurred backgrounds when working remotely with colleagues, clients and stakeholders.
The findings also suggested that distractions can significantly contribute to how well-received a presentation or important conversation is.
The research showed the biggest distraction was a bad connection to a microphone or video at 43%, with 22% of those surveyed saying external noises and 18% saying people walking through the background were their biggest distractions.
Being able to see out windows and personal touches such as books and photos were not an issue for respondents, with Natural Paint Co. instead encouraging people to use these items to build greater connection and trust.
"We all know that pressure in needing to build trust, without meeting face-to-face," Natural Paint Co. co-founder and CEO Grace Glass says.
"The data really speaks for itself. Showing your true background is key to strengthening relationships when meeting virtually. Now comes that next step.
"Us Kiwis can be a little afraid of the perceived permanence of colour change and paint.
"At Natural Paint Co., we've always said that a fresh coat can reshape the feel of an area and isn't just about putting colour on the walls, but a journey and transformation of a room.
"We've recently seen the growing love for pastels, earthy tones or taupe neutrals, especially in winter.
"Now we know how much of a positive difference it can make to your virtual calls and probably to your own work life. Be bold!
In addition, the survey notes that most New Zealanders have adjusted to the hybrid lifestyle, with 52% now adopting this into their working lives, 28% working completely remote, and 17% having set days in the office.
Further, 35% of those surveyed took most of their calls from their home office spaces, indicating that New Zealanders may soon expect a home office environment when moving into a new home space.
However, there are differences by the type of job. For example, 75% of C-Suite level professionals favour the use of blurred screens, whereas 84% of startup founders said that they don't use any filters for their calls.
Junior and internship roles agreed with startup founders, with 62% also acknowledging that they don't use a background or filter.
Moreover, the survey found that 58% of legal corporates and 53% of technology workers preferred to add a blur to their own background, compared to three out of four people in the arts, agriculture, health and real estate industries saying that they would rather use their natural surroundings.
Going by location, Natural Paint Co.'s research also found that people based in Waikato, which accounted for 21% of respondents, are more likely to forgive seeing a green screen filter, compared to the 9% of Wellingtonians and 6% of Aucklanders surveyed, who instead have stronger opinions on the matter.
"It's interesting to take into account how a background influences us and our perception of the person on the screen," Natural Paint Co. co-founder and CEO James Mount says.
"We are quickly moving into a generation who truly needs to prioritise their home office space to remain as productive and professional as they would at their workplace.